HVAC Upkeep Costs: Everything You Need to Know
by Team eLocal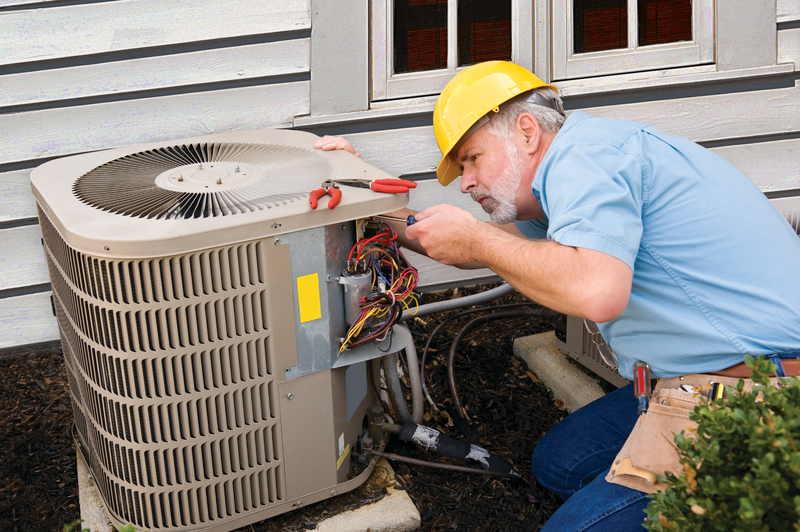 HVAC Maintenance Costs at a Glance
Average service fee: $325 (CAD 405)
Callout fee: $40-$240 (CAD 50-CAD 300)
Tune-ups: $70-$200 (CAD 90-CAD 250)
Furnace services: $155-$255 (CAD 195-CAD 320)
Minor repairs and cleanings: $100-$500 (CAD 125-CAD 625)
If you've ever had to deal with a broken furnace or an ailing air conditioner, you'll know how frustrating it can be. In extreme weather, malfunctions can be more than an inconvenience — they can be a health hazard.
That's why HVAC maintenance is so important. Regular AC tune-ups can save you time, money and frustration in the long run and keep your home safe and comfortable.
How Much Does an HVAC Tech Cost to Hire Per Hour?
Usually, HVAC technicians charge a flat fee rather than an hourly rate. HVAC technicians typically charge around $325 (CAD 405) one-off fee to inspect the HVAC in a standard-sized home. This is the fee you can expect to pay for a heating and air conditioning service or an HVAC tune-up. By investing in regular HVAC cleaning, regassing and other maintenance, you can avoid more costly repairs in the future.
Talk to a Pro
Call to be connected to a local professional
How Much Does It Cost to Diagnose What's Wrong With Your System?
If your air conditioning or heating system is not working properly and you need to call out a technician to diagnose the problem, you can expect to pay a premium for emergency repairs. Fees of $40 to $240 (CAD 50 to CAD 300) for a service call are not uncommon, according to Networx. Many technicians will charge a premium for after-hours or weekend visits.
If the fault is simple, it may be possible to book a flat-fee service to both diagnose and fix it. For more complex issues, you can expect to pay the call-out fee and pay for the replacement parts, too. If you notice your HVAC system is making odd noises or not blowing the right temperature, it may be cheaper and more time-efficient to book a repair visit in advance rather than waiting for it to fail.
How Much Do Common HVAC Maintenance Services Cost?
The exact cost of heating and cooling services and repairs will depend on what it is that needs to be done, how old your unit is and the area in which you live. For example, if you have a very old air conditioner that uses refrigerants that are no longer on the market, you may have to pay a premium to have those refrigerants topped off. In contrast, minor repairs on newer systems are likely to be relatively inexpensive.
Some common costs are listed below.
Tune-ups: A furnace tune-up or AC tune-up will usually cost $70 to $200 (CAD 90 to CAD 250), depending on the type of system.
Furnace servicing: The cost of servicing a furnace is between $155 and $255 (CAD 195 and CAD 320).
Minor repairs: Fixr lists the average cost of minor central air conditioning repairs as between $100 and $500 (CAD 125 and CAD 625).
Replacement parts: The cost of replacement parts varies, a simple air filter might cost $75 (CAD 95), but a condenser could cost $600 (CAD 750) or more. Replacing a condenser coil could be as much as $1,200 (CAD 1,500), plus fees for labor.
Cleaning: HVAC cleaning can cost $75 to $125 (CAD 95 to CAD 160) for a clogged air filter, or $100 to $150 (CAD 125 to CAD 190) for a clogged drain.
It's a good idea to invest in a twice-yearly HVAC inspection. You can expect to pay around $15 (CAD 19) per month for furnace inspection and cleaning services that come to your property once every six months. As part of the service, a technician will inspect your HVAC system and perform basic maintenance. Any extra replacement parts or detailed servicing will cost more, but you'll usually get a discount on repairs carried out as part of a service visit.
Invest in Maintenance to Keep Your HVAC Running Well
Investing in regular cleaning, gas top-ups and other maintenance means your air conditioning will serve you well when you need it most. It's better to have an HVAC tune-up during the milder months of the year than to overheat in the summer or find yourself freezing cold in the winter.
All CAD conversions are based on the exchange rate on the date of publication.
Elocal Editorial Content is for educational and entertainment purposes only. Editorial Content should not be used as a substitute for advice from a licensed professional in your state reviewing your issue. Systems, equipment, issues and circumstances vary. Follow the manufacturer's safety precautions. The opinions, beliefs and viewpoints expressed by the eLocal Editorial Team and other third-party content providers do not necessarily reflect the opinions, beliefs and viewpoints of eLocal or its affiliate companies. Use of the Blog is subject to the
Website Terms and Conditions.
The eLocal Editorial Team operates independently of eLocal USA's marketing and sales decisions.