Under Pressure: Here's How Much It Costs to Pressure Wash Your House
by Team eLocal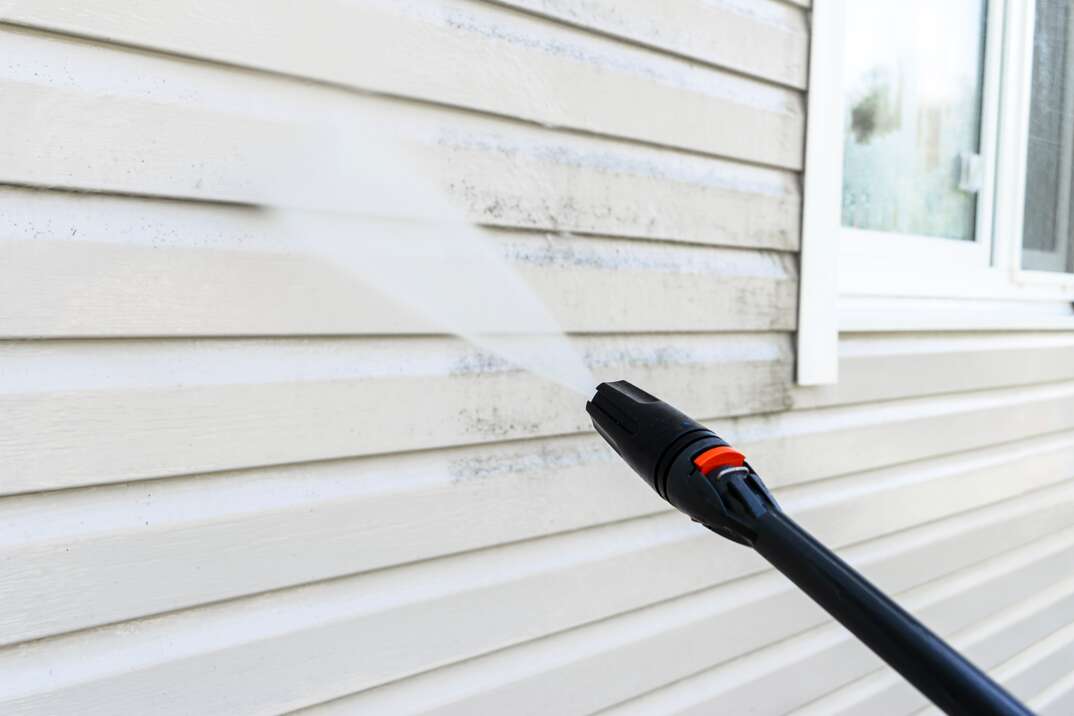 If your home's exterior looks less than sparkling, hiring a pressure washer can help tackle the grime.
Read More Home Improvement Articles
There are various pressure-washing options, including purchasing a domestic pressure washer or hiring professionals, and which one you choose affects the price.
What Is Pressure Washing?
Pressure washing involves using a high-pressure water jet to remove stubborn dirt and grime from surfaces. This process requires a machine called a pressure washer. You can purchase domestic pressure washers as a DIY option or rent a professional machine. Typically, professional units offer significantly more pressure and more efficient cleaning compared to household models.
Power washing and pressure washing are similar, and both cleaning methods use intense pressure to remove dirt. However, power washers use very hot water, which can be more effective for removing stubborn materials, such as moss.
What Areas Can Be Pressure Washed?
Pressure washing uses a significant amount of water, so it's only suitable for cleaning outdoor areas. Heavy foot traffic areas, such as garage floors, decks and driveways, are prime candidates for pressure washing because they're sturdy enough to withstand intense pressure. You can also use a pressure washer to remove gunk and grime from garbage cans.
Pressure washing is also suitable for cleaning siding, fences and outdoor furniture. However, high water pressure can damage wooden surfaces and vinyl siding, especially if they're old. Therefore, it's best to reduce the pressure setting, increase the water output and test the washer on a small area first.
More Related Articles:
How Much Do Pressure Washing Services Cost?
You can hire professional contractors to pressure wash your home. Calling the professionals can be advantageous because they often have more powerful pressure washers.
How much it costs to hire a pressure washing company depends on the size of the area you wish to clean. According to HomeGuide, you should expect to pay between $0.35 and $0.77 per square foot. Pressure washing a driveway or deck usually costs between $100 and $260, while washing an average-size house costs between $175 and $360. Other pressure-washing prices include:
Gutters: $55 to $160
Fences: $155 to $290
Roof: $250 to $600
Some contractors charge by the hour for pressure-washing services. The average cost per hour is between $130 and $160, although you could pay as little as $50 at the low end or as much as $200 at the high end.
How Much Does It Cost to Rent a Pressure Washer and Do It Yourself?
Alternatively, you could consider renting a professional-grade pressure washer and doing the job yourself. How much it costs to rent a pressure washer depends on the pressure it delivers (measured in pounds per square inch) and how many gallons of water it uses per minute.
Most rental companies charge for pressure washers by the day, with most homeowners paying between $90 and $120 per day. However, a pressure washer delivering 3,500 psi and 3 GPM could cost as much as $180 per day.
Purchasing your own pressure washer could be a more cost-effective option if you want to clean the outside of your home frequently. According to LawnStarter, the average domestic pressure washer costs around $250. Electric pressure washers are the most affordable option, costing about $170. Meanwhile, a more expensive gas-powered pressure washer could set you back $380 or more.
Elocal Editorial Content is for educational and entertainment purposes only. Editorial Content should not be used as a substitute for advice from a licensed professional in your state reviewing your issue. Systems, equipment, issues and circumstances vary. Follow the manufacturer's safety precautions. The opinions, beliefs and viewpoints expressed by the eLocal Editorial Team and other third-party content providers do not necessarily reflect the opinions, beliefs and viewpoints of eLocal or its affiliate companies. Use of the Blog is subject to the
Website Terms and Conditions.
The eLocal Editorial Team operates independently of eLocal USA's marketing and sales decisions.