VIDEO: 3 Natural Ways to Unclog Your Kitchen Sink
by Lauren Leazenby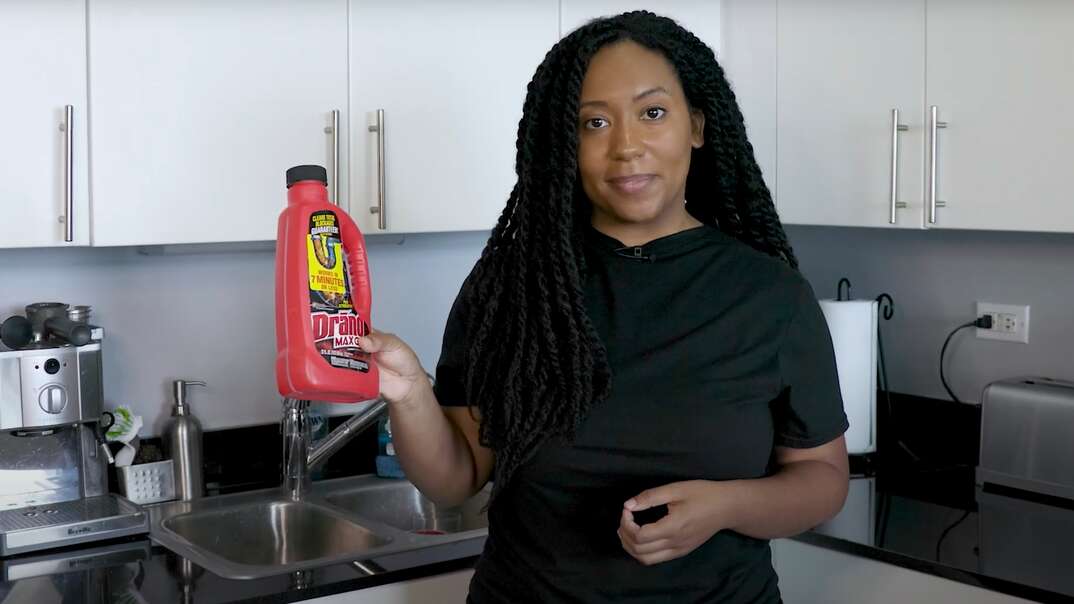 There you are, once again, innocently washing your dishes when, all at once, you realize the sink isn't draining like it was a moment ago. In fact, it's not draining at all!
Before you bust out the chemical drain-unclogging solution you bought at the store, consider this: Those kinds of products — both acidic and caustic formulas — are meant to sit in your pipes for a period of time and dissolve clogs.
Acidic cleaners can damage your sink or pipes if not used properly. Honestly, these products are better used by plumbers who know when and how to use them.
Caustic cleaners, like Drano, are usually what you'll find on store shelves. Now, major brands will tell you that their products are safe for use on plastic and metal pipes alike.
But many plumbers warn that the chemical reaction created by these products can generate enough heat to soften PVC pipes or damage the glue at pipe joints. If your pipes are older, caustic drain cleaners can be corrosive.
Our conclusion? Well, if you have relatively new, metal pipes and you only need caustic drain cleaners once in a blue moon, you likely won't have any issues. A plumber can tell you what's right for your pipes.
… Orrrrr, you can avoid all those potential pitfalls by unclogging your sink drain the "natural" way. Here's what to do.

More Related Articles:
1. Plunger
Okay, when we say "natural," we don't necessarily mean "of nature." But some good old-fashioned elbow grease is about as natural as it gets. Locate a plunger and see if you can force the clog out that way.
If you can, use a plunger designed for a sink as opposed to one made for toilets. If you don't have one of those, a toilet-type one will work, too.
Remove any sort of stopper or basket from the drain before you start. Clear any visible food gunk, too.
If there's not already some standing water, add a few inches of water — just enough to cover the drain. This will help you get a good seal.
Make sure you trap water in the plunger — not air — for maximum plumbing power.
Plunge up and down to loosen the clog, making sure you maintain suction the whole time. After about 20 or 30 seconds, you should see some results, if not, repeat the process.
Remember: Never plunge a sink after you've poured chemicals down the drain.
2. Boiling Water
This one's a little steamy — no, literally!
The main culprits for a clogged-up kitchen drain are oil, fat and grease. While they're liquid when you pour them down, when they cool off in your pipes, they can turn solid and goop up the works.
Boiling water can help turn these substances into liquid again so they can run through your pipes and out of your system.
This method will not work for PVC pipes, which may melt or warp due to the intense heat.
3. Baking Soda and Vinegar
This lovely, reactive little duo is good for just about everything — from elementary school science fair projects to cleaning soap scum off your shower. And, it turns out, unclogging a drain.
All you gotta do is pour half a cup of baking soda down the drain, followed by an equal amount of vinegar.
The chemical reaction created by this acid and base causes a bubbly reaction. (No, not the kind of reaction you get when you drink bubbly, but still intoxicating to watch.)
All these bubbles can break down whatever's clogging up the sink. For best results, let it sit for an hour before flushing with water.
And there you have it! Hopefully one of these methods cleared your clog. If not, you've probably got something deeper going on. Instead of risking damage to your pipes (or clogging them further), you should probably call a plumber.
See our full demonstration by watching the video below:
Elocal Editorial Content is for educational and entertainment purposes only. Editorial Content should not be used as a substitute for advice from a licensed professional in your state reviewing your issue. Systems, equipment, issues and circumstances vary. Follow the manufacturer's safety precautions. The opinions, beliefs and viewpoints expressed by the eLocal Editorial Team and other third-party content providers do not necessarily reflect the opinions, beliefs and viewpoints of eLocal or its affiliate companies. Use of the Blog is subject to the
Website Terms and Conditions.
The eLocal Editorial Team operates independently of eLocal USA's marketing and sales decisions.