How Much Does It Cost to Install a Tankless Water Heater?
by Oriel Roy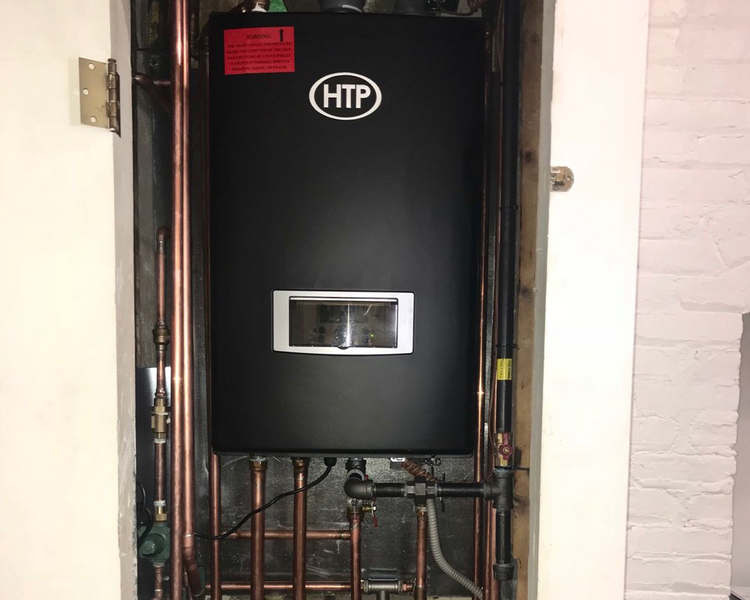 If you cringe every time you receive a utility bill, installing a tankless water heater could be an ideal solution. Tankless water heaters supply hot water on demand, instead of storing large amounts of hot water in a central tank, making them much more energy efficient than traditional tanked systems.
You probably already know what we're about to say next: That added energy efficiency is going to cost you — up front, at least. The savings come in the form of lower energy bills down the line.
Trying to decide if this investment is worth it? Here's a look at tankless water heater installation costs.
How Much Does a Tankless Water Heater Cost?
Tankless water heaters come as electric, gas-powered or oil-powered units, although gas and electric models are most common. According to Forbes, electric tankless water heaters cost between $170 and $800 (CAD 230 and CAD 1,080) for the unit itself, not including installation. Gas tankless water heaters are often more expensive, costing between $230 and $2,300 (CAD 310 and CAD 3,110).
Oil-powered tankless water heaters are the priciest option, costing up to $3,000 (CAD 4,055) per unit. However, oil-powered units are illegal in some areas, and the ban may become more widespread in the future.
Another factor to consider is whether you need a whole-house tankless water heater or a single-point model. The figures above are for whole-house units that supply hot water to every fixture in your home. Single-point tankless water heaters are cheaper, costing between $140 and $250 (CAD 190 and CAD 340) each. These units provide hot water on-demand to single fixtures, so you'll usually need to install multiple heaters. Therefore, most retailers sell single-point heaters in packs of three, charging between $435 and $775 (CAD 590 and CAD 1,050) per pack on average.
Talk to a Pro
Call to be connected to a local professional
How Much Does Tankless Water Heater Installation Cost?
Most contractors charge between $1,000 and $3,500 (CAD 1,350 and CAD 4,730) to install a whole-house tankless water heater, although you could pay significantly more if you need additional plumbing work or want to change the fuel type. You may also need additional electrical work, such as installing a new circuit to supply your unit.
How much additional plumbing and electrical services cost depends on the extent of the work. Generally, plumbers charge between $45 and $150 (CAD 60 and CAD 200) per hour for jobs such as installing new pipes. Average electrician rates are $50 to $100 (CAD 70 to CAD 135) per hour. However, the cost of labor in your area could vary from these averages, depending on the cost of living.
More Related Articles:
What Factors Affect the Cost of Installing a Tankless Water Heater?
How much a tankless water heater costs to install varies widely, depending on whether you're converting from an old tanked system and your hot water needs. Here are some of the main factors affecting your project costs:
Repairs
You'll usually need to remove drywall to install a tankless water heater, and repairing the damage can add to your project costs. Repairing and repainting walls after tankless water heater installation costs $200 (CAD 270) on average, according to Bob Vila.
Heater Size
Tankless water heaters have gallons-per-minute ratings, which refer to how many gallons of hot water they can deliver per minute. The higher the GPM rating, the larger the water heater — although the GPM rating doesn't necessarily correspond with the heater's physical size.
What size tankless water heater you need depends on the number and size of the fixtures you need it to supply. For example, a one-bedroom apartment with one bathroom and a washer may only require a 2 GPM to 3 GPM tankless water heater. Meanwhile, a large home with multiple bathrooms may need a unit delivering 8 GPM or more.
As a rule of thumb, the more GPMs a tankless water heater delivers, the more expensive it becomes. A small, 1 or 2 GPM heater could cost as little as $150 (CAD 200), while a large 8 GPM unit could cost up to $2,000 (CAD 2,700) or more.
Conversion Costs
You'll run into extra costs if you're replacing an old tanked system with a tankless water heater. Removing and disposing of the old unit usually costs between $100 and $500 (CAD 135 and CAD 675), while upgrading your gas lines to accommodate your heater could cost up to $750 (CAD 1,015). Expect to spend an extra $75 to $150 (CAD 100 to CAD 200) if you want to install your water heater in the attic or build a closet to house the unit.
Permits
Many jurisdictions categorize tankless water heater installation as major plumbing work. Therefore, you'll often need to obtain a plumbing permit before starting work. Permit costs vary widely between areas, but most jurisdictions charge between $25 and $250 (CAD 35 and CAD 340).
All CAD conversions are based on the exchange rate on the date of publication.
Elocal Editorial Content is for educational and entertainment purposes only. Editorial Content should not be used as a substitute for advice from a licensed professional in your state reviewing your issue. Systems, equipment, issues and circumstances vary. Follow the manufacturer's safety precautions. The opinions, beliefs and viewpoints expressed by the eLocal Editorial Team and other third-party content providers do not necessarily reflect the opinions, beliefs and viewpoints of eLocal or its affiliate companies. Use of the Blog is subject to the
Website Terms and Conditions.
The eLocal Editorial Team operates independently of eLocal USA's marketing and sales decisions.