How Much Does It Cost to Repair a Burst Pipe?
by Team eLocal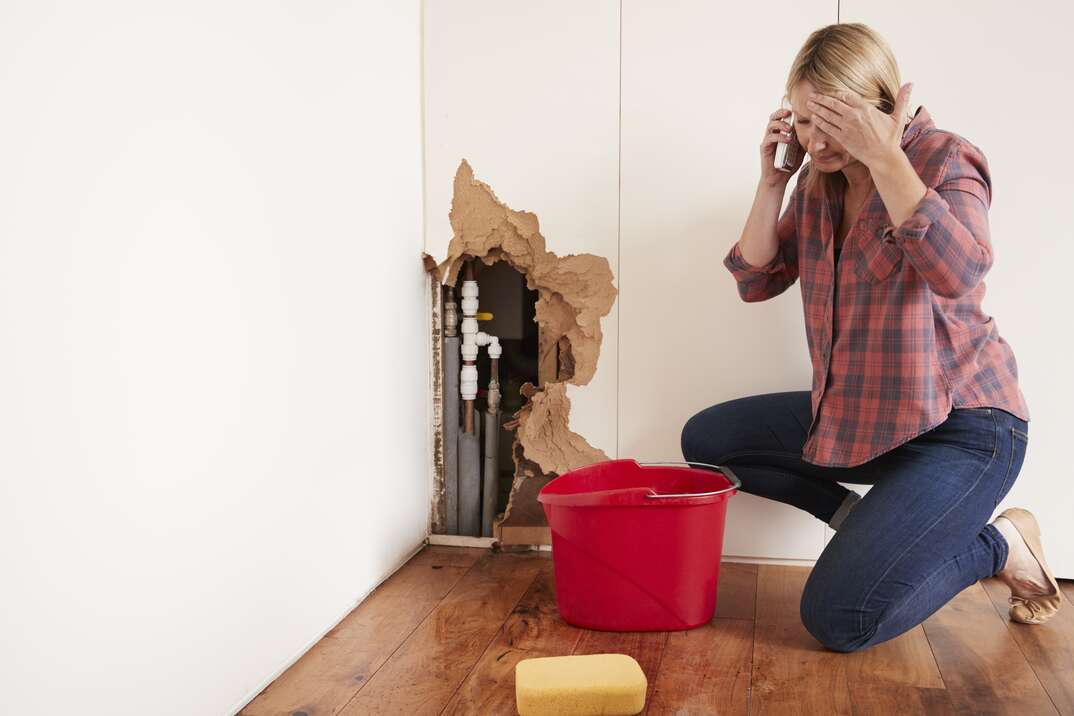 You might not know your pipes are in trouble until it's too late. If a burst pipe has left a flood of water in your home, you're going to need to get it fixed ASAP to prevent serious damage to your home.
Read More Home Improvement Articles
The burst pipe may have come as a surprise, but the bill for repairs doesn't have to. Here's a look at how much you might pay to remedy this problem so you can be prepared when the plumbers arrive.
How Much Does Burst Pipe Repair Cost?
According to Fixr, repairing a burst pipe costs between $200 and $1,000 (CAD 270 and CAD 1,300). The national average cost of burst pipe repair is around $500 (CAD 670).
However, the extent of the repair can significantly impact the overall cost. Therefore, you can get a more accurate idea of how much you'll spend if you know how many linear feet of pipework needs repairing or replacing. You should expect to pay between $150 and $250 (CAD 200 and CAD 330) per linear foot.
Several other factors can affect the cost of burst pipe repair services.
Pipe Material
Some types of pipes are more expensive to repair than others. PVC and polypropylene pipes are usually the most affordable to fix, costing between $150 and $260 (CAD 200 and CAD 350) or between $150 and $275 (CAD 200 and CAD 370) per linear foot, respectively. Cast iron pipes are the most expensive, costing between $160 and $280 (CAD 215 and CAD 375) per linear foot.
Type of Burst Pipe Repair
The cost of leaking pipe repair also depends on the job type. Generally, repairing a burst main water line costs between $400 and $2,000 (CAD 530 and CAD 5,700), including the cost of labor.
Meanwhile, fixing a burst sewer line could be significantly more expensive because the job often involves accessing hard-to-reach pipes and dealing with contaminated water. Most homeowners spend between $1,500 and $3,000 (CAD 2,000 and CAD 4,000) on sewer line repairs.
Leak Location
Broken pipe repair usually costs less for exposed pipes, such as those under your sink. For example, repairing a burst pipe under your kitchen sink could cost as little as $150 (CAD 200) because your plumber won't need to remove building materials to access the source of the leak.
The most expensive locations to fix a leak are those requiring digging. Repairing an underground leak could cost between $500 and $6,000 (CAD 670 and CAD 8,000). You may also need to pay extra to repair materials such as drywall and tiles if your plumber needs to remove them to locate and fix the leak.
Labor
Labor fees account for around 60% to 80% of the cost of burst pipe repair. How much a plumber costs to fix a pipe depends on which plumbing company you use and where you live. Hiring a plumber often costs more in expensive urban areas, and average rates can vary by state.
Generally, you should expect to pay a professional plumber between $45 and $200 (CAD 60 and CAD 270) per hour to fix a burst pipe. Some companies charge a flat fee per job, with most charging around $400 (CAD 530) for a basic pipe repair.
You could spend more than average if you need to call an emergency plumber or require repairs outside regular working hours or during holidays. According to Thumbtack, hiring an emergency plumber costs between $130 and $220 (CAD 175 and CAD 290) per hour, but some companies charge as much as $500 (CAD 670) per hour at short notice.
More Related Articles:
Talk to a Pro
Call to be connected to a local professional
How Much Does It Cost to Repair Water Damage Caused by a Burst Pipe?
The water from a burst pipe can cause significant damage to the materials inside your home and lead to mold growth if you don't fix the issue immediately. According to Bob Vila, the national average cost to repair water damage is around $3,290 (CAD 4,390), with most homeowners paying between $1,240 and $5,340 (CAD 1,650 and CAD 7,100).
The type of water can significantly impact the costs. Fixing damage caused by clean water is usually cheaper, costing between $3 and $4 (CAD 4 and CAD 5.50) per square foot. Gray water costs between $4 and $6.50 (CAD 5.30 and CAD 8.70) per square foot, while cleaning up contaminated water or sewage can cost as much as $7.50 (CAD 10) per square foot.
Another factor to consider is the scale of the damage. Fixing the damage caused by a flood in a single room typically costs between $500 and $1,000 (CAD 670 and CAD 1,300). Meanwhile, you could spend up to $3,000 (CAD 4,000) remediating water damage affecting the walls, ceilings and subfloor, especially if it impacts multiple rooms.
Mold remediation can increase the overall cost of fixing water damage. Mold removal usually costs between $1,100 and $3,400 (CAD 1,465 and CAD 4,500).
All CAD conversions are based on the exchange rate on the date of publication.
Elocal Editorial Content is for educational and entertainment purposes only. Editorial Content should not be used as a substitute for advice from a licensed professional in your state reviewing your issue. Systems, equipment, issues and circumstances vary. Follow the manufacturer's safety precautions. The opinions, beliefs and viewpoints expressed by the eLocal Editorial Team and other third-party content providers do not necessarily reflect the opinions, beliefs and viewpoints of eLocal or its affiliate companies. Use of the Blog is subject to the
Website Terms and Conditions.
The eLocal Editorial Team operates independently of eLocal USA's marketing and sales decisions.