How Much Does It Cost to Add a Bathroom to a Basement?
by Hannah Stephens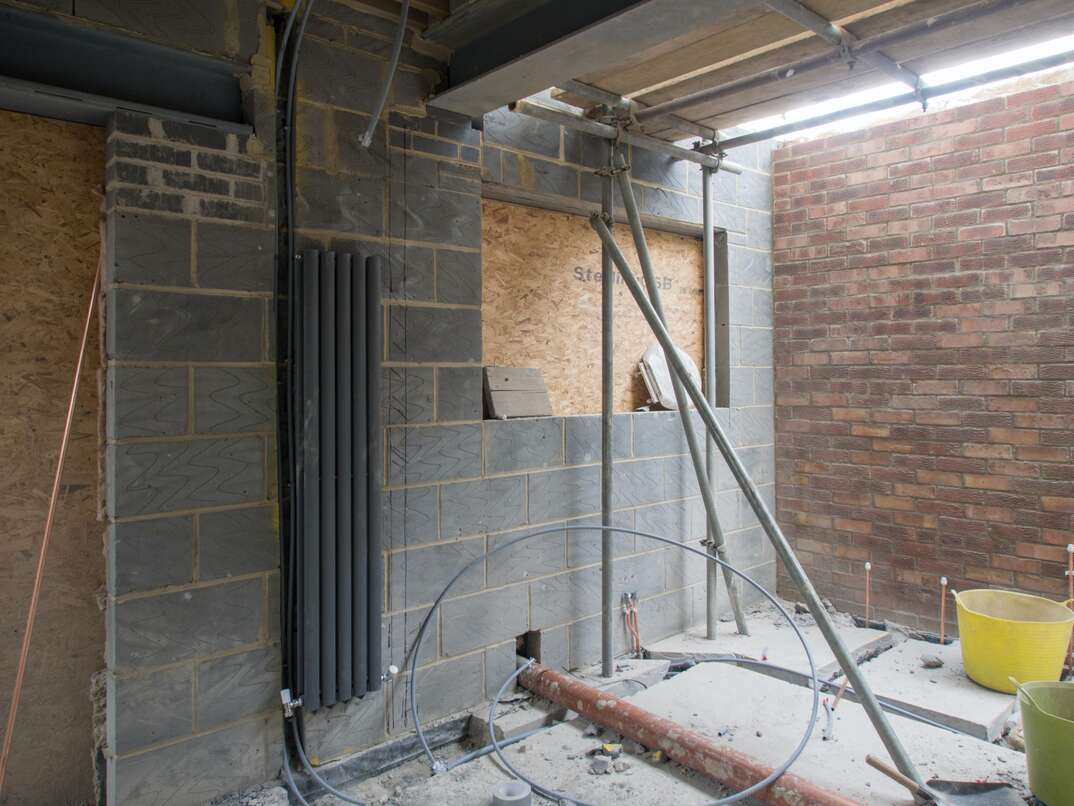 If you're tired of waiting your turn for a hot shower, installing a basement bathroom could offer a practical solution. Adding a bathroom to a basement can be a smart move if you regularly host guests or have a large family but don't want to sacrifice space in your main living area.
However, it can also be a pricey project, so it's worth knowing how much a basement bathroom costs before committing.
Can I Add a Bathroom to My Basement?
You can usually add a bathroom to a basement, but it's often more complex than an above-ground bathroom. Depending on your existing setup, you may need to install new pipes, drains and wiring in addition to your fixtures. Installing a toilet may be impossible if your basement is lower than the main drain, so it's worth asking a plumber to assess your space first.
Talk to a Pro
Call to be connected to a local professional
How Much Does It Cost to Add a Bathroom to a Basement?
According to HomeGuide, it costs around $2,500 to $12,500 (CAD 3,400 to CAD 16,800) to add a basement bathroom.
If you opt for a half-bath, your basement bathroom could cost significantly less to install than a regular bathroom. Half-baths usually contain just a toilet and sink, and they can be ideal for smaller basements because they take up relatively little space. Expect to pay toward the upper end of the price range if you want to install a full bathroom.
How Much Does Each Part of a Basement Bathroom Cost?
The cost to add a bathroom varies widely depending on several factors. Using inexpensive materials, such as vinyl flooring and fiberglass fixtures, can make bathroom installation more manageable on a tight budget, while adding plumbing or wiring can bump up the price. Knowing how much the individual parts of a basement bathroom cost can help you estimate your outlay more accurately.
Plumbing
Plumbing is one of the most expensive elements of adding a bathroom to a basement, especially if you don't have preexisting pipework in your basement. Installing basement bathroom plumbing to supply fixtures, such as toilets, sinks or showers, costs roughly $450 to $1,800 (CAD 600 to CAD 2,400) per fixture or around $4 to $6 (CAD 5 to CAD 8) per square foot.
Your plumber may charge you a flat fee or an hourly rate. If your plumber charges by the hour, expect to pay between $45 and $150 (CAD 60 and CAD 200) per hour.
More Related Articles:
Fixtures
Adding multiple fixtures can significantly affect the cost of adding a bathroom to a basement. Generally, toilets cost between $400 and $800 (CAD 540 and CAD 1,100), including the unit itself and installation labor — based on data from This Old House. Sinks cost between $400 and $1,000 (CAD 540 and CAD 1,350) on average, while installing a shower cubicle could set you back between $1,500 and $6,800 (CAD 2,000 and CAD 9,200). You could spend more if you choose fixtures made from expensive materials, such as copper or cast iron.
Bathtubs are the most expensive fixtures to install. Most homeowners spend between $3,000 and $7,000 (CAD 4,000 and CAD 9,400) for a new bathtub and professional installation. Acrylic or fiberglass tubs are the cheapest, while soaking tubs made from premium materials tend to cost toward the top end of the scale.
Flooring
The cost to add flooring to a basement bathroom depends on the material and room size. Vinyl and laminate are the most affordable options, costing around $2 to $5 (CAD 2.70 to CAD 6.75) per square foot. According to This Old House, ceramic tile is a popular midrange option because it's durable and waterproof, costing between $7 and $45 (CAD 9 and CAD 60) per square foot installed. Premium flooring, such as glass tiles, could cost as much as $100 (CAD 135) per square foot.
Lighting
Installing bathroom lighting typically costs between $200 and $1,000 (CAD 270 and CAD 1,350) per fixture. However, you could spend significantly more if you need to add wiring to supply your new lights. HomeGuide said electricians charge between $6 and $8 (CAD 8 and CAD 11) per linear foot to install electrical wiring, or between $40 and $100 (CAD 54 and CAD 135) per hour.
Permits
Many jurisdictions classify adding a basement bathroom as major plumbing work, so you'll likely need a permit before starting your project. Fees vary widely by area, but you should budget a minimum of $100 (CAD 135) for permits.
All CAD conversions are based on the exchange rate on the date of publication.
Elocal Editorial Content is for educational and entertainment purposes only. Editorial Content should not be used as a substitute for advice from a licensed professional in your state reviewing your issue. Systems, equipment, issues and circumstances vary. Follow the manufacturer's safety precautions. The opinions, beliefs and viewpoints expressed by the eLocal Editorial Team and other third-party content providers do not necessarily reflect the opinions, beliefs and viewpoints of eLocal or its affiliate companies. Use of the Blog is subject to the
Website Terms and Conditions.
The eLocal Editorial Team operates independently of eLocal USA's marketing and sales decisions.