Whole-House Humidifiers and Dehumidifiers De-mistified: Everything You Need to Know 
by Shelley Frost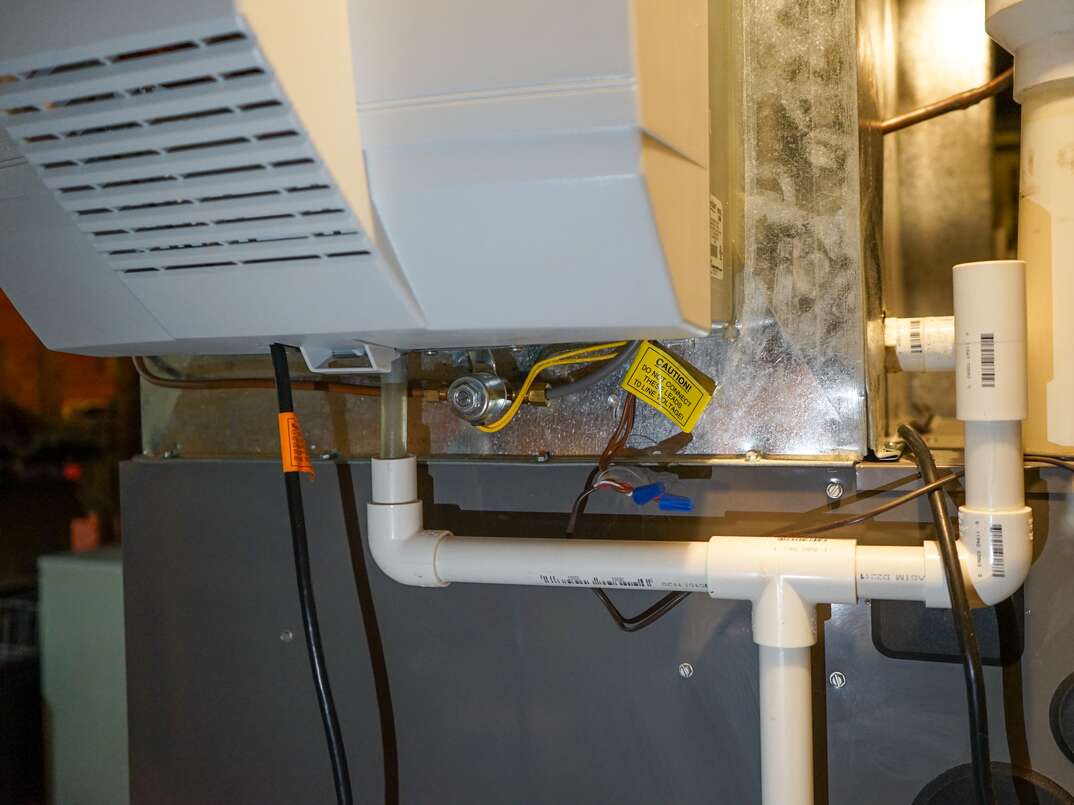 Does your home feel as muggy as a rainforest? Or maybe it's so dry that you get a little static shock every time you touch something.
Read More Heating and Cooling Articles
Humidity issues make your home uncomfortable, but they can also cause issues like mold growth or damage to wood furniture. A whole-house humidifier or whole-house dehumidifier could solve your issues.
What Is a Whole-House Humidifier?
If your home has consistently low humidity levels, you could benefit from a whole-home humidifier. You're probably familiar with portable humidifiers that you can fill with water and place in a room. A whole-house humidifier is similar, but it adds moisture everywhere.
A whole-home humidifier attaches to your HVAC system. It usually turns on and off automatically as needed, using a humidistat to measure the air moisture. When it runs, it delivers moisture throughout your home via the ductwork that you already have as your HVAC system runs.
You might consider a whole-home humidifier if your skin is constantly dry or you notice other irritations, like a scratchy throat or frequent nosebleeds. Lots of static electricity can be another indicator. You might also notice that any wood items in your home seem to dry out or warp.
Central humidifiers help raise the humidity to an appropriate level. They can help you feel more comfortable in your home. Adding humidity can help reduce the spread of viruses and bacteria in your home. Plus, the humidity makes your home feel warmer in the winter, so you might save money on heating bills.
Talk to a Pro
Call to be connected to a local professional
How Much Does a Whole-House Humidifier Cost?
According to HomeGuide, you can expect your whole-house humidifier cost to fall between $400 and $1,200 (CAD 529 and CAD 1,587) but could cost more depending on the type and size you need. Drum and flow-through humidifiers are typically less, running between $100 and $500 (CAD 132 and 661) for the equipment. Steam humidifiers can cost $300 to $1,300 (CAD 397 to CAD 1,719). Installing the humidifier usually costs $100 to $900 (CAD 132 to CAD 1,190) on top of the equipment costs.
More Related Articles:
What Is a Whole-House Dehumidifier?
A whole-home dehumidifier does the opposite of a humidifier. It removes water from the air in your home as it moves through your HVAC system. The system works a little bit like an air conditioner. As air goes through your return ducts, the whole-home dehumidifier moves it over refrigerant-filled coils, which cause moisture to condense. It automatically empties the water, usually to a basement drain.
You might consider a central dehumidifier if your home often feels humid or muggy. Consistently high humidity can cause mold and mildew growth, water stains, condensation on indoor surfaces and musty odors. If anyone in the home has allergies or asthma, it could be triggered by high humidity due to mold, mildew and allergens thriving in the environment.
By installing a whole-home dehumidifier, you can lower the moisture levels automatically. Like a whole-home humidifier, the dehumidifier turns on automatically if your home reaches a certain humidity level based on the settings you choose. It can help create a healthier, more comfortable environment. Because high humidity can make you feel hotter, a dehumidifier can help your home feel more comfortable in the summer. And because it drains automatically, you don't have to worry about emptying a drain pain frequently like you do with portable dehumidifiers.
How Much Does a Whole-House Dehumidifier Cost?
The typical cost of a whole-house dehumidifier usually runs between $1,500 and $3,500 (CAD 1,984 and CAD 4,629), according to HomeGuide. Your specific cost depends largely on the current setup, including your HVAC system and ductwork. The size and type of dehumidifier you choose also impact what you'll spend. You'll need an HVAC professional to install the equipment because it attaches to your heating and cooling equipment. Get quotes from several companies to find the best option.
All CAD conversions are based on the exchange rate on the date of publication.
Elocal Editorial Content is for educational and entertainment purposes only. Editorial Content should not be used as a substitute for advice from a licensed professional in your state reviewing your issue. Systems, equipment, issues and circumstances vary. Follow the manufacturer's safety precautions. The opinions, beliefs and viewpoints expressed by the eLocal Editorial Team and other third-party content providers do not necessarily reflect the opinions, beliefs and viewpoints of eLocal or its affiliate companies. Use of the Blog is subject to the
Website Terms and Conditions.
The eLocal Editorial Team operates independently of eLocal USA's marketing and sales decisions.