What Is an Energy Recovery Ventilation System?
by Shelley Frost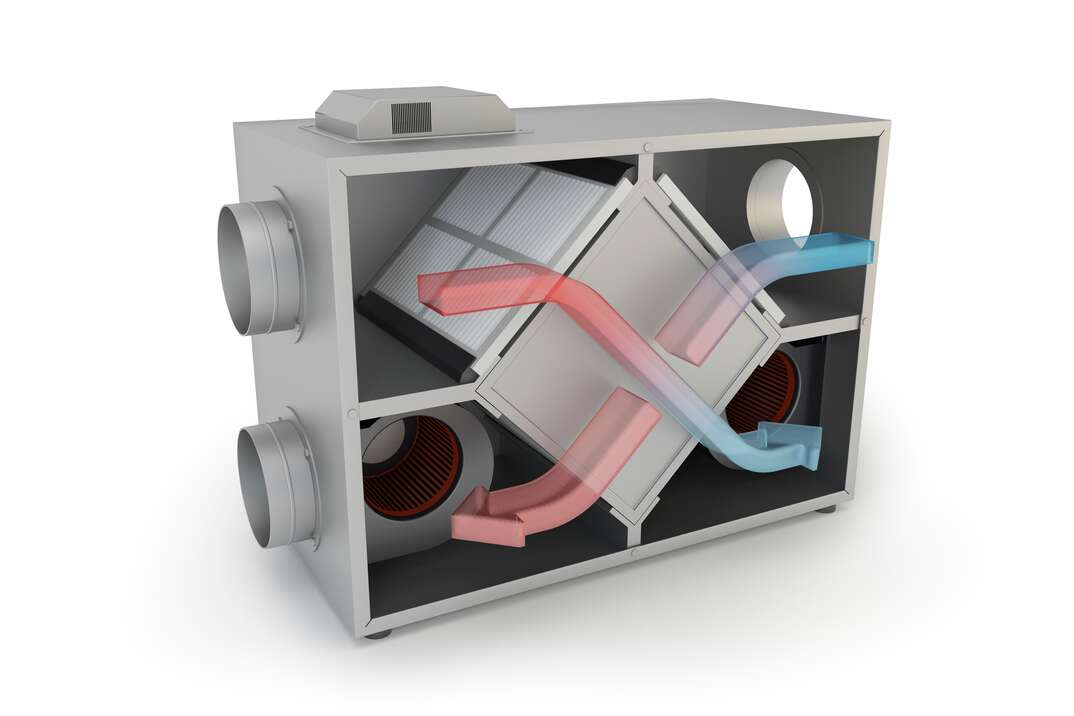 How confident are you in the quality of your home's air? You might be surprised how many contaminants are in the air, from formaldehyde that off-gasses from materials in your home to germs your family brings with them.
Read More Heating and Cooling Articles
With modern homes being so airtight, those contaminants can linger. An energy recovery ventilation system helps bring in fresh air to help improve air quality.
What Is an Energy Recovery Ventilation System?
An ERV is a ventilation system that draws in fresh air from outside while removing polluted indoor air out of your home using two fans and a heat exchanger. At the same time, it helps reduce energy loss by moving the moisture and heat between the incoming and outgoing air. The season determines which way these things go. In the winter, the ERV holds onto the heat and humidity from the indoor air and adds it to the outdoor air coming into the home. When it's hot and humid outside, the energy recovery ventilation system transfers humidity from the outside air to the stale air that's leaving your home.
Installing an energy recovery ventilation system can make your air healthier and improve the operation of your HVAC system. Proper ventilation is a major factor in the quality of your indoor air. The constant flow of fresh air and removal of stale, contaminated air reduces your exposure to various contaminants. This can be healthier for you and might reduce allergy symptoms if your home is full of allergens.
An ERV helps your HVAC system by bringing in fresh air that's already a similar temperature to the home. Your HVAC system doesn't have to work as hard, which can reduce wear on it and make it last longer. It could also lower your utility bills because of the extra boost it gets. By helping to control humidity levels, it makes your home feel more comfortable, so you might not need to run your HVAC system as much.
More Related Articles:
Talk to a Pro
Call to be connected to a local professional
How Does It Differ From a Typical Ventilation System?
Another common ventilation system is the heat recovery ventilation system. It's similar to an ERV, but it only exchanges heat, not humidity. It still brings in fresh air and helps your HVAC system work more efficiently by transferring heat appropriately based on the season.
Both systems are effective and can produce the results of improved air quality and less strain on your HVAC system. If you struggle with high humidity in your home or you live in a humid climate, a heat recovery ventilation system might be a better option. If you're considering a ventilation system, work with a licensed HVAC professional to help you choose the best system for your home. They can also recommend other air quality improvement options based on the specific issues in your home.
Elocal Editorial Content is for educational and entertainment purposes only. Editorial Content should not be used as a substitute for advice from a licensed professional in your state reviewing your issue. Systems, equipment, issues and circumstances vary. Follow the manufacturer's safety precautions. The opinions, beliefs and viewpoints expressed by the eLocal Editorial Team and other third-party content providers do not necessarily reflect the opinions, beliefs and viewpoints of eLocal or its affiliate companies. Use of the Blog is subject to the
Website Terms and Conditions.
The eLocal Editorial Team operates independently of eLocal USA's marketing and sales decisions.