How Much Does It Cost to Install an Air Handler?
by Team eLocal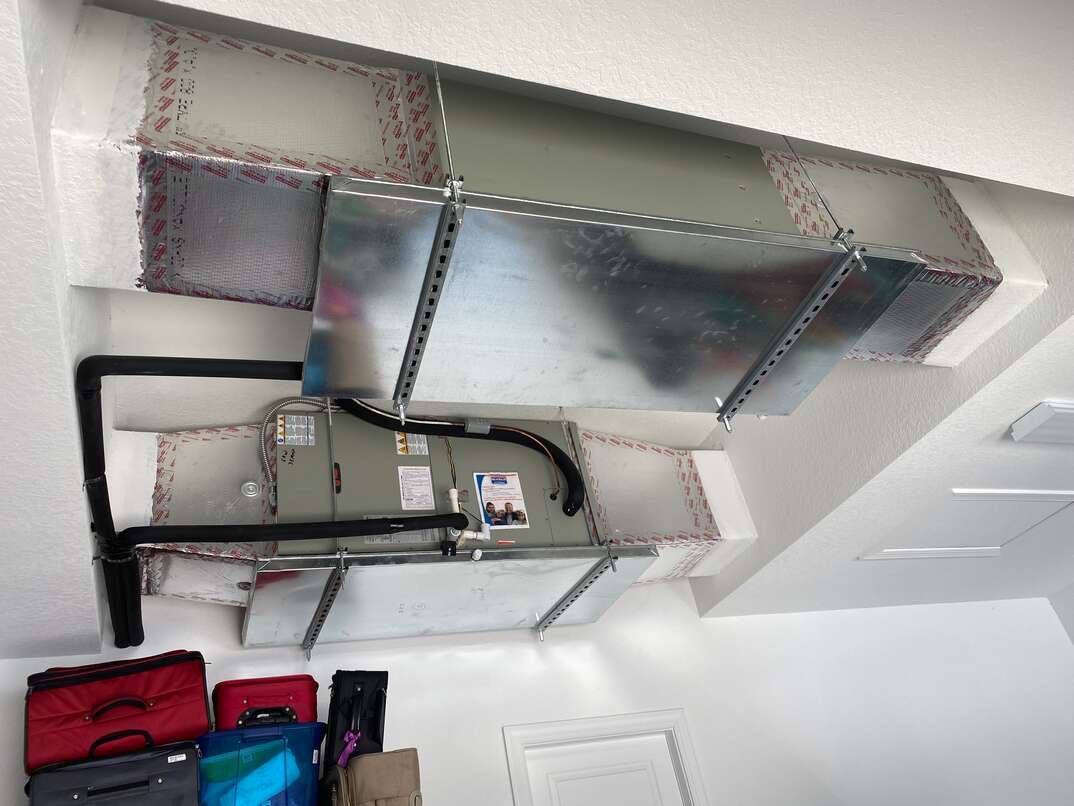 Replacing an old, worn-out air handler can solve various HVAC system woes. Common signs that you need a new air handler include inadequate cooling, poor airflow and alarming smells or sounds.
Read More Heating and Cooling Articles
It's natural to feel apprehensive if your HVAC technician tells you to replace your air handler, but knowing what costs to expect can help the process run smoother.
How Much Does It Cost to Replace an Air Handler?
According to data from HomeGuide, replacing an air handler costs between $1,500 and $3,400 (CAD 2,000 and CAD 4,600) in total.
That price includes labor and the air handler unit. Most HVAC installation professionals charge between $800 and $1,800 (CAD 1,100 and CAD 2,400) for labor. A new air handler unit usually costs between $600 and $2,100 (CAD 800 and CAD 2,800), although you could spend more on a premium brand.
Talk to a Pro
Call to be connected to a local professional
What Factors Can Impact the Overall Project Costs?
The price range for installing a new air handler is broad because multiple factors can affect how much you spend. Understanding what to consider when planning your project can help you estimate your costs more accurately.
Home Size
Larger homes require larger air handlers that are capable of recirculating air across a wider area. Unsurprisingly, smaller units are more affordable than larger units.
For example, a 3-ton air handler capable of circulating air around a home measuring 1,600 to 1,800 square feet typically costs between $900 and $1,500 (CAD 1,200 and CAD 2,000), excluding labor. Meanwhile, a 5-ton air handler designed to cool spaces up to 3,000 square feet could cost as much as 50% more.
Air Handler Brand
Choosing an affordable air handler brand can help you save money, although it's essential to check its compatibility with your HVAC system. For example, Goodman and Daikin sell air handlers up to 5 tons for between $500 and $1,300 (CAD 670 and CAD 1,750). At the other end of the scale, a similar-sized air handler from Lennox could cost between $800 and $1,600 (CAD 1,100 and CAD 2,150).
Air Handler Type
Hydronic air handlers typically cost between $1,000 and $1,600 (CAD 1,400 and CAD 2,150). These single-speed air handlers connect to your water heater and circulate warm air through your ductwork.
Variable-speed air handlers are about 40% more expensive, but they're also more energy efficient. Unlike hydronic air handlers, they can adjust their speed to suit the temperature inside your home. Therefore, installing a variable-speed unit could save you money in the long run.
More Related Articles:
Efficiency
High-efficiency air handlers are usually costlier than standard units. You can check the efficiency of an air handler by looking at its Seasonal Energy Efficiency Ratio (SEER). The higher the SEER rating, the more you'll likely pay. However, installing a high-efficiency air handler could help you reduce your energy bills over time.
Permits
Some jurisdictions require homeowners to obtain a permit before installing or replacing an air handler. Expect to pay an extra $100 to $250 (CAD 135 to CAD 335) if you need an air handler permit.
Repairs
It's not always possible to install or replace an air handler without damaging the surrounding drywall. Therefore, you may need to factor the cost of drywall repairs into your budget.
Ductwork
You may need to clean or repair your existing ductwork before installing a new air handler unit, and some homes may require new ductwork.
How much it costs to install new ductwork depends on several factors, including your HVAC system type and the size of your home. Most people pay between $1,400 and $5,600 (CAD 1,900 and CAD 7,500) to install new HVAC ducts. The overall cost can vary depending on how much ductwork needs to be installed and the difficulty of the project.
All CAD conversions are based on the exchange rate on the date of publication.
Elocal Editorial Content is for educational and entertainment purposes only. Editorial Content should not be used as a substitute for advice from a licensed professional in your state reviewing your issue. Systems, equipment, issues and circumstances vary. Follow the manufacturer's safety precautions. The opinions, beliefs and viewpoints expressed by the eLocal Editorial Team and other third-party content providers do not necessarily reflect the opinions, beliefs and viewpoints of eLocal or its affiliate companies. Use of the Blog is subject to the
Website Terms and Conditions.
The eLocal Editorial Team operates independently of eLocal USA's marketing and sales decisions.