How to Handle a Dispute With a Contractor
by Team eLocal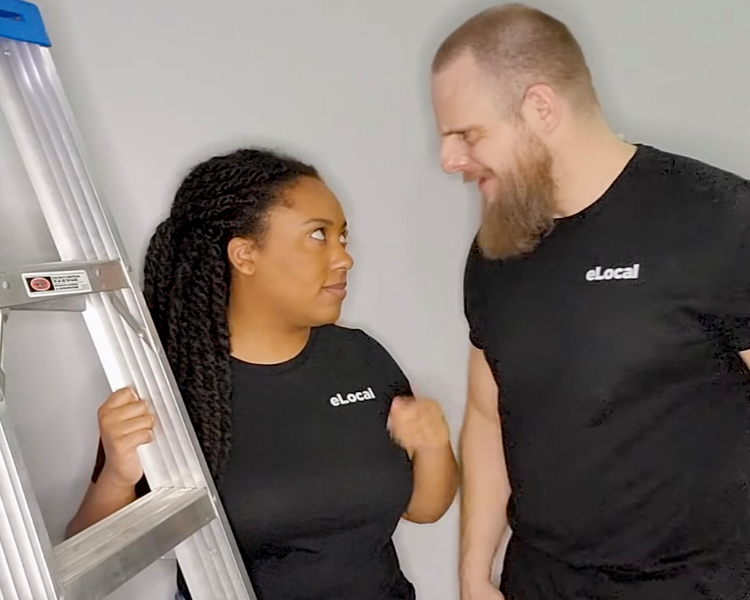 Not sure what to do if a contractor rips you off? Researching your contractor thoroughly before hiring can help you avoid issues, but it isn't always possible to prevent a dispute with your contractor.
Some bad contractors can slip through, no matter how much you research. Other times, you might let the appeal of a super-low bid convince you to ignore the red flags. If you wind up in this situation, it's important to know what to do to protect yourself financially.
What Are Your Courses of Action If You Have a Dispute With a Contractor?
A contractor dispute can happen for many reasons. Maybe they didn't perform the quality of work you expected, or perhaps they failed to complete the scope of the project you agreed on when you hired them. You could also have disputes over the payments or the price of the job. Whatever the situation is, these methods can help you deal with the dispute.
Direct Communication
Before you get a lawyer for contractor dispute resolution, consider communicating directly with the company. This isn't an option if the contractor isn't responding or is creating a high-conflict situation. However, sometimes you can work through the situation calmly and agree on how to move forward to make everyone happy. Review your contract thoroughly, and use the terms as a negotiating tool when working through issues.
Government Agencies
If you're not getting anywhere with the contractor directly, look for help from government agencies. Cities, counties and states often have departments of consumer affairs that can help with construction disputes. It's usually best to start with your city department or whatever the most local option is and work up to the state option.
Better Business Bureau
The Better Business Bureau sometimes offers dispute resolution programs through their local bureaus. You can try this option before or after reaching out to government consumer affairs agencies. Your local BBB might offer different resolution options, including mediation, arbitration and informal dispute resolution methods.
Professional Societies
When you have a dispute with a particular type of contractor, such as a plumber or electrician, you might have an option through a professional society or licensing organization for that profession. Professional societies sometimes facilitate dispute resolution. You might also have the option to file a complaint with the state licensing board.
Alternative Dispute Resolution
To avoid legal action against a contractor, consider using alternative dispute resolution methods. These strategies use third parties to help you agree to a solution.
Mediation uses a third party, often an attorney or a former judge, to help the parties create a resolution that works for both of them. The mediator doesn't make a decision in the case. They go between the two parties to facilitate conflict resolution. While the mediator might recommend some resolutions, it's usually left to the parties to come up with a decision. Recommendations the mediator might make aren't binding, and they can't render a decision for you.
Arbitration falls somewhere between mediation and a court case. If you agree to binding arbitration, the arbitrator makes a decision that both parties must follow. Both parties present their evidence in a scaled-down version of a court case. The arbitrator uses that information to make a decision in the case, and you usually can't appeal the results.
More Related Articles:
Small Claims Court
If you can't settle things outside of court, you might need to take legal action for construction disputes. Small claims court is an option if the value of your claim is low enough. Each state sets a maximum amount for small claims court, which can vary significantly. For example, the small claims court limit in Kentucky is $2,500 (CAD 3,400), while the limit in Delaware is $25,000 (CAD 34,000).
You usually aren't required to have a contractor dispute attorney in small claims court. Plaintiffs often represent themselves in these cases. Hiring an attorney can be expensive, so you might spend a large portion of what you receive on legal help. Small claims court is a relatively straightforward process that's easier for the average person to navigate on their own.
Civil Court
When the amount of your contractor dispute exceeds the maximum for small claims court in your area, you'll have to take the case to civil court. While you can often represent yourself, it's usually a good idea to hire lawyers for contractor disputes that end up in civil court. The procedures can be more complicated, and you have more to lose if you don't win the case. If the contractor has a lawyer, you could have an even more difficult time winning the case.
Are There Out-of-Court Options for Conflict Resolution?
Resolving a contractor dispute out of court is usually the cheapest option. You can avoid court with many of the resolution methods. If the contractor is willing to work with you, resolving the situation directly is the fastest and cheapest option. When you can't work out a solution together, you can get help through mediation or arbitration.
It's common to start with these alternative dispute resolution methods before escalating to litigation to save time and money. However, it isn't always possible to reach an agreement, especially if the contractor is unwilling to work with you. Legal action might be necessary in those cases.
All CAD conversions are based on the exchange rate on the date of publication.
Elocal Editorial Content is for educational and entertainment purposes only. The information provided on this site is not legal advice, and no attorney-client or confidential relationship is formed by use of the Editorial Content. We are not a law firm or a substitute for an attorney or law firm. We cannot provide advice, explanation, opinion, or recommendation about possible legal rights, remedies, defenses, options or strategies. The opinions, beliefs and viewpoints expressed by the eLocal Editorial Team and other third-party content providers do not necessarily reflect the opinions, beliefs and viewpoints of eLocal or its affiliate companies. Use of the Blog is subject to the
Website Terms and Conditions.
The eLocal Editorial Team operates independently of eLocal USA's marketing and sales decisions.