Can You Leave Money to Your Pet in Your Will?
by Team eLocal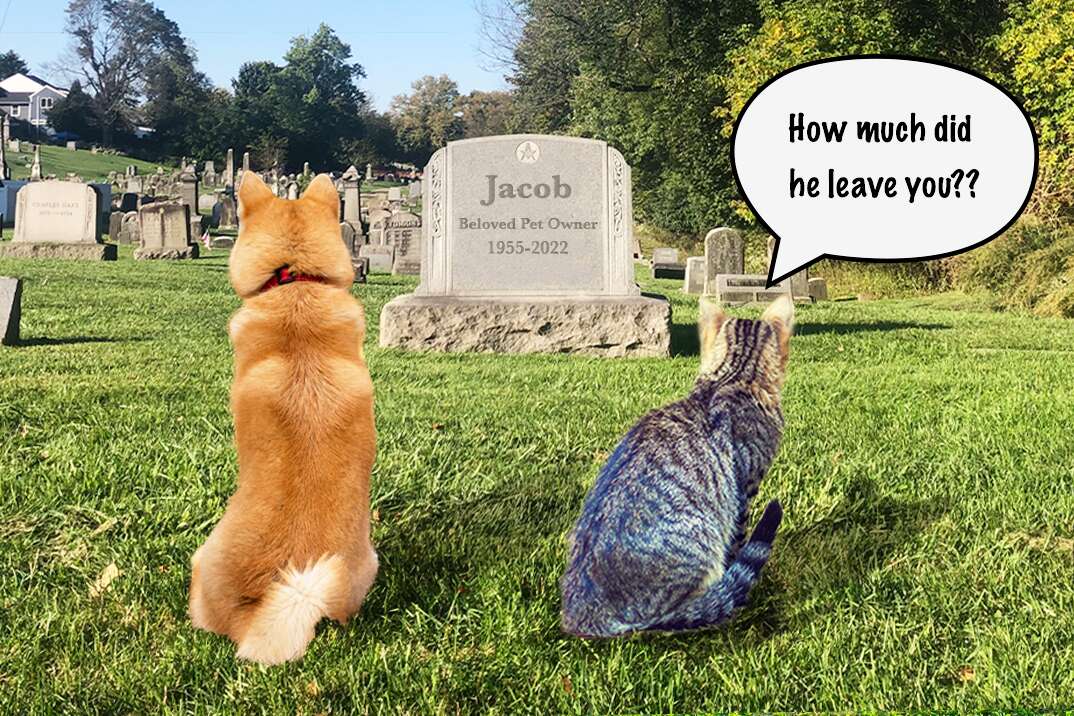 Reviewed by Carina Jenkins, J.D.
When you adopt a pet, it's for life. But what happens to your furry, feathered or finned family members if you die first?
By creating a plan for your pets in wills and other estate planning documents, you can help ensure their safety and security, even if you're no longer around.
Can You Leave Money to Pets in Wills?
U.S. law considers animals to be personal property, so you can't leave money directly to pets in wills. Furthermore, although you can include provisions for your pet's care through your last will and testament, doing so can be problematic. Wills often go through probate and may be contested, causing delays in transferring an animal to its designated guardian and creating more anxiety for your beloved pet.
However, if you choose to include a pet-care clause in your will, make sure to specify:
Your pet's name and breed
The designated guardian's full name and contact information
The amount of money set aside for your pet's care and how it should be used
An alternate guardian who can step in if the designated caregiver is unwilling or unable to take responsibility for your pet
What Is a Pet Trust?
A pet trust is a legally enforceable arrangement that specifies how a pet should be cared for if the owner dies or is incapacitated. All 50 states have laws regarding pet trusts. Through a pet trust, owners can name a guardian, set aside money for care and provide specific instructions, such as the type of food and frequency of veterinary visits. Although creating a pet trust typically requires a lawyer and can be costly, it's a secure way to ensure your wishes are carried out. 
When setting up a pet trust, you should include the following information:
Your pet's name and identifying information, including photos, microchip IDs and/or DNA samples
A designated trustee who will manage the money for your pet
A designated caregiver for your pet
A successor caregiver who can step in if the designated caregiver can't fulfill the role
Detailed instructions for pet care
Funds to cover the standard of care you want your pet to have
Pet trusts may also last longer than traditional trusts, continuing throughout your pet's life. This may be important if you have animals, such as parrots and horses, which typically have longer life spans than dogs and cats. As a term of the trust, you may also require the trustee to perform regular inspections to make sure your pet is receiving the level of care specified.
More Related Articles:
How Can You Make Sure Your Pets Are Taken Care of After Your Death?
By following a few basic guidelines, you can make sure your pets are taken care of after your death:
Find responsible, loving caregivers who are willing and able to provide proper care for your pet. This should include an emergency caregiver, who can provide immediate care for your pets if you die, and a backup caregiver who can step in if your first choice can't fulfill the role. If a family member or friend can't care for your pet, a local rescue organization or animal sanctuary may be able to help. Contact your veterinarian or a nearby veterinary school for information.
Set aside an adequate sum of money for your pet's care. If you have the financial means, you may want to consider bequeathing enough funds to cover food, boarding, veterinary care and other essentials for the duration of your pet's life.
Create a pet action plan. Written guidelines can help ensure your pet's security and comfort if you die, become incapacitated, move to a care facility or are impacted by a natural disaster. Your plan should include your pet's name and identifying information, care and feeding instructions and contact information for your veterinarian. Be sure to list the names of people who can access your home to get your pets if something happens.
Keep your family informed. It's important to let family members know your wishes, so they can take action quickly if you die. Your family should also know where to find important records, such as your pet's medical history and license.
What Happens to Your Pets if You Don't Make a Plan?
If you don't make a legally enforceable plan for the care of your pets after you die, you're leaving these crucial decisions to someone else. By creating detailed guardianship and pet care instructions, you can help ensure a safe and happy future for the animals you love.
Elocal Editorial Content is for educational and entertainment purposes only. The information provided on this site is not legal advice, and no attorney-client or confidential relationship is formed by use of the Editorial Content. We are not a law firm or a substitute for an attorney or law firm. We cannot provide advice, explanation, opinion, or recommendation about possible legal rights, remedies, defenses, options or strategies. The opinions, beliefs and viewpoints expressed by the eLocal Editorial Team and other third-party content providers do not necessarily reflect the opinions, beliefs and viewpoints of eLocal or its affiliate companies. Use of the Blog is subject to the
Website Terms and Conditions.
The eLocal Editorial Team operates independently of eLocal USA's marketing and sales decisions.