What Happens During Discovery?
by Team eLocal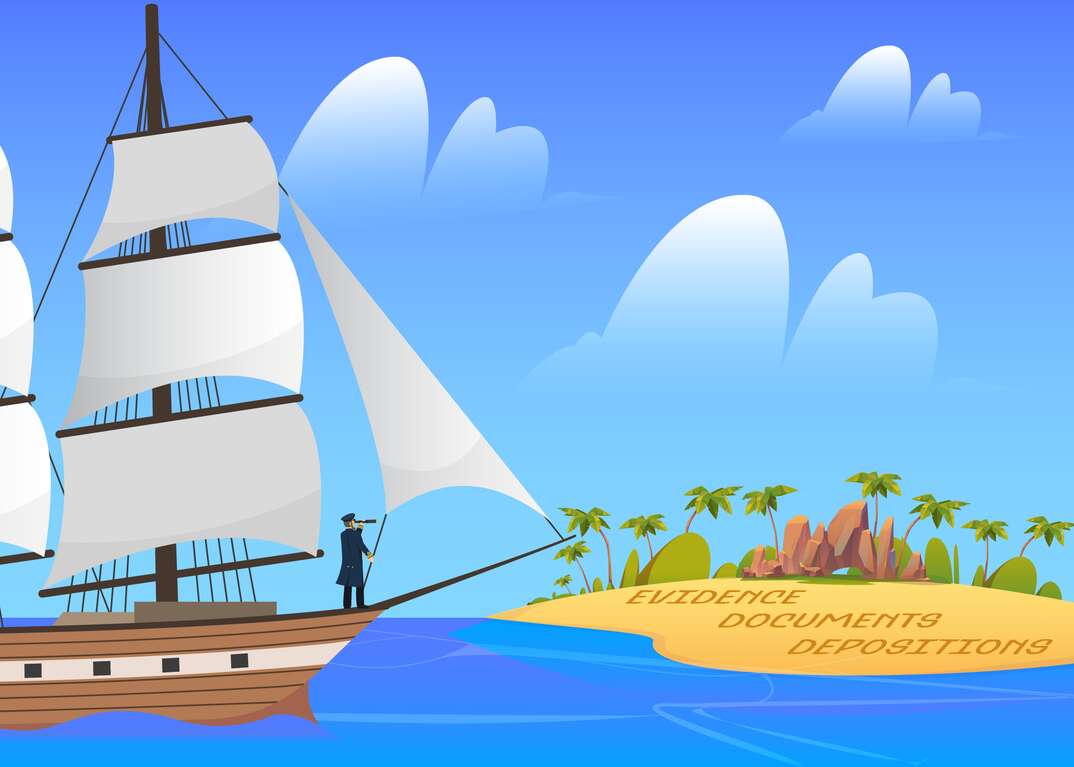 Land ho! Well, we don't mean that kind of discovery. In a lawsuit, discovery is a period of investigation for both sides.
Legal jargon can be overwhelming, especially if you've never dealt with the legal system before. Your lawyer should walk you through each phase, but understanding the process before it starts can help ease your fears.
What Is the Discovery Phase of a Lawsuit?
The discovery phase of a lawsuit is a time during which both sides collect evidence for the case. It happens before the case proceeds to trial, and often before the two sides try to negotiate before going to trial. During this period, both parties share their evidence, information and witnesses regarding the case. The parties often request specific documents or information from the opposing party. States typically have laws governing the discovery process, and both parties are required to participate.
Step-by-Step, What Happens During Discovery?
The discovery process can vary based on the situation and the procedures in your state. The steps might include:
1. A meeting between both parties to discuss the initial information exchange
2. Sharing the information, documents and evidence each party has
3. Submitting requests through the court for additional information or documentation
4. Piecing together the evidence and building a case
5. Submitting additional requests as new information is discovered
The types of discovery activities can also vary, depending on the details of the case. There are four main types of discovery, including:
Interrogatories: This method of gaining information from the other party involves sending a list of written questions for them to answer. This information can be used in the trial if it gets that far.
Depositions: During depositions, one party requests that the other party, a witness or an expert provide testimony outside of the courtroom. While it's not a formal hearing, the answers are given under oath and should be truthful. A court reporter is present to document the answers that each party gives. Those transcripts can be used in court if the case goes to trial. They can be used to show that someone has changed their story, or they can be used to back up testimony in the trial.
Request for production: If one party wants documents from the other party, they can use the request for production option. This written request specifies the requested documents, which could include evidence, such as medical records, receipts and photos.
Request for admission: In this discovery tool, one party asks the other party to either admit or deny certain statements, questions or facts. This can help better identify where the parties agree or disagree on the facts. It can help lawyers tailor their strategies and focus on presenting evidence that proves the statements the other party denies.
What Is the Point of the Discovery Phase?
The purpose of the discovery phase is to figure out exactly what happened and to collect information and evidence. Going through the discovery period is what helps you build your case if your lawsuit goes to trial. It gives you a full picture of the situation and helps you defend yourself or develop your arguments against the other party.
Requiring the parties to share their evidence and witness information prevents both sides from being blindsided. Without discovery, the other party doesn't have a chance to plan a response or find additional evidence and witnesses to counteract that information. You also get additional information from the other party that could help your case. If the case goes to trial, the discovery process can save time because you won't slow down the trial by requesting information from the other party.
More Related Articles:
Is Anything Prohibited During Discovery?
Both parties are required to cooperate during discovery. Failing to cooperate, hiding documents or tampering with evidence could result in legal consequences. While most information requests are allowable during discovery, some topics are off-limits. That includes:
Certain confidential conversations: The conversations you have with certain parties don't have to be revealed during discovery. This includes lawyers and clients, doctors and patients, religious advisors and the person they counsel and spouses.
Private information: While not well-defined legally, information that would be considered private personal matters might be off-limits. Examples include your sexuality, religious beliefs and health issues.
Third-party privacy: The privacy issue can also extend to third parties, such as witnesses and family members. The other party might not be able to ask too many questions about those people if they're not involved in the case.
Parties also aren't allowed to abuse the discovery phase by asking for irrelevant information or making lots of time-consuming requests that don't relate to the case. This can be used as a type of harassment to get one party to drop the case, rather than deal with the difficult requests. It's also sometimes used to embarrass the other party.
Elocal Editorial Content is for educational and entertainment purposes only. The information provided on this site is not legal advice, and no attorney-client or confidential relationship is formed by use of the Editorial Content. We are not a law firm or a substitute for an attorney or law firm. We cannot provide advice, explanation, opinion, or recommendation about possible legal rights, remedies, defenses, options or strategies. The opinions, beliefs and viewpoints expressed by the eLocal Editorial Team and other third-party content providers do not necessarily reflect the opinions, beliefs and viewpoints of eLocal or its affiliate companies. Use of the Blog is subject to the
Website Terms and Conditions.
The eLocal Editorial Team operates independently of eLocal USA's marketing and sales decisions.