What Do You Do If You Are In a Car Accident With a Bicycle?
by Team eLocal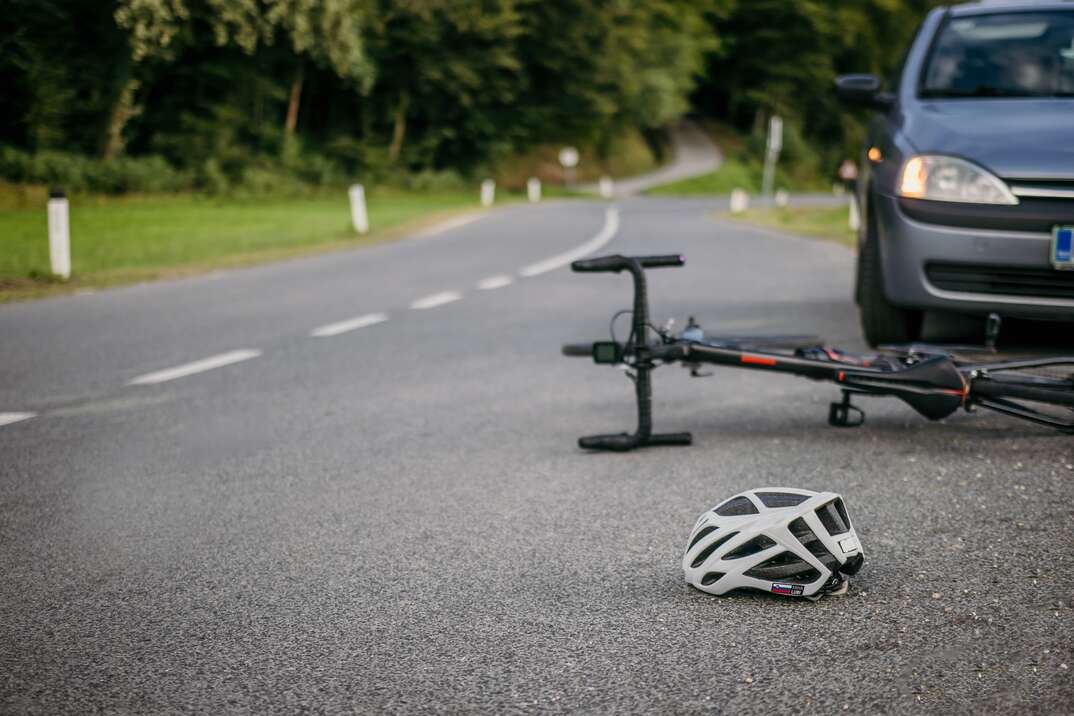 Reviewed by Carina Jenkins, J.D.
Cyclists and drivers share the road every day in cities and towns across the country. Through various state and local laws, these two groups are often able to travel in harmony, each doing its part to ensure the safety of themselves and others.
However, sometimes a collision is unavoidable, so it's a good idea to learn what you should do if you're ever involved in an accident involving a bike and a car.
What Should You Do if You Hit a Bicyclist With Your Car?
Hitting a cyclist in your car can be a terrifying moment. Like any accident, ensure your vehicle is out of the road if you can do so safely, and immediately check on the condition of the cyclist. A bicycle offers no protection from injury, so an accident with a car can be deadly to a cyclist if it's serious enough. Call emergency services immediately and offer medical attention as directed by the 911 operator. It's important to remember not to move an injured cyclist if possible to prevent exacerbating a spinal or head injury. Check yourself for injury as well, and let any motorists or cyclists who have stopped know if you're injured.
Wait at the scene until emergency services arrive. If you require medical treatment, follow the directions of emergency personnel once they arrive. Cooperate with law enforcement officers on the scene, and provide as many details as possible. It's also a good idea to take photos of the scene to help record details you may not notice. Make sure to provide your insurance information to the cyclist if they're in a condition to receive it.
Talk to a Pro
Call to be connected to a local professional
What Should You Do if You're the Bicyclist?
Getting hit by a vehicle while on your bike is likely to cause injuries that are sometimes serious. If you're a bicyclist hit by a car and are conscious and able, call 911 immediately and check yourself for injuries.
Look for symptoms of a spinal injury before moving, such as:
Muscle twitching
Loss of movement or sensation in your extremities
Loss of bladder or bowel control
Exaggerated reflexes
Impaired breathing
Severe pressure or pain in your head, neck or back
Even if you were wearing a helmet, monitor yourself for signs of head injuries, such as:
Nausea or vomiting that gets worse
Growing fatigue
Headache that increases in severity
Trouble walking or talking
Impaired breathing
Numbness in the arms or legs
Loss of consciousness
Clear or bloody fluid draining from the ears or nose
Seizures
If you're not showing any signs of these injuries, remove yourself from the road if you can. Once emergency services arrive, follow their instructions and determine whether you need a ride to the hospital. Remember that injuries that seem minor, especially soft tissue injuries, can often be more severe than you think. It's a good idea to get checked out to ensure your health and safety.
As soon as you are able, speak with law enforcement and give them all the details you remember. If your injuries aren't severe, taking photos of the scene may help you see or recall details later if needed. Make sure to get insurance information from the driver if you're able.
More Related Articles:
Who's at Fault, the Bike or the Car?
In most cases, the driver of the vehicle is at fault when a bicyclist is hit by a car due to the danger posed to cyclists. Although it may seem this should always be the case, those riding bicycles have a duty to follow certain rules when sharing the road with motor vehicles. If a cyclist disregards those rules, they may be found at fault for the accident. Some examples that would place fault on the cyclist include:
Veering into traffic unexpectedly
Failure to stop at a stop sign
Riding on the wrong side of the road
Failure to yield to traffic
Turning without signaling
Emerging from a provided bike lane
These are all examples of negligence on the part of the cyclist and would put the cyclist at fault for the accident. Without this negligence, the vehicle driver would generally be found at fault because they're more protected from injury and therefore expected to watch for cyclists. In some cases, neither party may be at fault. If an accident is caused by something beyond the control of the driver and the cyclist, it can be categorized as a no-fault accident. 
Regardless of who's at fault, accidents involving bikes and cars can have significant financial and legal consequences for all parties. If you're involved in one of these accidents, you may want to consider speaking with an attorney for more advice.
Elocal Editorial Content is for educational and entertainment purposes only. The information provided on this site is not legal advice, and no attorney-client or confidential relationship is formed by use of the Editorial Content. We are not a law firm or a substitute for an attorney or law firm. We cannot provide advice, explanation, opinion, or recommendation about possible legal rights, remedies, defenses, options or strategies. The opinions, beliefs and viewpoints expressed by the eLocal Editorial Team and other third-party content providers do not necessarily reflect the opinions, beliefs and viewpoints of eLocal or its affiliate companies. Use of the Blog is subject to the
Website Terms and Conditions.
The eLocal Editorial Team operates independently of eLocal USA's marketing and sales decisions.