How to Use a Generator
by Kaia Koglin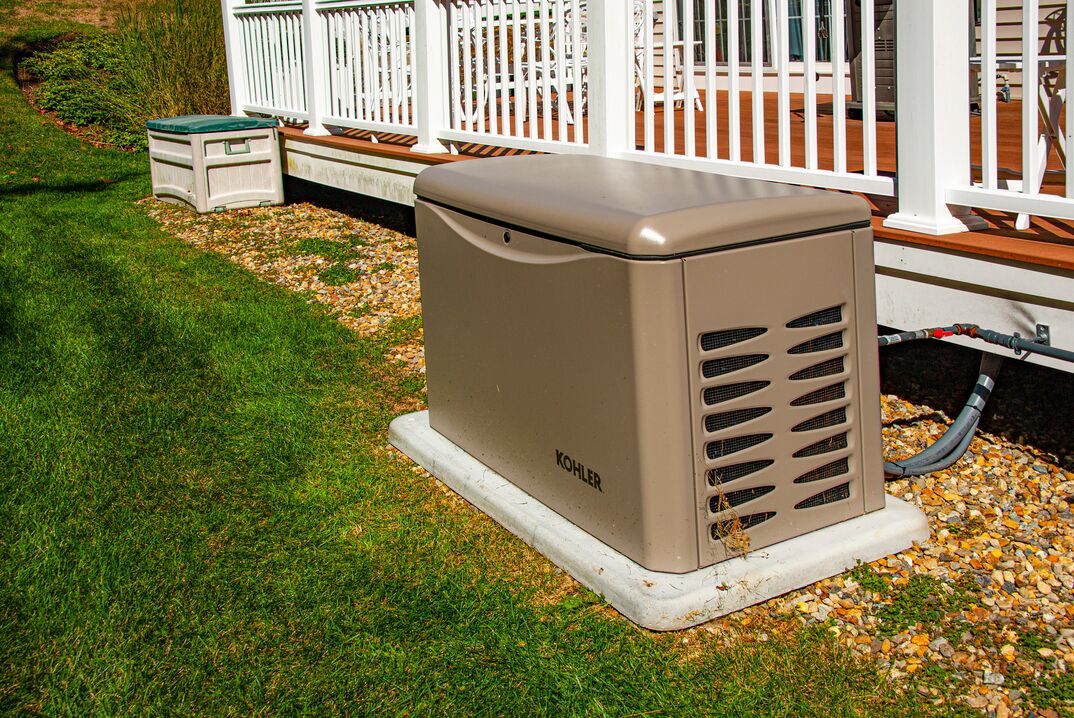 Whether you live in an area that loses electricity regularly or you just want to be prepared for a blackout, a generator can help you keep the lights on and heat running when the power cuts out.
If you're worried about how to use a generator, don't be. It's relatively easy, once you know what you're doing. Consider this your user guide.
Types of Generators
There are two types of home generators: standby and portable. Both types of generator work by running a gas-powered engine. This turns an alternator that converts the mechanical energy into electricity.
Standby generators are permanently installed and switch on automatically when you lose power. Portable generators are smaller and can be moved to different locations. As a standby generator needs to be installed by an electrician and is largely automatic once installed, the rest of this article deals with using a portable generator.
Talk to a Pro
Call to be connected to a local professional
Generator Safety Precautions
When operated correctly, generators pose little danger. However, if they're installed or operated incorrectly, there's the chance of carbon monoxide (CO) poisoning, electrocution or fire. Make sure you understand and follow these safety precautions before using your generator.
Placement
A portable generator should never be used inside a house. Place it outside, at least 20 feet away from any buildings. Your generator should be in a dry location. You can buy generator tents designed to keep the equipment dry if you don't have an appropriate spot in your yard.
Carbon Monoxide Precautions
It's best to install carbon monoxide detectors inside your home. Even if the generator is outside, a breeze can send CO into the house. Be aware of how you're feeling when you're using the generator. If anyone in the house starts feeling dizzy, sick or weak, everyone should leave immediately and get fresh air.
Using the Generator
Make sure you have dry hands before touching the generator. You should turn it off and let it cool before refueling. Remember to only use the type of fuel recommended in the instructions. If you can't find the manual, the fuel type should be listed on the generator.
Maintenance
Drain the gasoline from the generator before storage. You should also inspect the parts, including spark plugs and filters, on a regular basis, so you're sure the generator is ready to go when an emergency happens.
How Do You Hook up a Generator to Your House?
First, read the instruction manual that came with your generator. Different brands have their own quirks, so it's important to understand how yours works. Appliances can be plugged directly into the generator using extension cords.
Alternatively, you can connect the generator to your home's electrical system. To do this, you need a transfer switch installed by a licensed electrician. This sits near your breaker box. When the generator is needed, it's plugged into the transfer switch inlet using a special cord.
Never plug a generator into a wall outlet. This is known as "backfeeding" and can lead to the electrocution of utility workers or any neighbors on the same utility transformer.
More Related Articles
How Do You Start a Generator?
To start your generator, follow these steps:
Check the generator for any damage.
Set up the generator in an appropriate place.
Check the fuel and oil levels (using fresh gasoline protects the generator from damage).
Turn off lights and unplug appliances.
Remove any cords that are plugged into the generator.
Turn the fuel valve on.
Turn the choke on.
Turn the ignition or engine switch on.
Pull the recoil cord (some generators have an electric start button instead of a recoil cord).
If the engine doesn't start, move the choke to "half run" and pull the recoil cord again.
After the engine starts, move the engine choke to run.
If this doesn't work, your battery may be dead. It can be charged with a trickle charger. If you have a transfer switch, talk to your electrician when it's installed to confirm the process.
How Do You Use a Generator to Power Your Appliances During a Power Outage?
It's easy to power your appliances during a power outage when using the generator through a transfer switch. The switch is wired to your main panel and connected to critical circuits. Once the generator is turned on, you can pick and choose which switches to turn on to ensure you have the power you need.
If you don't have a transfer switch, you'll need to plug appliances directly into the generator. It's best to do this by running long extension cords to the generator. You need heavy-duty cords with a thick enough gauge to handle the current; the packaging can tell you what the cord is rated to supply. Ensure the cords are also appropriate for exterior use, and make sure they aren't damaged, kinked or coiled up.
Follow this sequence for plugging in appliances:
Start the generator.
Plug cords in.
Go inside and plug the appliances into the extension cords.
When it's time to shut down the generator, either because the power is back or you need to refuel, reverse this sequence. Remember that a generator doesn't have the power to run all your appliances. Turn on lights and plug in appliances one at a time to avoid overloading the unit.
Elocal Editorial Content is for educational and entertainment purposes only. Editorial Content should not be used as a substitute for advice from a licensed professional in your state reviewing your issue. Systems, equipment, issues and circumstances vary. Follow the manufacturer's safety precautions. The opinions, beliefs and viewpoints expressed by the eLocal Editorial Team and other third-party content providers do not necessarily reflect the opinions, beliefs and viewpoints of eLocal or its affiliate companies. Use of the Blog is subject to the
Website Terms and Conditions.
The eLocal Editorial Team operates independently of eLocal USA's marketing and sales decisions.