How Much Can You Plug Into One Outlet?
by Carina Jenkins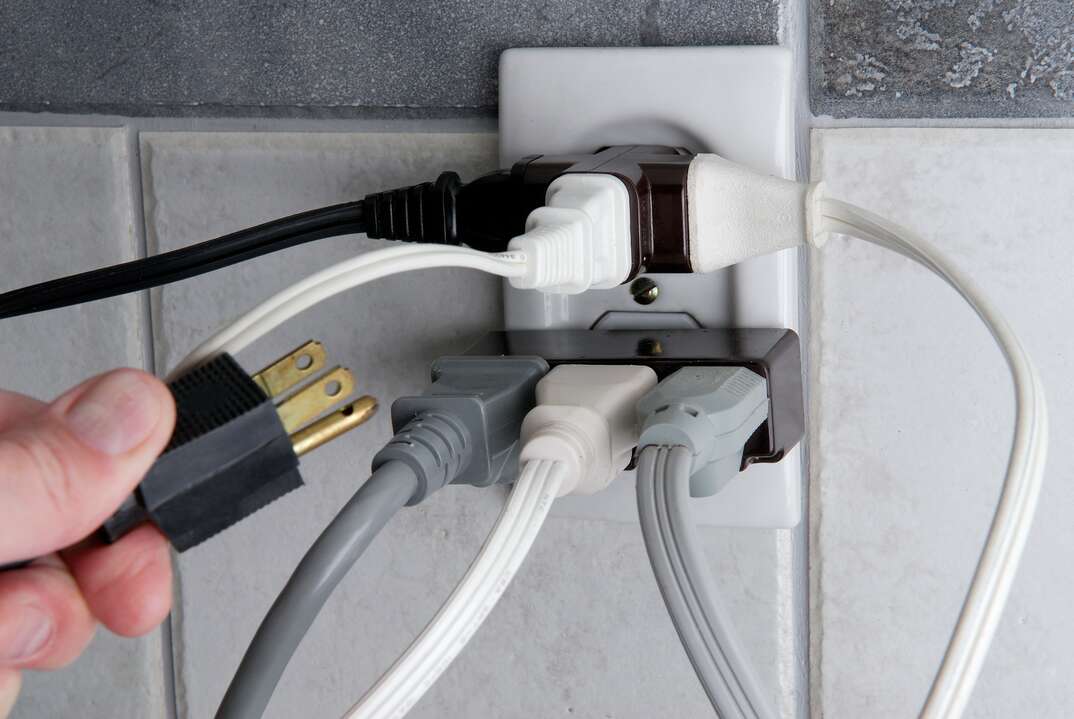 Clark Griswold taught us all an important lesson about overloading circuits when he connected too many Christmas lights together — it's a bad idea.
So, how many things can you safely plug into one outlet? If you find yourself with more devices than electrical outlets, here are some tips. Spoiler alert: Power strips are (part of) the answer.
How Many Things Can You Safely Plug Into One Outlet?
You can often plug at least two or three items into an electrical outlet. However, the exact number of items that can be safely plugged in depends on several factors:
Age of your home
Quality of wiring
The wattage of each device
Whether other outlets on the same electrical circuit are in use
Safely plugging in numerous items requires a basic understanding of your home's electrical system.
How Many Amps Can Your Outlet Handle?
Amp, short for ampere, is a basic unit for measuring electrical current. Most modern homes in the United States can handle 15 or 20 amps on a single electrical circuit, but older homes tend to be designed for only 12 amps.
A circuit is a portion of the home that shares wiring. For example, the laundry room may be on one circuit while a couple of bedrooms are on another. Thicker, high-quality wiring tends to mean a circuit can handle more amps.
What Do Amps Mean for Using Electronics?
Most household items list their wattage directly on a tag or in a user manual. Wattage can vary significantly based on the electricity the item needs to work properly. For example, a string of LED Christmas lights might use 10 watts, while your microwave oven might use 600 to 1,700 watts.
To determine how many amps are needed for your electronics, you can divide the total watts by volts (in the U.S., this is usually 120 volts). In other words, you can use this equation:
Watts/Volts = Amps
Using this equation, you can determine that a 1,200-watt microwave draws 10 amps because 1,200/120 is 10. Therefore, plugging even two microwaves into a standard household outlet is probably too much. However, five strands of 10-watt LED holiday lights might only draw 0.41 amps (50/120). These lights could probably share a single outlet safely, assuming you have a suitable power strip or outlet extender.
More Related Articles
How Many Power Strips Can You Plug Into an Outlet?
You can plug two power strips into a standard outlet with two sockets. However, you must pay attention to the wattage of each item plugged into the power strips. Even with power strips, you don't want to exceed the number of amps your electrical system can safely handle.
Can You Plug a Power Strip Into a Power Strip?
Don't plug a power strip into a power strip. This practice, sometimes called daisy-chaining, is a fire hazard. Most power strips can handle 15 to 20 amps, but this can vary. You may quickly exceed the allowable amps of the base power strip if you plug one or more other power strips into it.
How Many Extension Cords Can You Plug Into an Outlet?
A high-quality extension cord won't do much to change the amps drawn by the device connected to it. Generally, you can apply the same rules as when you plug electronics directly into an outlet. However, pay attention if you're using extension cords that connect to more than one device.
Can You Plug Extension Cords Into Power Strips?
Plugging extension cords into a power strip isn't a good idea, as this can lead to dangerous overheating. Likewise, you shouldn't plug a power strip into an extension cord.
What Can Happen if You Plug Too Many Things Into One Outlet?
Overloading an outlet will often trip your circuit breaker and cause you to lose power. While frustrating, this is the best-case scenario. Plugging too many things into one outlet can wear electrical wires or cause overheating. This can lead to a damaged electrical system or a dangerous electrical fire.
Elocal Editorial Content is for educational and entertainment purposes only. Editorial Content should not be used as a substitute for advice from a licensed professional in your state reviewing your issue. Systems, equipment, issues and circumstances vary. Follow the manufacturer's safety precautions. The opinions, beliefs and viewpoints expressed by the eLocal Editorial Team and other third-party content providers do not necessarily reflect the opinions, beliefs and viewpoints of eLocal or its affiliate companies. Use of the Blog is subject to the
Website Terms and Conditions.
The eLocal Editorial Team operates independently of eLocal USA's marketing and sales decisions.