What Is a Pediatric Dentist?
by Team eLocal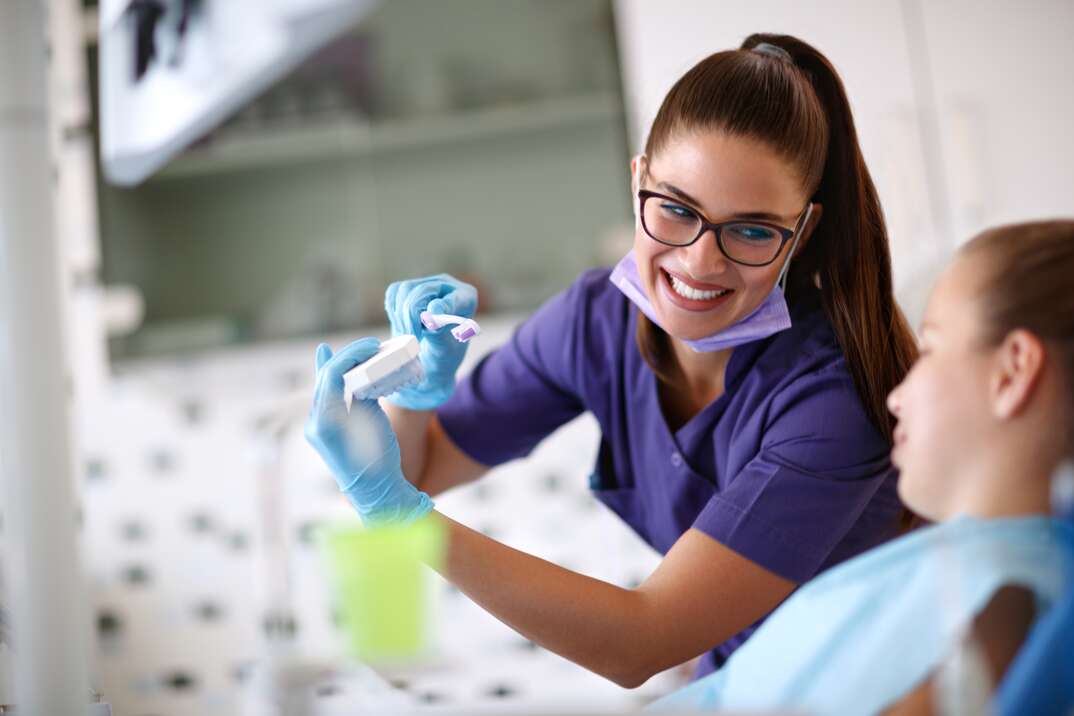 Should you take your child to a pediatric dentist, or can they see the same person who cleans your teeth? Good oral hygiene at an early age can help your child have healthy teeth and gums for the rest of their life.
That starts with finding a highly skilled dentist that makes your child feel at ease. Pediatric dentists exist precisely for this purpose.
What Is a Pediatric Dentist?
A pediatric dentist is a licensed dentist who cares for the oral health of kids with routine preventive care and restorative services to correct dental issues. They undergo additional training to become experts in oral health for the youngest patients. Pediatric dental offices are typically colorful and inviting for little ones to help them feel at ease.
How Are They Different From a Normal Dentist?
The primary difference between a pediatric dentist and a general dentist is the age of their patients. Pediatric dentists only see children, while a general dentist provides oral healthcare for all ages. Kids can go to a regular dentist instead of a pediatric dentist. Both types of dentists perform similar procedures, including cleanings, oral exams, fluoride treatments, cavity repairs, dental injury care and care for other dental diseases and concerns.
Pediatric dentists attend four years of dental school like all other dentists. Once they complete regular dental school, they go on to do a residency specializing in oral care for kids of all ages. During this specialty training, the dentist learns about special dental concerns and needs of children. They also learn how to work with children to make procedures safe, comfortable and easier, with additional training on children with special needs.
What Ages Do They Service?
Pediatric dentists typically see patients from infancy to age 18. Dental visits should start early — typically by the child's first birthday or no more than six months after their first tooth emerges. A pediatric dentist has the training to handle babies, toddlers and children right up through the teen years. The initial visit serves more as a practice session to help your little one get used to the dentist.
Most pediatric dentists stop seeing patients around the time they turn 18. However, some parents decide to switch their older kids or teens to their regular family dentist before that age. The often child-friendly decor of a pediatric dental office might make some teens request a change.
Does It Cost More to Visit a Pediatric Dentist Than a Normal Dentist?
Dentists can charge different rates, regardless of their specialty. You might find that some dental offices in your city are more expensive than others. Some pediatric dentistry offices charge a little more than regular dentists because of their specialization. This can be a concern if you pay for dental care out of pocket, rather than going through a dental insurance plan.
If you have dental insurance, you won't likely notice the higher rates for pediatric dental specialists as much. Preventive dental care is often covered in full by your dental insurance, or you might pay a small amount for it. More extensive dental procedures, such as cavity fillings, usually have either a copay or coinsurance associated with them. If your dental insurance has a copay, it's a flat fee, regardless of where you go and how much they charge. Coinsurance is a percentage of the procedure cost, so you might pay a little more if your pediatric dentist charges higher rates.
Do All Kids Need to See a Pediatric Dentist?
Your child doesn't have to see a pediatric dentist. Children's dentists have extra training and only see kids, which can help them tailor their care, but they're not the only ones who are qualified to work with children. General dentists also receive training on child oral care during regular dental school.
However, dentists in any specialty can vary in their quality. You can find a general dentist with a strong understanding of children's oral health who makes your child feel at ease. You might also run into children's dental specialists who provide subpar care. That's why it's important to research any dentist you're considering to verify their experience. Check for online reviews that might alert you to red flags.
Elocal Editorial Content is for educational and entertainment purposes only. The information provided on this site is not medical advice. Editorial Content is not intended to be used for diagnosis or treatment. We are not physicians or a substitute for advice from a physician. The opinions, beliefs and viewpoints expressed by the eLocal Editorial Team and other third-party content providers do not necessarily reflect the opinions, beliefs and viewpoints of eLocal or its affiliate companies. Use of the Blog is subject to the
Website Terms and Conditions.
The eLocal Editorial Team operates independently of eLocal USA's marketing and sales decisions.