What Is a Cottage Food Law?
by Kaia Koglin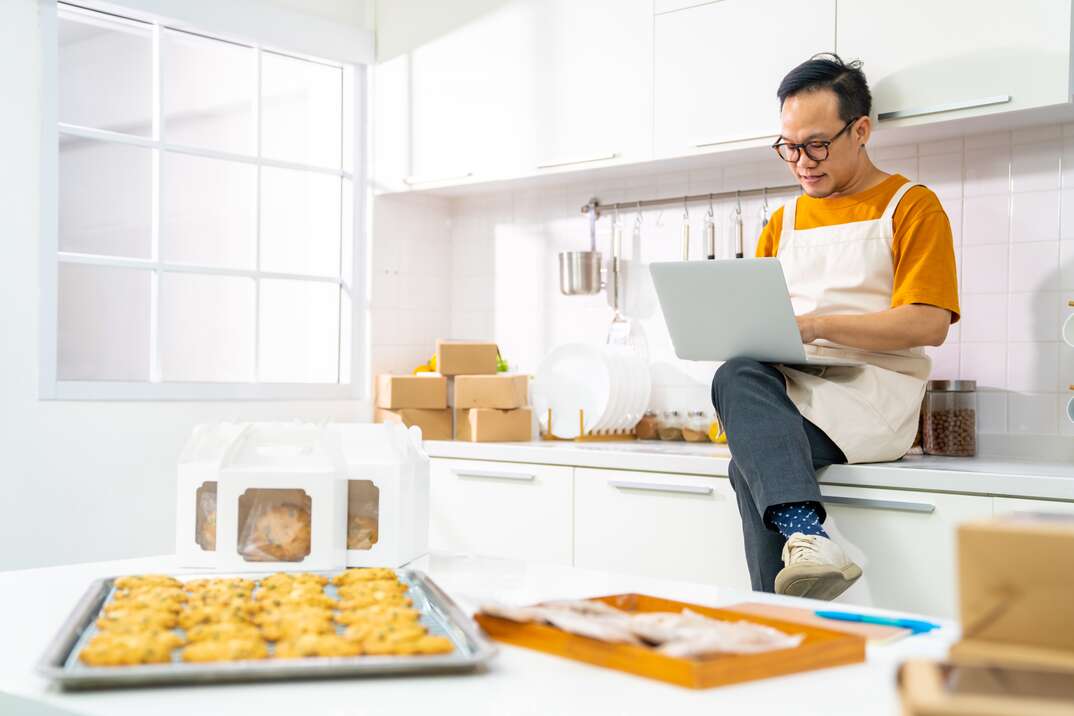 Is everyone raving about your homemade blueberry lemon candy, but you can't afford to keep making it for free? Cottage food laws might be the answer.
Also known as home-food processing laws or baker's bills, cottage food laws allow people to produce and sell food in their homes. No need for a licensed kitchen; you can turn your passion for baking into a business — as long as you understand those laws.
What Is Cottage Food Law?
Cottage food law is a set of laws that allows people to sell food made in their homes. Nearly every state has these laws. They govern food that isn't considered to be hazardous, and there's a low risk of food poisoning from a home setup.
Food made under cottage food laws is often sold at markets and roadside stalls. It can also be sold out of the home. In most states, you have to pay registration fees to operate a cottage bakery or other food enterprise. Depending on the state, cottage food licenses can be provided at a city, county or state level. The Department of Health or Department of Public Health is usually in charge of overseeing the process and can provide more information about how to obtain a license.
Talk to a Pro
Call to be connected to a local professional
What Are the General Tenets of the Cottage Food Law?
Each state has different cottage food laws on the books, and they can be quite different depending on your location. For example, in California, you can't produce any food that requires pressure canning, but Idaho allows it if you use an approved pressure canner process. It's important to study what's allowed in your jurisdiction before selling food you've made at home.
Below are some of the more common regulations governing cottage foods.
Preparing Food
The laws govern where you can prepare food and store ingredients and equipment. Generally, the food can only be prepared in the home. This rules out preparation outside or in a shed or garage. In some states, a health agency inspection is required prior to starting the operation, and in almost every state, an inspection can be conducted if a complaint is made.
The laws also cover sanitation rules. Pets and children aren't allowed in the preparation area while food is being prepared. In addition, handwashing and other sanitary practices must be observed.
Labeling Food
Generally, products must have the following information on the label:
Date prepared
List of all ingredients and allergens
Name and address of the registered cottage food preparer
A statement indicating that the food is homemade and not subject to state inspection
If you sell individual baked goods, you may have to display this information near your point of sale. This is relevant for people who sell at farmer's markets or similar events.
Selling Food
In general, the person who makes the food must sell it. It must be sold and delivered directly to the consumer, with no middleman or third-party delivery person. For example, you may be able to sell your products on a website, but you aren't allowed to use the mail service for delivery. You'll have to hand-deliver the items or arrange a pickup location. This limits sales to within your state. In some states, you can't sell outside the county where you're registered.
In most places, you must be registered with the state or county, and your gross sales can't exceed the set limit. As an example, in California, gross sales can be up to $150,000 per year for cottage foods.
What Types of Products Can You Make and Sell Under the Law?
It can be difficult to understand what's considered "cottage food" under the law. Essentially, the rules are intended to govern low-risk food products. This is anything that is shelf-stable or doesn't need to be refrigerated to stop bacterial growth. Some examples of permitted foods include:
Baked goods
Candy
Nut mixes and nut butters
Dried fruit
Dried pasta
Dry baking mixes
Fruit pies and tamales
Granola, cereals and trail mixes
Honey
Herb and spice blends
Popcorn
Vinegar and mustard
Roasted coffee and dried tea
What Types of Products Don't Fall Under These Laws?
Anything that requires refrigeration is unable to be sold through cottage laws. Dairy, cheese, juices and meat are the obvious foods included in this category. However, it also includes baked goods that contain cream or custard.
In many places, acidified and fermented foods, such as pickles, are not allowed. This is because of the risk of botulism in food that hasn't been properly pickled. Jams and preserves may also fall under the same rules.
If you want to start selling food from home, it's important to know the rules in your state and county. The National Agricultural Law Center maintains a database that details the laws around the country.
Elocal Editorial Content is for educational and entertainment purposes only. The information provided on this site is not legal advice, and no attorney-client or confidential relationship is formed by use of the Editorial Content. We are not a law firm or a substitute for an attorney or law firm. We cannot provide advice, explanation, opinion, or recommendation about possible legal rights, remedies, defenses, options or strategies. The opinions, beliefs and viewpoints expressed by the eLocal Editorial Team and other third-party content providers do not necessarily reflect the opinions, beliefs and viewpoints of eLocal or its affiliate companies. Use of the Blog is subject to the
Website Terms and Conditions.
The eLocal Editorial Team operates independently of eLocal USA's marketing and sales decisions.