How Much Does It Cost to Get My Taxes Done? Professionally Vs. Online
by Team eLocal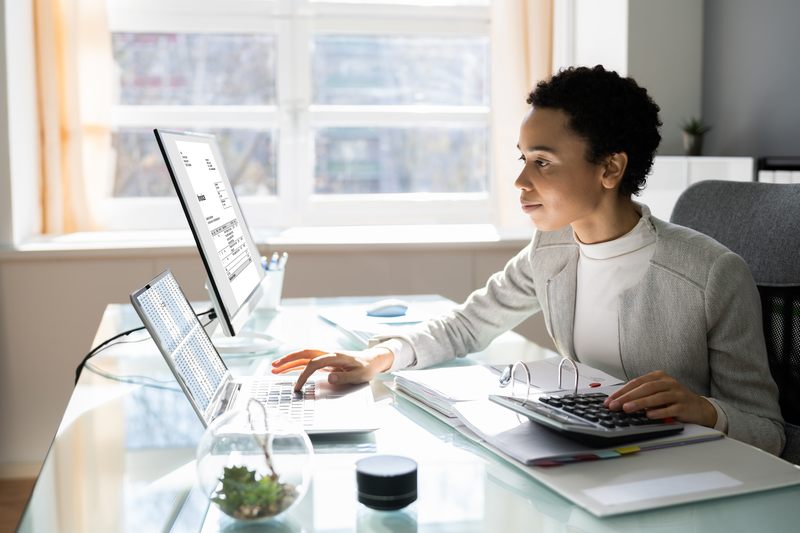 How much does it cost to do your taxes? With so many tax services available on the internet, you may wonder what the most affordable way to prepare your taxes might be.
You could do them yourself for free, but this can be very time-consuming, and if you hire an accountant, you're going to have to pay them for their time. This guide reviews your options so you can decide the best option for you.
How Much Does It Cost to Have Your Taxes Professionally Prepared?
It's difficult to say how much it costs to have a professional accountant file your taxes. Accountants charge more if more time is needed to file your taxes. So if your taxes are complex, expect to pay quite a bit more in tax preparation fees. Many people are willing to absorb the cost of paying someone else to do their taxes for two reasons:
The average tax return can take up to 12 hours to file without any professional help, according to the IRS. Most people don't want to dedicate this much of their time to preparing their taxes due to busy schedules and family lives.
Many people fear being audited by the IRS. When you have your taxes prepared by a tax service, that service usually offers audit assistance and makes sure that your taxes are filed correctly to minimize the chance that you'll run into any future problems with the IRS.
According to Investopedia, most people can expect to pay around $200 for an accountant to do their taxes, but if your taxes are more complicated, you could pay substantially more.
What Factors Impact the Cost?
Accountants need to be paid for their time, so the greatest factor that impacts tax preparation fees is how long it takes to complete your taxes. If you have a lot of deductions and your taxes require numerous forms, you may be charged more to have them prepared. For example, if you need to have a federal and state return filed with a Form 1040 and no deductions, you can expect to pay closer to the average return cost, or even a little less, depending on the cost of living in your area.
If you're an independent contractor or run your own business, you may need to itemize your deductions and fill out extra forms for your business. An itemized Form 1040 can increase your cost by $100, while needing to file a Schedule C raises it another $100 to $150.
How Much Does It Cost to Do Your Taxes Online?
There are plenty of online options to consider for doing your taxes. You can use tax preparation software through companies like TurboTax and H&R Block for a significant discount. The way that these programs work is by asking you to provide information such as your income, deductions, business expenses and other relevant information.
As you provide information, the software automatically determines which forms need to be filed and whether you're missing out on tax deductions. It's a lot easier for many people because they've got all their needed information but don't always know about the deductions they qualify for.
The average tax preparation fees online are about $120, but the complexity of your return can impact the cost with this option, too. There may be ways you can save money or even file your taxes for free as well.  For example, if you file early and you have a very simple tax return, you might be able to use these online services for free. You'll also pay more if you want a tax professional to review your return before you file, or if you want to live chat or video call with a professional while you're filling out your forms.
What Factors Impact the Cost?
One of the biggest factors to consider when you're filing taxes online is your income. If you made $58,000 or less last year, you can qualify for the Volunteer Income Tax Assistance program, which entitles you to a free return. People over the age of 60 also qualify for tax filing assistance, so check with the AARP to see if you can get a reduced rate or have your taxes filed for free.
If you need to pay to have your taxes filed online, the number of forms you need to file impacts the cost just as it would if you're filing with a professional accountant. The more complex your return is, the more it's going to cost you.
What Are the Benefits of Hiring an Accountant Over Doing Taxes Online?
While filing your taxes online might be easier and cost much less, some people would be better off hiring a professional. If you run a business or are self-employed, tax professionals are trained to find ways you can save money. In many instances, the money you save through reduced taxes or a larger refund can justify the cost of your accountant.
Most people filing taxes don't need the services of a tax accountant, thanks to the increasing number of options available online. Keep in mind that accountants need to be paid for their time, and using tax preparation software can save time and money if your return isn't that complicated. You may even be able to file your taxes for free.
ProFindr
Fast, Easy and Commitment Free.
Skip the search and get the number for a pro near you texted to your phone.
Talk to a local pro. We connect you to pros who are local and available to work.