Trampolines and Home Insurance Policies: Will My Premiums Jump?
by Team eLocal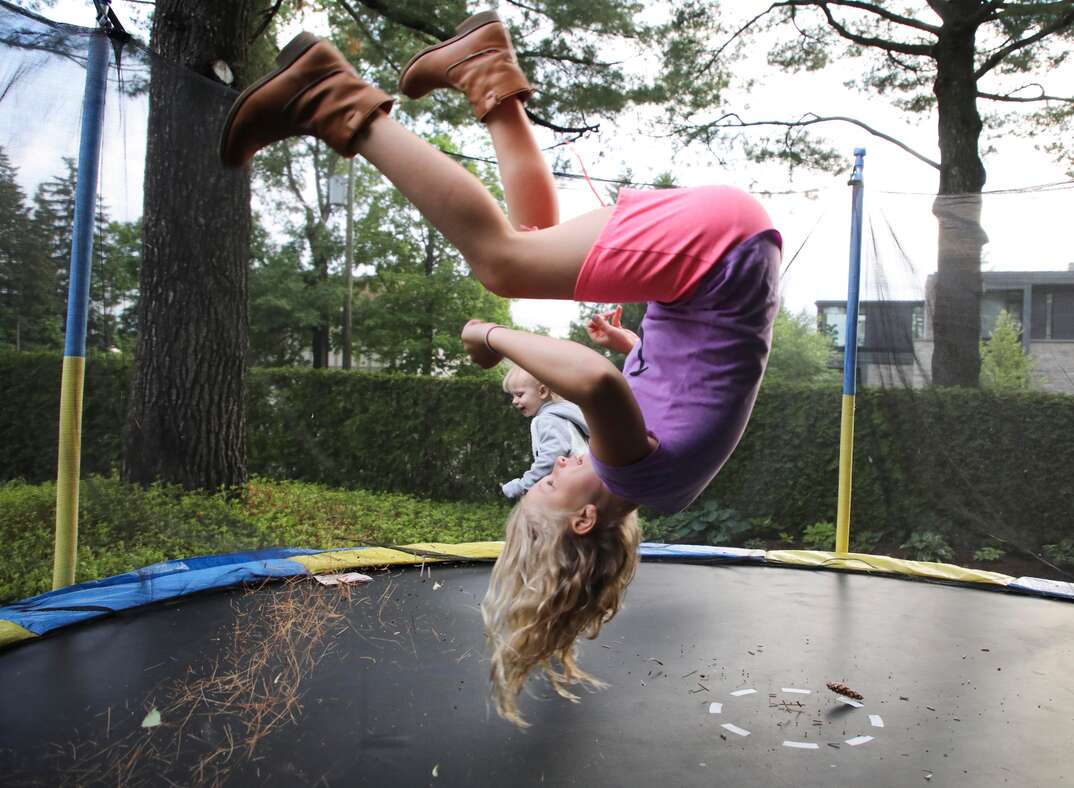 Purchasing a trampoline is an effective way to keep active kids entertained — and many adults also enjoy a bouncing session. However, things can turn sour if someone injures themselves while enjoying your trampoline, or if it causes damage to someone else's property.
Fortunately, many homeowners insurance policies cover trampolines, although there may be restrictions. Here's everything you need to know about homeowners insurance and trampolines, including covered events and premium increases.
Does Homeowners Insurance Typically Cover Trampolines?
Unfortunately, you can't purchase trampoline insurance separately from your homeowners insurance plan. Whether your homeowners insurance covers trampolines depends on your insurance policy and coverage type.
Getting a trampoline without adequate insurance coverage is unwise because you could be held liable for any incidents, and you'll have to pay for damages out of pocket. However, insurance companies don't always state their policy on trampolines in their paperwork. It's worth checking with your insurer to determine if you're covered before bringing a trampoline home.
Full Coverage
Some homeowners insurance policies cover trampolines without exclusions, which means they'll cover trampoline injuries. They also cover damage caused by your trampoline, for example, if it blows away in high winds and damages someone else's property. No-exclusion policies cover trampoline incidents, even if you don't take proper safety precautions.
Restricted Coverage
Other companies may cover trampolines if you meet specific requirements. Companies often cite trampolines as "attractive nuisances" that pose the risk of a child using the equipment unsupervised and hurting themselves.
Therefore, your insurer may require you to take certain steps to keep your trampoline secure and safe. For example, you may have to install a safety net, increase the height of your fences and tether your trampoline securely to the ground.
No Coverage
Many companies explicitly exclude trampoline coverage from their homeowners insurance policies because they believe they pose a substantial safety risk. If your policy excludes trampoline coverage, it won't cover any injuries or damage caused by your trampoline. Your company may also refuse to continue your coverage if you purchase a trampoline on a no-coverage policy.
When Does Homeowners Insurance Apply to Trampolines?
If your homeowners insurance covers trampolines, it may honor claims in the following circumstances:
Weather Events
Your insurance company may pay out if your trampoline gets damaged in an extreme weather event, such as a hurricane or electrical storm. Whether your insurance covers the event depends on what constitutes a covered peril in your policy.
You can often claim to have a damaged trampoline replaced or to cover the costs of damage caused by your trampoline blowing onto a neighbor's home or vehicle. Liability insurance might cover the damage if you acted negligently by leaving your trampoline untethered.
Personal Injuries
Your homeowners insurance is unlikely to cover injuries to members of your household. However, your homeowners liability insurance may pay medical or legal costs if a visitor injures themselves while using your trampoline.
Vandalism and Theft
Homeowners insurance usually covers deliberate acts of vandalism or the theft of a trampoline. However, it's worth checking your coverage amount to ensure it adequately covers your trampoline's value.
Do You Have to Report a Trampoline to Your Homeowners Insurance Company?
It can be tempting to go ahead and get a trampoline without informing your insurer, especially if your kids are clamoring for one. However, keeping your trampoline secret from your insurance company can have severe consequences.
Concealing information from your insurance company could constitute misrepresentation. Your insurer could cancel your policy retroactively if they discover you own a trampoline. Furthermore, they could decide not to honor unsettled claims and refuse to cover a claim related to your trampoline.
How Much Will a Trampoline Raise Your Premiums?
If your homeowners insurance doesn't cover trampolines, you can talk to the company to determine if they'll extend your coverage. Some insurers may refuse, while others may increase your premiums to reflect the added risk of trampoline ownership.
How much you should expect to pay depends on your insurance company and policy type. Therefore, it's worth asking your insurer how owning a trampoline will affect your premiums before committing.
Elocal Editorial Content is for educational and entertainment purposes only. Editorial Content should not be used as a substitute for advice from a licensed professional in your state reviewing your issue. The opinions, beliefs and viewpoints expressed by the eLocal Editorial Team and other third-party content providers do not necessarily reflect the opinions, beliefs and viewpoints of eLocal or its affiliate companies. Use of eLocal Editorial Content is subject to the
Website Terms and Conditions.
The eLocal Editorial Team operates independently of eLocal USA's marketing and sales decisions.