How Much Does It Cost to Clean Gutters?
by Team eLocal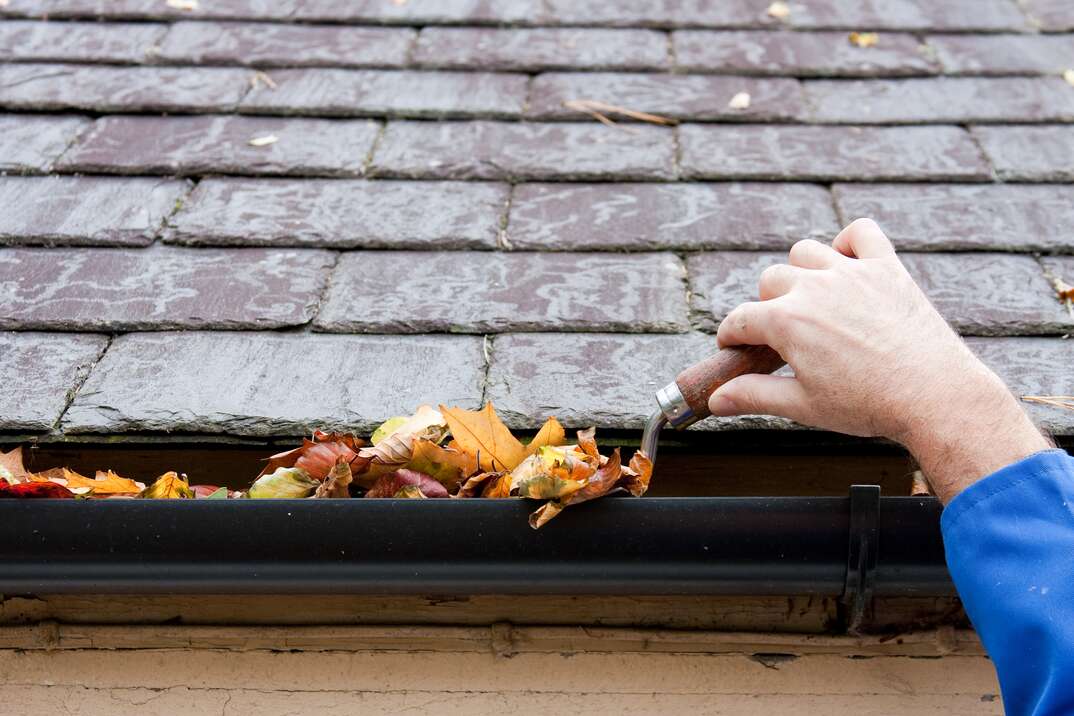 Nobody looks forward to cleaning their gutters, but it's not a job you should ignore. While it may not be glamorous (and it certainly isn't fun), scooping out all the gunk and debris is essential for diverting water from your roof and preventing damage to your property.
You have two options when it comes to gutter cleaning: Pull on some rubber gloves and do the job yourself, or hire a professional gutter-cleaning service. Here's a look at how much a professional service costs to help you decide whether it fits in your budget.
How Often Should You Have Your Gutters Cleaned?
Generally, you should schedule gutter cleaning twice a year — once in the late spring and again in the late fall. Doing so will remove any leaves and other debris from your gutters before periods of higher rainfall, which is when you want your gutters to perform at their best.
However, there are some circumstances when you might need to book gutter cleaning more often. For example, your gutters may become clogged more quickly if you live somewhere surrounded by tall trees. People living in areas with a lot of evergreen trees may require gutter cleaning up to four times a year because the trees shed leaves throughout the year.
How Much Does Professional Gutter Cleaning Cost?
According to Forbes, gutter cleaning costs 80 cents per linear foot, with most homeowners paying around $160 in total. Cleaning gutter systems on homes with more stories is often more expensive, as working at height is more dangerous for contractors and sometimes requires specialist equipment. Generally, you can expect to pay the following amounts for cleaning 200 linear feet:
One-story home: $70 to $100
Two-story home: $96 to $225
Three-story home or higher: $170 to $425
Several other factors can affect how much it is to have your gutters cleaned. For example, you may need to pay more if your gutters are difficult or dangerous to access. You should also allow for an extra $50 to $100 if you want your gutter-cleaning company to clean your downspouts.
How Long Does Gutter Cleaning Take?
Gutter cleaning takes around an hour for an average, single-story home. However, the project will likely take 2 to 4 hours or longer if your home has two or more stories. It may be quicker if you hire a professional gutter-cleaning service that sends a team to your home, as they have the skill and experience to clean gutter systems efficiently.
Can You Clean Your Gutters Yourself?
You can clean your gutters yourself if they're generally in good condition. Gutter scoops are available relatively cheaply from DIY stores, and these tools let you remove debris from your gutters while standing on the ground. However, there's a risk that you could damage your gutters using a gutter scoop if you don't know what you're doing.
Alternatively, you could try flushing the debris from your gutters using a garden hose, and you can purchase telescopic hose attachments designed to help you clean gutters from the ground. You could even try using a leaf blower to blow fallen leaves out of your gutters if they're not too clogged.
Using a step ladder to clean your gutters can be dangerous, and the safest option is to purchase a telescopic tool that lets you remain safely on the ground. If you must climb to reach the gutters, use a high-quality extendable ladder and ask someone to hold it for you while watching out for hazards.
DIY cleaning isn't a good option for every homeowner. If your home has multiple stories, paying a professional to do it for you is usually safer and easier.
Elocal Editorial Content is for educational and entertainment purposes only. Editorial Content should not be used as a substitute for advice from a licensed professional in your state reviewing your issue. Systems, equipment, issues and circumstances vary. Follow the manufacturer's safety precautions. The opinions, beliefs and viewpoints expressed by the eLocal Editorial Team and other third-party content providers do not necessarily reflect the opinions, beliefs and viewpoints of eLocal or its affiliate companies. Use of the Blog is subject to the
Website Terms and Conditions.
The eLocal Editorial Team operates independently of eLocal USA's marketing and sales decisions.