Look For These 4 Things When Hiring a Painter
by Team eLocal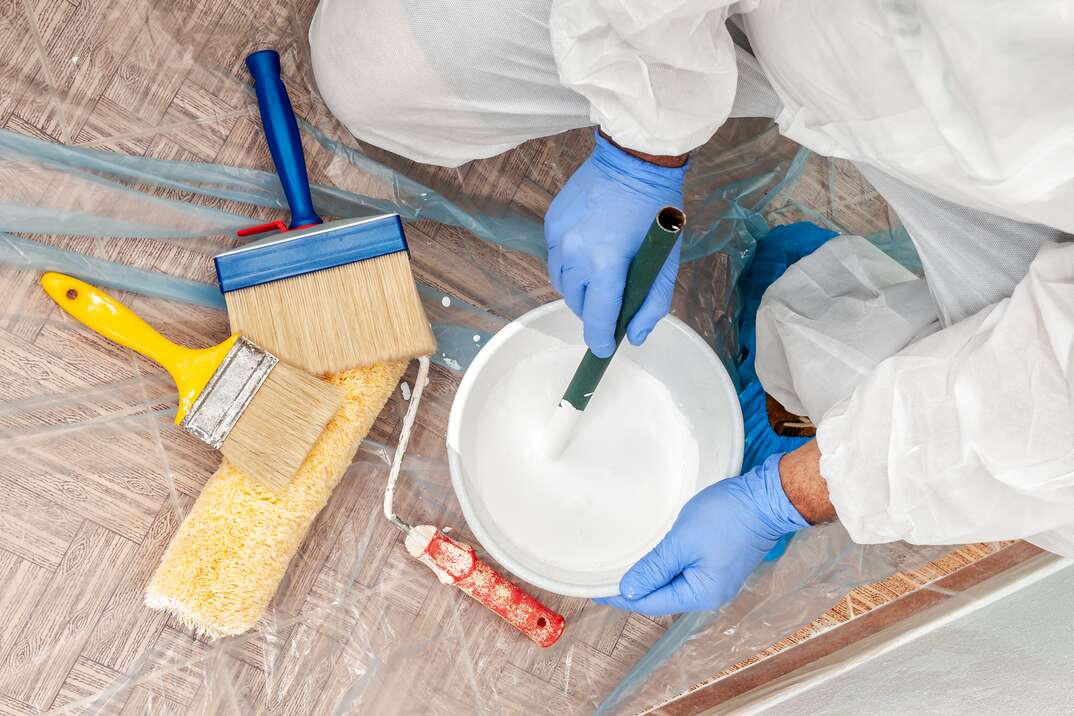 Whether you need to paint a single room or your whole home, you should consider hiring a professional. A pro painter can help you with every step of the process, from picking the type and color of paint you use to expertly painting various surfaces.
But hiring a painter isn't as simple as picking someone out of the phonebook. Keep these points in mind while you're on the search.
Hiring a Painter: What to Look For
Interior Vs. Exterior Services
One thing to consider when hiring a painter is whether you need interior painting services or an exterior painter. Some contractors do both, but many specialize in one area.
Interior painters handle all of the prep work that you need. They can lay down tarps to protect your floor from paint spills and remove baseboards and trim to paint them later. This helps them get an even coat of paint on the walls without damaging your trim. They will apply a coat of primer that reduces the number of paint coats you need and creates a smooth surface for the paint.
They will also remove all the furniture and decorations from the room being painted before they begin. You can let them take down curtains and other window treatments, too. During the prep phase, your contractor team can also make any minor repairs that your drywall needs, such as filling in cracks and holes.

Exterior painters undertake just as many tasks — they just deal with painting your siding instead. They can use ladders to reach eaves and other areas near your roof. You can hire an exterior painter to paint your whole house, or just a specific area such as your porch.
Credentials, Licenses and Insurance
Before you hire professional painters, make sure they have the right credentials. The credentials they need to operate vary from state to state. Though you may live in a state that allows anyone to work as a painter, some states require that these professionals have a license. To obtain a license, they may need a minimum of two years of experience working as a painter and a passing score on the licensing exam. You can check with your state to see if the painters you want to hire are licensed.
You should also ask about the insurance the painter has to confirm that their insurance will cover any accidental damage.

Free Estimates
With a free estimate, the painter will come to your home and walk through any spaces you want to paint and let you know about how much it will cost to complete the job. Make sure you ask whether the estimate includes all the paint and other supplies they need, along with their labor costs. The cost of a paint job can range from around $500 for a small bathroom to more than $5,000 to paint the outside of your home.
Referrals
When you look at how to hire a painting contractor, ask for referrals from your family and friends. They can often recommend painters they worked with in the past and may tell you about those you should avoid. Once you find a few, look for online reviews. While the painters' websites may feature tons of glowing reviews, you'll find more detailed reviews on other sites.

Ask Questions
One of the best ways to learn about the painter you're hiring is to ask questions. Find out how much help contractors will offer before you hire them. See if they offer support when it comes to picking paint colors, as some do not offer this service. Reputable painters will also keep you updated throughout the process. They will let you know if they run into problems that will extend the job, or if they are on track to finish earlier than expected.
Elocal Editorial Content is for educational and entertainment purposes only. Editorial Content should not be used as a substitute for advice from a licensed professional in your state reviewing your issue. Systems, equipment, issues and circumstances vary. Follow the manufacturer's safety precautions. The opinions, beliefs and viewpoints expressed by the eLocal Editorial Team and other third-party content providers do not necessarily reflect the opinions, beliefs and viewpoints of eLocal or its affiliate companies. Use of the Blog is subject to the
Website Terms and Conditions.
The eLocal Editorial Team operates independently of eLocal USA's marketing and sales decisions.