How to Fill a Pool
by James Fitzgerald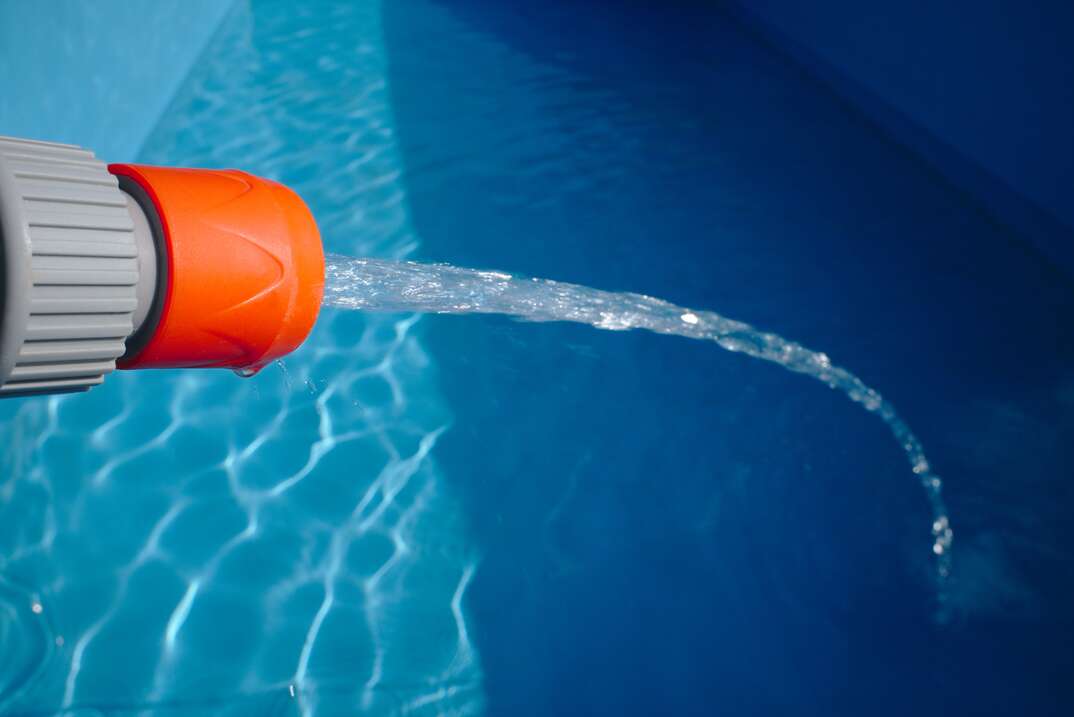 Whether you've just installed a new swimming pool or are performing a routine refill, you need to know how to fill it up with water before you can start enjoying it this summer. Read on to learn the most common ways to fill a pool along with the pros and cons of each approach.
Can You Fill a Pool With a Garden Hose?
Unless you live in an area with drought-related restrictions on your ability to do so, you can absolutely fill your pool with a garden hose. However, it comes with a set of advantages and disadvantages you should be aware of before deciding to do so.
The most significant advantage of using a garden hose is that it's readily available in most homes. And while using a garden hose will significantly add to your water bill, it's usually less expensive than other methods. If you use well water instead of a municipal water source, the cost savings can be even more significant.
The primary disadvantage of using a garden hose is that it takes a long time, especially for larger pools. It can take days to fill a large pool using a standard garden hose. In addition, filling a pool with a garden hose can use a substantial amount of water, which may affect the water pressure in the rest of your home.
Finally, the water from your garden hose may be high in minerals or other elements that could unbalance your pool's chemistry, so you may need to test and treat the water after filling the pool. This is especially true if you're filling your pool with well water.
Using a well to fill your pool necessitates special considerations. These include:
Well yield. The yield of a well is the quantity of water it can provide over a certain period, often measured in gallons per minute (GPM). You'll want to make sure your well has sufficient yield to supply water for both household use and pool filling without running dry.
Pump capacity. This refers to how much water your pump can move from the well to your home per unit of time. If the capacity isn't enough to fill the pool within a reasonable timeframe while maintaining regular household water usage, you might want to find an alternative water source.
Recovery rate. The recovery rate is how quickly the well refills after being drawn down. If the recovery rate is slow, you could drain your well by trying to fill your pool.
If you're unsure about these factors, it's best to consult with a local well professional. They can conduct a well yield test and assess your pump capacity and recovery rate. This information will give you a good idea of whether your well can handle filling a pool.
In general, if you decide to use well water to fill your pool, it's often best to do so slowly over several days. This helps prevent overtaxing the well pump and allows time for the well to recover.
Talk to a Pro
Call to be connected to a local professional
How Long Does It Take to Fill a Pool With a Garden Hose?
The time it takes to fill a pool with a garden hose depends on the volume of the pool and the flow rate of the hose.
Considering the average flow rate for a garden hose is about 9 gallons per minute (which can vary depending on the diameter of the hose and water pressure), average fill times would be:
Approximately 556 minutes (or about 9 hours) for a small, 5,000-gallon pool.
Approximately 2,222 minutes (or about 37 hours) for a medium-sized, 20,000-gallon pool.
Approximately 3,333 minutes (or about 56 hours) for a large, 30,000-gallon pool.
What Are Some Other Ways to Fill a Pool?
Water Delivery Services
You can hire a water delivery service, which will deliver large quantities of water directly to your home. They typically use a tanker truck and can fill a pool quickly. This method can be quite costly (see more below), but it's one of the fastest ways to fill a large pool.
Fire Hydrant
In some areas, you may be able to use a local fire hydrant to fill your pool. Using a fire hydrant can fill a pool much faster than a garden hose, but it is often more expensive.
Assuming it's allowed, you'll need to purchase a permit from your local authorities. The cost of a permit can vary widely based on location, local regulations and the specific purpose for which you're using the hydrant. Many cities will also charge additional fees based on the amount of water you use.
In addition, you'll need to pay for equipment rental in order to use the hydrant because you won't be able to connect a regular garden hose directly to a fire hydrant. You'll need a hydrant wrench, a fire hydrant adapter, a large-diameter hose and possibly a water meter. Some municipalities will rent this equipment to you when you get the permit.
How Much Does Pool Water Delivery Cost?
The cost of water delivery services can vary greatly based on your location, the volume of water you need, and the specific provider's pricing structure. Some services may also charge additional fees for delivery distance or access difficulties, or for weekend or off-hours deliveries.
With that being said, the average cost to fill a 10,000 gallon to 20,000 gallon pool is between $400 and $2,400 according to Homeguide.
Before deciding on a water delivery service, it's a good idea to get quotes from several providers in your area to compare prices. Also, make sure to ask about any additional fees, like charges for distance traveled, that might not be included in the base rate
Elocal Editorial Content is for educational and entertainment purposes only. Editorial Content should not be used as a substitute for advice from a licensed professional in your state reviewing your issue. Systems, equipment, issues and circumstances vary. Follow the manufacturer's safety precautions. The opinions, beliefs and viewpoints expressed by the eLocal Editorial Team and other third-party content providers do not necessarily reflect the opinions, beliefs and viewpoints of eLocal or its affiliate companies. Use of the Blog is subject to the
Website Terms and Conditions.
The eLocal Editorial Team operates independently of eLocal USA's marketing and sales decisions.