How Much Does It Cost to Install Vinyl Flooring?
by Team eLocal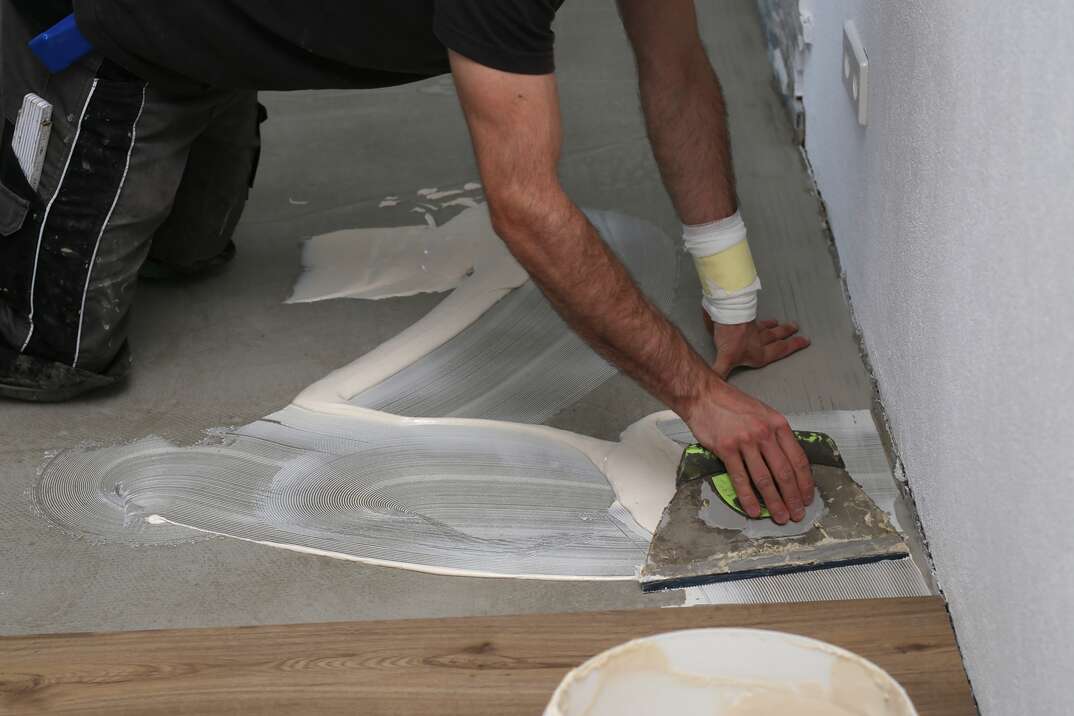 Vinyl Flooring Installation Costs at a Glance
Material cost: $1-$5 per square foot
Labor cost: $2 per square foot
One of the reasons some people shy away from hardwood flooring is the fear that water, pets and other regular wear and tear can ruin it. Vinyl offers the appearance of wood or any other material you'd like at a lower price point — plus, it's water-resistant.
Below, we've covered everything you need to know to determine your vinyl flooring installation costs so that you can budget accordingly.
Types of Vinyl Flooring
Vinyl comes in two forms. Luxury vinyl tile or planks emulate the appearance of hardwood and snap together during installation. You can also buy vinyl sheet flooring that's sold in rolls. Installing vinyl rolls is a matter of making measurements, cutting the sheets to fit the contours of the room and putting it down.
Vinyl Flooring Costs Per Square Foot
Installing vinyl plank flooring requires materials and labor. According to HGTV, the average cost of materials for this project is about $1 to $5 per square foot. If you're choosing to have it installed by a professional flooring company, you should add $2 per square foot to your cost estimate. Labor typically runs about as much per square foot as the materials do. Compared to other flooring options, vinyl is relatively inexpensive.
Vinyl Flooring: Cost Factors
The size of the area you wish to cover has the greatest impact on your vinyl flooring cost. If you're looking to install new floors for your entire home, it'd be considerably more expensive than if you're only going to put floors down in one or two rooms. Before you can install new floors, you need to pull out the old ones too.
This requires removing the molding, baseboards and flooring material and then inspecting your subfloor. If your subfloor is damaged, you have two choices. You can repair it or replace it completely. Some people use this as an opportunity to put protective insulating foam beneath their new floors to protect against mold, mildew and moisture damage.
If you're having your vinyl flooring installed professionally, these extra steps add to your labor costs. The longer the installation team needs to work, the more you need to pay.
Vinyl Flooring Installation Costs
The installation price varies based on the extra services you need. If you're only accounting for the new floor after you've pulled up the old one, add about $2 per square foot to be safe. If you'd like help with potentially repairing the subfloor and cleaning up the old materials, the best way to determine what it'll cost you is to call around for some cost estimates.
Don't take the first offer you get. The best way to be sure you're getting a good price is to comparison shop. Ask for a breakdown with each quote so you know what the materials cost, what you're being charged for labor and any other fees you're being charged.
Can You Install Vinyl Floors Yourself?
You can easily save 50% just by installing your vinyl flooring on your own. If you're going to install a floor by yourself, vinyl is the best material to work with. It doesn't require bonding to the subfloor, and cutting the material is quick and easy. Tongue-and-groove-style vinyl planks simply snap together. If you're handy and have an assistant or two to help you out, the project can be completed in just several hours.
Elocal Editorial Content is for educational and entertainment purposes only. Editorial Content should not be used as a substitute for advice from a licensed professional in your state reviewing your issue. Systems, equipment, issues and circumstances vary. Follow the manufacturer's safety precautions. The opinions, beliefs and viewpoints expressed by the eLocal Editorial Team and other third-party content providers do not necessarily reflect the opinions, beliefs and viewpoints of eLocal or its affiliate companies. Use of the Blog is subject to the
Website Terms and Conditions.
The eLocal Editorial Team operates independently of eLocal USA's marketing and sales decisions.