How Much Does It Cost to Have Your Upholstery Cleaned?
by Team eLocal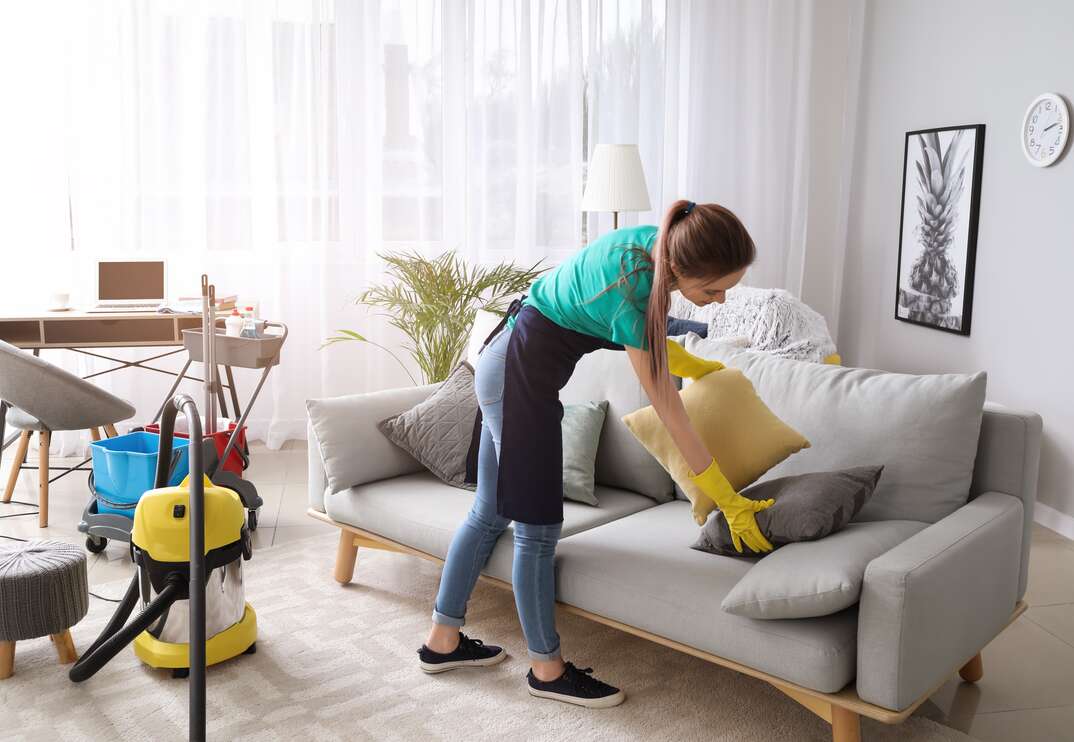 Spilling red wine on your cream sofa may feel like the end of the world, but it doesn't have to spell doom. While you may be tempted to clean the stain yourself, using the wrong method could make the problem worse.
Read More Home Improvement Articles
Unless you have specialist knowledge, hiring a professional upholstery cleaner is usually the safest and most effective way to get fabric furniture looking its best.
How Much Does Upholstery Cleaning Cost?
According to Fixr, upholstery cleaning costs around $180 (CAD 240) on average. Most professional upholstery cleaners charge between $100 and $250 (CAD 135 and CAD 335) for furniture upholstery cleaning, but prices start from around $50 (CAD 70). Meanwhile, you could pay as much as $600 (CAD 800) to clean a large couch made from a challenging material, such as leather.
Most upholstery cleaning companies charge per item. Many also impose a minimum fee of between $50 and $100 (CAD 70 and CAD 135.) You could pay less per item if you have several chairs or sofas cleaned during the same appointment because some professional couch cleaners offer discounts for cleaning multiple items.
As you might expect, larger upholstered items cost more to clean because they require more time, effort and cleaning solution. For example, cleaning an upholstered sectional couch costs between $120 and $400 (CAD 160 and CAD 540), while cleaning a single upholstered dining chair could cost as little as $15 to $40 (CAD 20 to CAD 55.) However, bear in mind that you could pay more if your cleaning company's minimum service fee exceeds the cleaning cost for your item.
What Methods Do Professional Upholstery Cleaners Use?
There are three standard methods for cleaning couches and other upholstered furniture: stain removal, chemical cleaning and steam cleaning. Which method you should choose depends on the type of stain and the upholstery material. Therefore, many professional upholstery cleaners offer a free consultation to assess the item and recommend the most suitable cleaning technique.
Stain Removal
Stain removal could be suitable if you want to remove food or pet stains from your furniture without cleaning the entire item. It's a good option for tackling tough stains when regular household stain removers haven't worked.
The cost of upholstery stain removal depends on the size of the stain— the larger the area, the more you'll pay. Certain stains are more difficult and expensive to remove because they may require pretreatment or a costlier cleaning method. Overall, you should expect to pay between $25 and $80 (CAD 35 and CAD 110) per couch or chair.
Steam Cleaning
Professional steam cleaning is the most common upholstery cleaning technique. It involves applying pressurized steam and detergent to the fabric to remove dirt and bacteria. The technician then uses a powerful vacuum to remove any remaining dirt particles and water.
Steam cleaning is generally suitable for delicate fabrics and older furniture. For example, many people hire a professional to steam clean couches, chairs and mattresses. Prices depend on the size of the item, but it usually costs between $15 and $300 (CAD 20 and CAD 400).
Chemical Cleaning
Chemical cleaning, also known as chem-dry cleaning, involves spraying cleaning chemicals onto upholstery to emulsify and remove dirt particles and grease. The process doesn't typically require water, so chemical cleaning can help prevent moisture damage.
However, chemical upholstery cleaning can damage certain fabrics, so checking whether it's suitable for your furniture first is essential. You can often use chemical cleaners on materials such as cotton, wool and rayon, and many couches and chairs suitable for chemical cleaning have an "S" symbol on the label. Your professional upholstery cleaner can advise you if you're unsure.
How much you'll pay to clean a couch or another upholstered item depends on its size and condition. However, most people spend between $15 and $400 (CAD 20 and CAD 540) per item.
All CAD conversions are based on the exchange rate on the date of publication.
Elocal Editorial Content is for educational and entertainment purposes only. Editorial Content should not be used as a substitute for advice from a licensed professional in your state reviewing your issue. Systems, equipment, issues and circumstances vary. Follow the manufacturer's safety precautions. The opinions, beliefs and viewpoints expressed by the eLocal Editorial Team and other third-party content providers do not necessarily reflect the opinions, beliefs and viewpoints of eLocal or its affiliate companies. Use of the Blog is subject to the
Website Terms and Conditions.
The eLocal Editorial Team operates independently of eLocal USA's marketing and sales decisions.