How Much Does It Cost to Install a Stair Lift?
by Team eLocal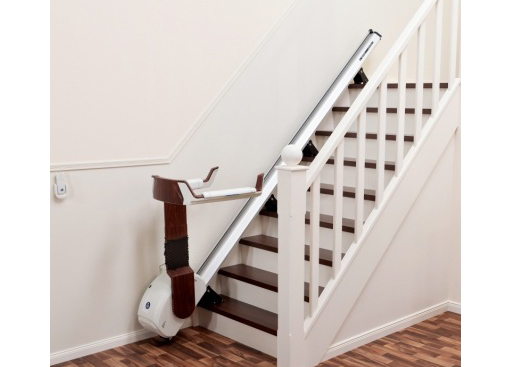 A stair lift can greatly increase your accessibility to all parts of your home and make it possible to age in place for longer.
The price range for a stair lift varies, depending on your needs and the configuration of your stairs.
How Much Does It Cost to Have a Stair Lift Installed?
On average, a straight stair lift costs about $8,500 for the chair and installation. However, the total cost can range from $4,000 to $13,000 or more, depending on the type of stair lift you choose and the installation features. Custom, curved and outdoor stair lifts will cost more than standard models. Specific costs also depend on the brand and model.
Stair Lift Installation Cost
According to Bob Vila, labor costs usually add $1,000 to $5,000 on top of the cost of purchasing the lift.
Talk to a Pro
Call to be connected to a local professional
What Factors Impact the Cost?
Several factors can impact the final cost you'll pay for your stair lift. Anything that makes the job more difficult or requires higher-priced equipment will make your expenses higher.
State of Your Stairs
A larger staircase requires longer rails, which can increase the total cost. Curved stairs often require custom stair lifts, which make them much more expensive than straight stairs. It's also more expensive if you have a landing partway up the stairs, even if both sections are straight.
Stair Lift Type
You can choose between standard and premium chair options with varying features. Standard stair lifts are the most affordable and meet your basic needs while providing safety and functionality. Paying more for a premium stair lift often results in a slimmer, less intrusive design with added features that make it more comfortable and an upscale design to make it look nicer.
Used Vs. New
You can buy a used stair lift and save some money. However, they still typically cost thousands of dollars. You'll also need to find a stair lift that will work with your stair configuration, which can be challenging. It's also best to have the stair lift professionally installed to ensure it's secure, which adds to the cost.
Weight Limit
Heavy-duty stair lifts have a higher weight capacity to accommodate larger users. They typically cost more due to the heavier-duty motor and components.
Power Supply
You'll also need a power supply for the stair lift. If you don't have an easily accessible outlet, you'll need to hire an electrician to add one. This is typically a relatively easy job, but it adds to the total cost.
Can You Rent a Stair Lift for Temporary Use?
You can rent a stair lift if you only need it temporarily. For example, if you're recovering from an injury or surgery and will eventually be able to walk up the stairs yourself, you might use the lift while you go through rehab. Rentals are typically only available for straight stairs with no landings between the top and bottom. It's also common for them to be limited to about 16 steps.
You can expect to pay between $175 and $450 per month for a stair lift rental. While this is an affordable option as a temporary solution, it's usually not cost-effective long term. Many stair lift companies offer financing options if you want to buy a stair lift, which allows you to pay a lower monthly amount that can make the purchase more affordable.
Can You Install a Stair Lift Yourself?
While it's tempting to do DIY projects to save on labor costs, it's not recommended for this situation. Stair lifts are highly complex and need to be installed correctly to function well. Professional installation ensures the lift operates smoothly and increases user safety. Shopping around can help you find an affordable stair lift installer, but it's important to check their qualifications to ensure they know what they're doing.
Elocal Editorial Content is for educational and entertainment purposes only. Editorial Content should not be used as a substitute for advice from a licensed professional in your state reviewing your issue. Systems, equipment, issues and circumstances vary. Follow the manufacturer's safety precautions. The opinions, beliefs and viewpoints expressed by the eLocal Editorial Team and other third-party content providers do not necessarily reflect the opinions, beliefs and viewpoints of eLocal or its affiliate companies. Use of the Blog is subject to the
Website Terms and Conditions.
The eLocal Editorial Team operates independently of eLocal USA's marketing and sales decisions.