How Much Does It Cost to Install Solar Panels?
by Team eLocal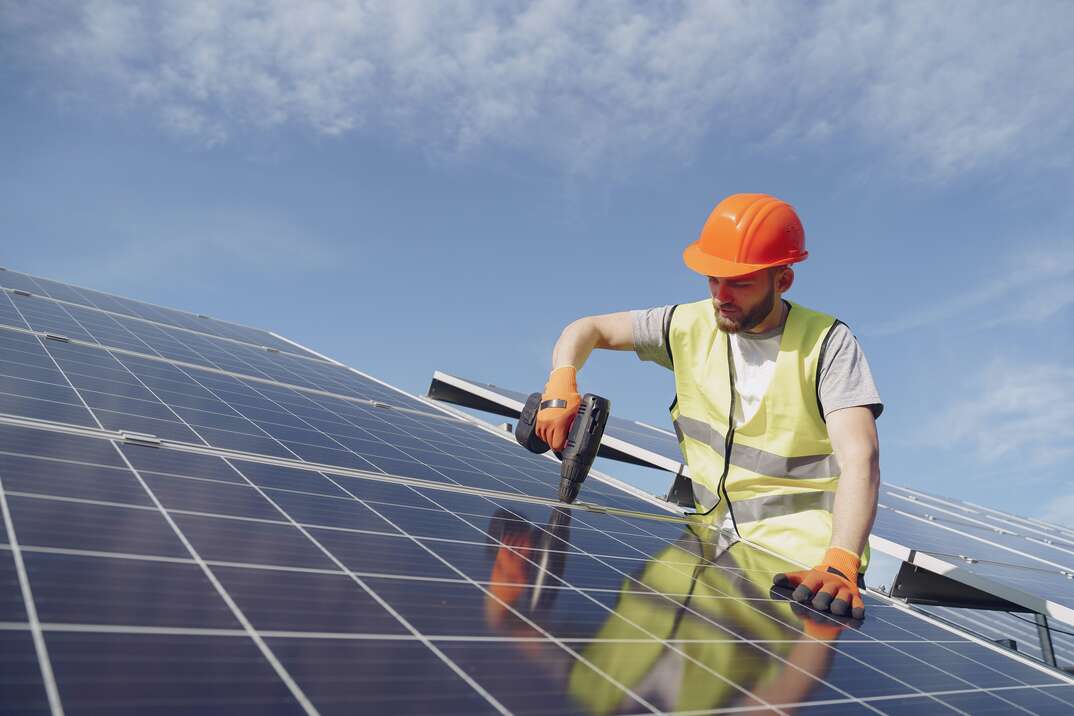 Most homeowners would jump at the chance to slash their energy bills, but the costs of installing home solar panels are a stumbling block for many.
Read More Home Improvement Articles
So the question many are asking isn't just how much solar panels cost to install, but whether solar panels will save them enough money in the long run to justify the upfront costs.
How Much Does Solar Panel Installation Cost?
According to Fixr, the average total cost of solar panel installation is around $18,000, with most homeowners paying between $15,000 and $21,000. You could pay as little as $7,000 for a small grid-tied system, while a sizeable off-grid system could cost as much as $70,000. 
As of 2022, homeowners can claim a 30% federal solar tax credit to help with the costs of purchasing and installing solar panels. You must pay income taxes and own the system to qualify, and you can only claim the credit for your primary or secondary home. The solar tax credit will reduce to 26% in 2033, 22% in 2034 and expire altogether in 2035.
Solar Panel Installation Cost Per Watt
One of the decisions you'll need to make when purchasing a solar panel system is how many kilowatts of energy you need. The higher the kilowatt rating, the more power it provides — and the more expensive it is to purchase and install. 
Most domestic solar panels produce between 250 and 600 watts. The Solar Energy Industries Association estimates installing solar panels costs around $3 per watt.
Materials
Typically, contractors charge for installation, materials and other costs in a single quote. However, the cost of solar panels and installation materials accounts for roughly 26% of the total costs. For example, if the average system costs around $18,000, you should expect to pay approximately $4,680 for materials. 
Installation Labor
Installation labor costs roughly the same as the materials — typically around 24% of the overall invoice. Fixr estimates that most homeowners pay between $3,000 and $5,000 for installation labor to install a domestic solar panel system, or between 50 cents and $1.20 per watt.
Talk to a Pro
Call to be connected to a local professional
What Factors Affect How Much Solar Installation Costs?
State
Where you live can significantly impact the cost of installing solar panels. Various local factors can affect the price, including how much sunlight you get. The cost of living can also make a difference, as contractors tend to charge more in pricier areas. 
For example, you should expect to pay between $2.73 and $3.51 per watt in New York. In Alabama, the same system could cost between $2.21 and $2.70 per watt.
Home Size
Your home's size can give you a rough idea of how much you'll likely pay to install solar panels. The larger your home is, the higher your energy needs. This means you'll need a higher kilowatt rating.
The average costs to install a solar panel system by square footage are:
• 1,000-square-foot home: $5,000 to $28,000
• 1,500-square-foot home: $7,000 to $32,000
• 2,000-square-foot home: $15,000 to $40,000
• 2,500-square-foot home: $18,000 to $55,000
Number of Panels
It's less useful to consider the number of panels when estimating how much solar panel installation costs because they come in numerous types and sizes. Typically, manufacturers sell their systems as package deals, making the number of panels relatively irrelevant. 
However, solar panel systems generally become more expensive as you add more panels. For example, a 10-panel system could cost between $2,500 and $6,000, rising to between $5,000 and $12,000 for a 20-panel system.
Installation Location
Although most people install solar panels on roofs, you can also consider installing frame-mounted ground units. Ground solar panels can be suitable if your roof isn't strong enough to support solar panels or doesn't receive adequate sunlight. 
Typically, roof solar panel systems cost between $15,000 and $21,000. Ground systems are somewhat more expensive, costing between $18,000 and $25,000 on average.
Grid-Tied Vs. Off-Grid
Grid-tied solar panel systems generate solar energy while retaining your connection to your local power grid. In fact, you can still draw energy from the grid if your system doesn't produce enough energy to power your home.
While this means you may need to pay for additional energy, you may also be able to sell any excess power generated back to the grid. Grid-tied systems are also the more affordable option.
Meanwhile, off-grid systems are large enough to supply all the power you need without connecting to the grid. Therefore, you may need to install a bigger system than you think you need to account for unexpected usage increases. Expect to spend double or triple what you would for a grid-tied system.
Are There Other Installation Costs Involved?
There are several other costs involved in installing solar panels. The following prices are for an average home solar system:
Building inspections and permits: $900
Inverter purchase and installation: $1,800
System racking and balancing: $1,800
Can You Lease Solar Panels?
You can choose to lease solar panels, instead of purchasing your own system. According to Solar Power Authority, most people pay between $50 and $250 per month. You may also have to make a down payment at the start of the lease. 
How Much Can Solar Panels Save You on Electricity Costs?
Estimating how much solar panels can save you on electricity is challenging without knowing future electricity rates. It also depends on whether your system generates enough electricity to meet your household needs. However, EnergySage estimates that the average household could save between $10,000 and $30,000 over their system's lifetime. 
Are Solar Panels Worth It?
Overall, installing solar panels is usually worth it if you can afford the upfront costs and install a system that meets your energy requirements. Most home solar systems will pay for themselves in energy savings within seven to eight years. 
Elocal Editorial Content is for educational and entertainment purposes only. Editorial Content should not be used as a substitute for advice from a licensed professional in your state reviewing your issue. Systems, equipment, issues and circumstances vary. Follow the manufacturer's safety precautions. The opinions, beliefs and viewpoints expressed by the eLocal Editorial Team and other third-party content providers do not necessarily reflect the opinions, beliefs and viewpoints of eLocal or its affiliate companies. Use of the Blog is subject to the
Website Terms and Conditions.
The eLocal Editorial Team operates independently of eLocal USA's marketing and sales decisions.