How Much Does It Cost to Replace a Garage Door?
by Team eLocal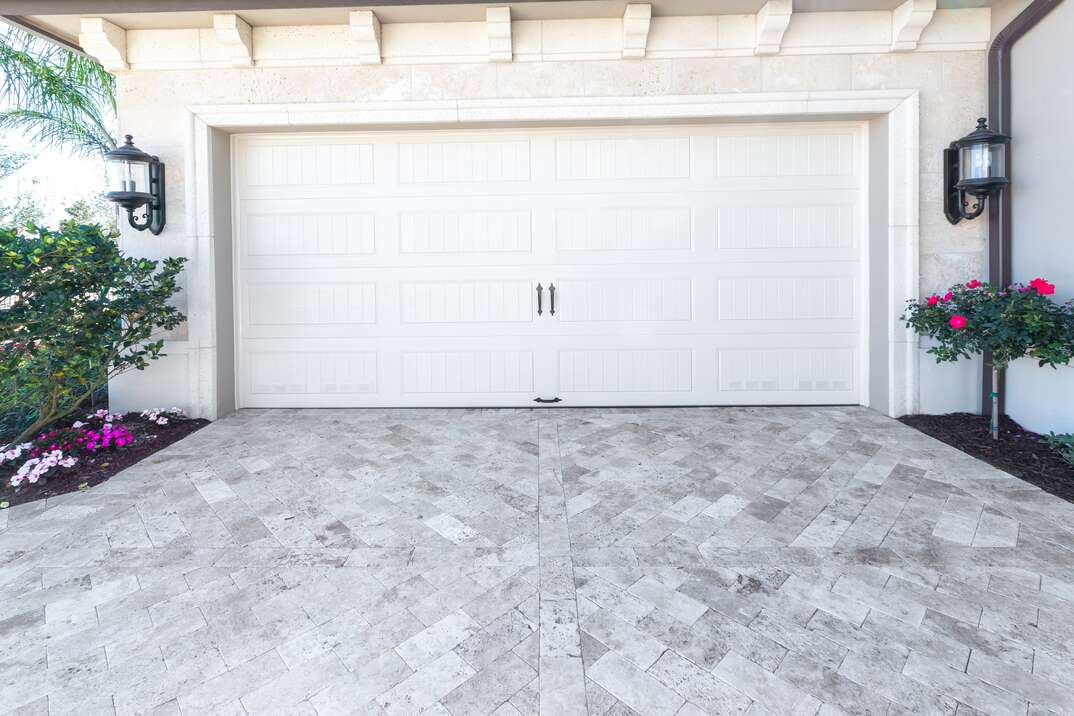 Garage Door Replacement Costs at a Glance
Average total cost: $950-$2,000+
Labor costs: $300-$400
8-foot garage doors: $950+
12-foot garage doors: $1,200+
18-foot garage doors: $1,400+
Home improvement projects can be a bit of a double-edged sword. On the one hand, replacing and renovating certain features of your house can foster a personalized, homey feel and even contribute to your house's overall value. On the other hand, these projects can put added stress on your mind, schedule and wallet.
Replacing a garage door is one of the more daunting home improvement tasks, especially if you're not a particularly proficient DIYer or don't have much pre-existing knowledge of what the job entails. Unless you're an off-duty garage-door installer, you're going to want to pay someone else to do this job.
Take these factors into account in budgeting for a new garage door.
How Much Does It Cost to Replace a Whole Garage Door?
There are several factors that affect the total cost of replacing a garage door, including the size, labor costs in your area and whether any structural repairs are necessary.
Costs can range from around $950 to more than $2,000 total, depending on door size and what bells and whistles you want.
Labor Costs
Labor costs for an average garage-door installation can be $300 to $400.
In some cases, labor costs aren't all-inclusive in your bill. In addition to costs entailed in the mechanical installation of a new garage door, you may also end up needing to hire an electrician to install wiring. If your plans also include painting your new garage door to match your house's exterior, be sure to factor these labor costs into the budget as well.
Other Costs to Consider
After calculating your total material and labor costs, there may be some other financial factors to consider. It's important to remember that you may have to add local permit fees into your calculations. It's important to request a complete written estimate of all costs from your contractor or installer before beginning the project.
Talk to a Pro
Call to be connected to a local professional
How Does the Price Vary Between Different Garage Door Styles?
Naturally, your overall costs will differ depending on the style and type of garage door you're replacing. For example, installing a decorative, insulated double-car door with windows and an automatic opener will be more expensive than installing a simplistic, roll-up, segmented single-car door.
8-foot garage doors start around $950
12-foot garage doors start around $1,200
18-foot garage doors start around $1,400
How Often Do You Need to Replace a Garage Door?
Because your garage door is a major facet of your house's exterior, a visibly old or damaged door can significantly decrease your house's market value. Fortunately, the average garage door can have a lifespan of several decades if it's regularly cleaned and maintained. However, there are some issues that can mean you have to replace the door sooner.
Poor construction quality is one of those issues. If your house's builder didn't take the time to install the door safely and correctly, or if they used cheap or flimsy materials, your door won't last as long as one that's been installed well.
Local climate conditions also play a significant role in your garage door's lifespan. Both sweltering heat and freezing temperatures can exponentially accelerate wear and tear, especially if the door's material doesn't perform well in your surrounding climate. For example, a wooden garage door may easily warp or deteriorate in moist, humid regions of the country such as Florida.
Scheduling regular maintenance is essential to prolong the overall life of your door.
How Do You Know You Need to Replace a Garage Door?
Seeing that the average individual opens and closes a garage door hundreds of times in the course of one year, even the highest quality doors are sure to experience inevitable wear and tear. Over time, your door's lifting cable and springs may naturally wear down simply from bearing the door's weight for years. Additionally, built-up dirt, dust and debris in the rollers can cause track misalignment; even something as simple as a dent in your garage door could impede smooth movement. Any of these can be signs you need to repair or replace the door.
Elocal Editorial Content is for educational and entertainment purposes only. Editorial Content should not be used as a substitute for advice from a licensed professional in your state reviewing your issue. Systems, equipment, issues and circumstances vary. Follow the manufacturer's safety precautions. The opinions, beliefs and viewpoints expressed by the eLocal Editorial Team and other third-party content providers do not necessarily reflect the opinions, beliefs and viewpoints of eLocal or its affiliate companies. Use of the Blog is subject to the
Website Terms and Conditions.
The eLocal Editorial Team operates independently of eLocal USA's marketing and sales decisions.