How Much Does Mold Removal Cost?
by Team eLocal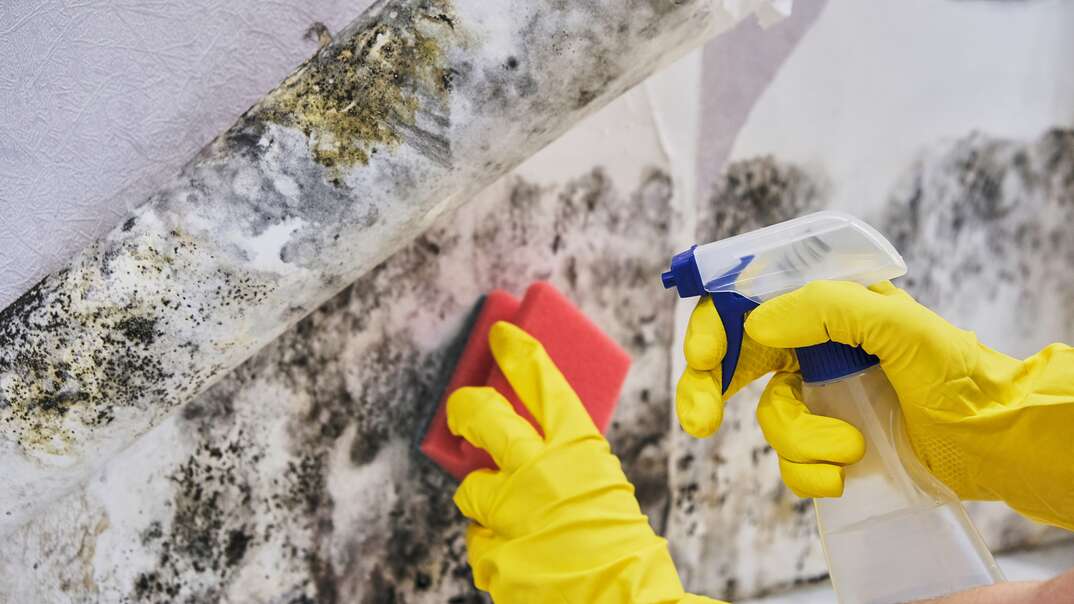 Mold Removal Costs at a Glance
Price per square foot: $10-$25 per square foot
Total cost: $2,215, average; $1,120-$3,325, range
Black mold removal: $2,000-$6,000
Nothing can make a homeowner's heart sink quite as fast as finding mold growing on a wall or ceiling. While it can be tempting to ignore the problem, inhaling mold spores poses a significant health risk and could exacerbate conditions like asthma. Fortunately, hiring a mold remediation company to treat the growth can help make your home a safer and healthier place to live.
Mold exists naturally in all buildings, and no company can completely eradicate mold from your property. However, they can clean and remove visible mold and help you prevent recurrence by keeping mold spores at a safe level. Knowing how much mold removal costs can help you prepare for your project.
What Is Mold Remediation?
The terms "mold removal" and "mold remediation" are often used interchangeably, but there are significant differences between these services. Mold removal involves removing as many mold spores as possible from your home without necessarily addressing the root cause.
Meanwhile, mold remediation focuses on restoring your home to a safe and healthy mold level. Mold remediation professionals may remove mold spores from your home like a removal service, but they also perform other tasks. These include testing the spores to identify the mold strain, sanitization and making preventative recommendations.
It's worth noting that some mold remediation companies use the description "mold removal" because they think it's easier for homeowners to understand. Therefore, it's essential to check which services a company offers before hiring them to tackle your mold problem.
Talk to a Pro
Call to be connected to a local professional
How Much Does Professional Mold Remediation or Removal Cost?
According to Bob Vila, professional contractors usually charge between $10 and $25 per square foot for mold remediation or removal services. The national average cost for mold remediation is about $2,215 per project, with a typical range between $1,120 and $3,325.
What Factors Affect the Price of Mold Removal?
The primary factor affecting mold removal costs is the size and depth of the growth. It's sometimes possible to treat small areas yourself with bleach or vinegar. In this situation, you'll only need to pay for the cleaning fluid and gear to protect your clothes and airways. However, treating a more significant mold problem requires a professional and could cost as much as $6,000, especially if the mold has deeply permeated the wall.
You may also pay toward the top end of the scale if you have mold growing in an inaccessible area like an attic or crawl space. Mold below the flooring is usually more expensive to treat because the problem often becomes severe before you notice it.
If mold is growing in an inaccessible area, you'll have to demolish that space and replace the materials, which increases the price. For example, you may also have to remove and replace carpets and other flooring and ceiling materials to get the growth under control.
How Much Does It Cost to Remove Black Mold?
Black mold, also called Stachybotrys chartarum, is generally more challenging to treat and causes more significant health concerns than other mold types. It often leads to irreparable staining on walls and other surfaces, and you may need to replace the building materials entirely to resolve the problem. According to Fixr, black mold removal costs between $2,000 and $6,000 per project on average, and you may need to pay more if the problem is extensive.
Does Homeowners Insurance Cover Mold Removal?
Your homeowners insurance might cover mold removal or remediation, but it isn't guaranteed. Generally, coverage depends on what caused your mold problem.
You might be able to claim for mold remediation costs if it was caused by a covered peril under your policy. For example, some policies cover mold remediation required because of a burst pipe or leaking appliance. Covered perils vary significantly from insurer to insurer, so you'll need to check your policy to find out if your project is eligible.
However, insurance companies don't usually cover mold growth caused by an act of nature, such as a flood or storm. They also generally exclude treatments for mold growth caused by homeowner negligence. You may need to pay for associated repairs after mold remediation, even if your insurance covers the treatment itself.
Elocal Editorial Content is for educational and entertainment purposes only. Editorial Content should not be used as a substitute for advice from a licensed professional in your state reviewing your issue. Systems, equipment, issues and circumstances vary. Follow the manufacturer's safety precautions. The opinions, beliefs and viewpoints expressed by the eLocal Editorial Team and other third-party content providers do not necessarily reflect the opinions, beliefs and viewpoints of eLocal or its affiliate companies. Use of the Blog is subject to the
Website Terms and Conditions.
The eLocal Editorial Team operates independently of eLocal USA's marketing and sales decisions.