How Much Does It Cost to Remodel a Kitchen?
by Team eLocal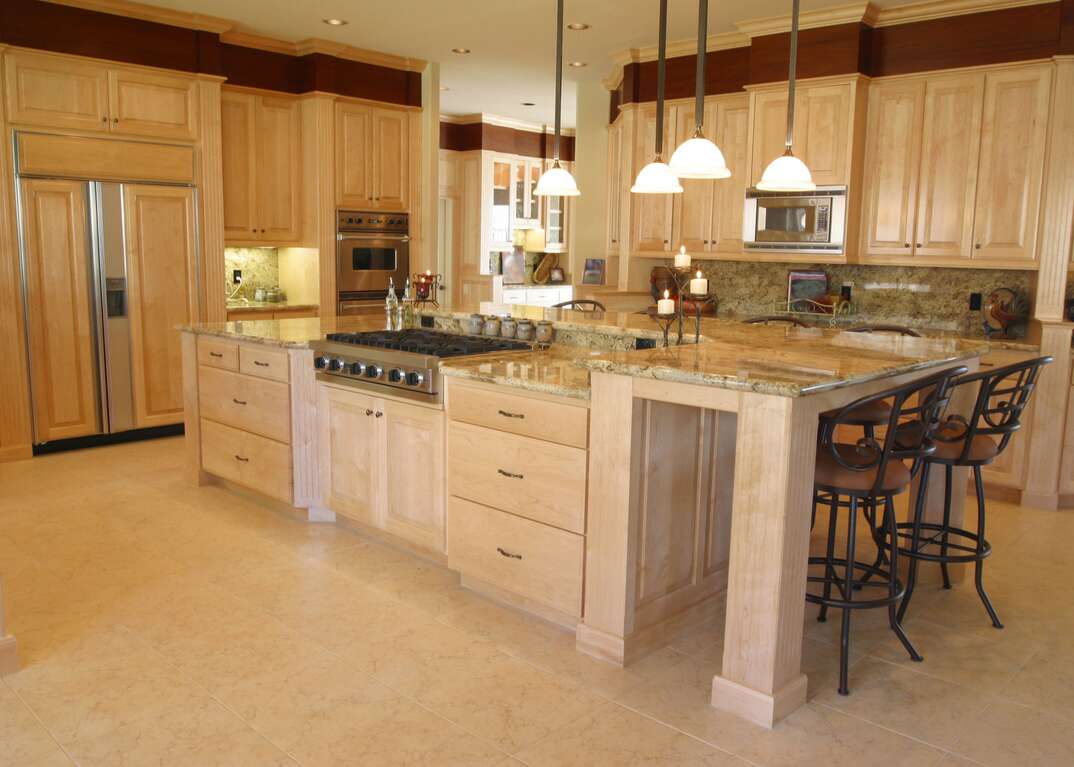 Kitchen Remodeling Costs at a Glance
Total cost: $13,000-$52,000
Price per square foot: $65-$260
Electrician: $75 per hour
Plumber: $55 to $85 per hour
Carpenter: $70 per hour.
From improving flow and functionality to updating an outdated look, a kitchen remodel is a popular choice for home renovation projects. A fresh, functional kitchen makes a big impression on your guests, and it might even motivate you to cook at home more often.
Have a look at the costs involved in remodeling to help you plan for your upcoming kitchen renovation.
Average Cost to Remodel a Kitchen
The average price range for a kitchen remodel is $13,000 to $52,000, including labor and materials. Per square foot, the typical cost runs from $65 to $260. However, the price can be lower or higher, depending on the scope of your project.
Talk to a Pro
Call to be connected to a local professional
Factors That Impact How Much It Costs to Remodel a Kitchen
The current condition of your kitchen and the elements you choose to go into your new design all impact your overall cost for a kitchen remodel. The following factors can change the price of your project:
Kitchen Size
Large spaces cost more than smaller kitchens, even if you use the same materials and finishes. Larger kitchens have more space to cover, which means you'll spend more on flooring, cabinets and other materials. Your contractors take longer to complete the work because there's more to do, which bumps up the labor costs.
Materials
Flooring, countertop and tile quality ranges from basic, low-end options to expensive, high-end finishes. Your decisions for every finish or feature in the kitchen directly impact the price.
Layout
Any changes to the layout increase the price because of the added labor. This includes moving cabinets, moving plumbing fixtures, removing walls for an open layout and expanding the size of the kitchen.
Necessary Repairs
Your kitchen needs a strong, stable foundation before the renovation. If you have any damage, such as gouged drywall or uneven floorboards, those repairs need to happen first, which adds to your total bill.
Appliances
You rely on your stove, refrigerator, dishwasher and microwave to make your life easier. If you upgrade your appliances, the quality and features you choose can affect the pricing. Special finishes on your appliances can also increase the price compared to models with similar features.
Permits and Building Codes
Your contractor might need to get permits for some of the work, which can vary in price. Your new kitchen also needs to meet current building codes, which can require some updates if you have an older home. These upgrades will add to the total cost.
Major Components of a Kitchen Remodel
Kitchen remodel plans vary significantly, but most plans include some key kitchen components. Having an idea of the price range for those components helps you estimate your costs. You can also use this guide to determine which components you want to replace and where you want to splurge on higher-end options.
How Much Does Labor Cost?
Kitchens typically require different types of contractors to handle various parts of the job. These professionals charge hourly rates, which can vary based on your location and their specialty. Electricians typically charge about $75 per hour, plumbers regularly charge $55 to $85 per hour and carpenters average $70 per hour. According to Bob Vila, you can expect to spend about 15% to 20% of your kitchen remodel budget on labor costs.
How Can You Save Money on a Kitchen Remodel?
You typically get a good return on your investment for a kitchen remodel, but it can be a costly endeavor. The way you handle the kitchen remodel can help you save money and make it more realistic for a tight budget. It's possible to have a gorgeous new kitchen on the lower end of the price range if you make strategic decisions and put in a little work.
Have a Plan
Know what you're going to remodel and how you plan to do it to avoid going over your budget. Set a strict budget with a buffer included for overages. Break down the budget to include each specific project within the kitchen renovation.
Handle Work Yourself
Many homeowners can handle at least part of the work themselves, such as the demolition and painting. You'll save on labor costs for anything you can do yourself.
Do Your Research
Thoroughly research any contractors you hire for your kitchen renovation to ensure they're qualified. Hiring cheap contractors who don't know what they're doing can cost you more money in the long run.
Save on Appliances
If you're replacing your kitchen appliances, look in late fall or early winter, when stores typically clearance the current year's models to make room for newer models. Buying floor models can also save you money. Some retailers offer scratch-and-dent models with minor blemishes.
Get Only What You Need
Avoid the temptation to upgrade to extra features that you don't need. A pot filler above your stove would be nice, but is it worth the added plumbing and installation expense? Appliances with lots of tech features can also be appealing, but the functions that you don't really need add a lot to the price tag. Focus on what's necessary to save money.
Limit Your Splurges
Spending extra on a few high-end features can make your kitchen look expensive while keeping the budget under control. For example, you might buy a decorative range hood or a gorgeous farmhouse sink to create a high-end focal point. Balance those splurges by going with more affordable options in other areas.
Elocal Editorial Content is for educational and entertainment purposes only. Editorial Content should not be used as a substitute for advice from a licensed professional in your state reviewing your issue. Systems, equipment, issues and circumstances vary. Follow the manufacturer's safety precautions. The opinions, beliefs and viewpoints expressed by the eLocal Editorial Team and other third-party content providers do not necessarily reflect the opinions, beliefs and viewpoints of eLocal or its affiliate companies. Use of the Blog is subject to the
Website Terms and Conditions.
The eLocal Editorial Team operates independently of eLocal USA's marketing and sales decisions.