How Much Does It Cost to Refinish Hardwood Floors?
by Team eLocal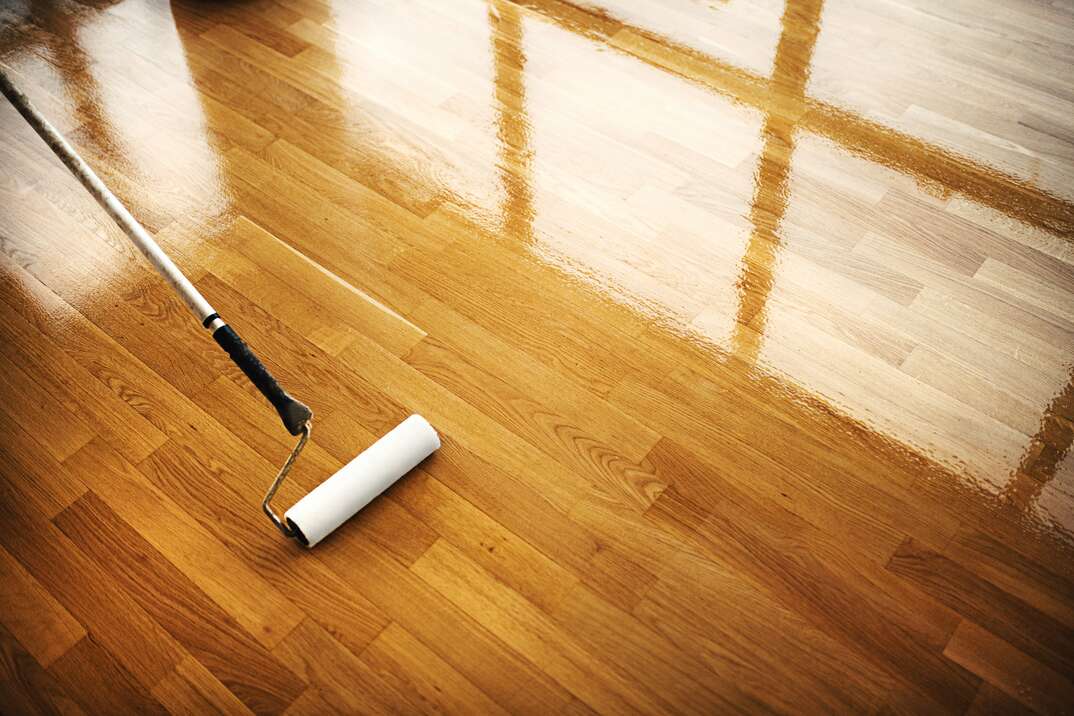 Hardwood Refinishing Costs at a Glance
Average total cost: $1,000-$2,500
Stain application: $1-$3 per square foot
Compare to new floor installation: $2,000-$7,000
The way light sparkles off of well-maintained wooden floors can add beauty to any room. But over time, those floors become tired and worn. In order to get them sparkling again, you'll need to refinish hardwood floors.
Here's an overview of the cost to refinish hardwood floors.
How Much Does It Cost to Refinish Hardwood Floors?
According to Bob Vila, can expect to pay anywhere from about $1,000 to $2,500 to refinish the hardwood in a 15-foot by 20-foot room. This price typically includes the cost of materials and labor for a standard job, but it might be higher or lower, depending on the cost of living in your area.
Cost Factors
Floor Condition
If a lot of work has to be done to prepare the floor for refinishing, this will increase the price. Some floors need extensive sanding, which can raise the cost from $0.50 to $3 per square foot. Sometimes, the subfloor needs to be repaired before the floor on top of it can be refinished. Subfloor repairs can cost upwards of $7 per square foot. If a contractor has to remove carpeting, you can expect to pay an additional $0.25 to $1 for the floor and up to $10 per step on stairs.
Room Size
The larger the room, the more materials and labor will be required to complete the job. This means it will cost more to refinish.
Coating
You can either stain the floor or apply a coating over it. The cost of applying stain typically runs between $1 and $3 per square foot. A gallon of stain typically covers about a 200-square-foot area. The cost of stain varies from low-end quality at roughly $30 per gallon, up to $100 per gallon for the high-end stuff.
Oil-based refinishing coating typically costs $20 to $40 per gallon, and water-based coatings generally cost $25 to $50 per gallon. The area covered by refinishing coatings can vary widely depending on the type and manufacturer.
Type of Hardwood Flooring
Oak and Cherry: Both of these types of hardwoods are common in homes and are suitable for many DIYers to refinish on their own. The cost for a regular refinishing job typically runs about $3 to $5 per square foot.
Parquet: In parquet, the grain of the wood goes in various directions. This can make working on these floors difficult. Hiring a professional is recommended. The cost for refinishing parquet floors is roughly $3 to $5 per square foot.
Pine: Pine is a softer wood than oak and cherry. It requires careful sanding and preparing it for refinishing since it dents and scratches easily. A professional is recommended for work on pine floors, and it will cost between $4 and $7 per square foot.
Maple: Maple is hard and takes a bit more work to sand and prepare than other hardwood floors. You also have to be very careful when applying the finish to get an even color. Maple floors typically cost about $6 to $8 per square foot to refinish.
Mahogany: Another hardwood like maple, it also takes a bit of effort to prepare mahogany floors for refinishing. It's important that the sanding is done well to avoid damaging the wood color. The cost for refinishing mahogany floors is roughly $6 to $8 per square foot.
What's the Price Difference Between Refinishing and Installing New Wood Floors?
Sometimes the hardwood floors are so warped and damaged that refinishing them is not an option. In this case, you want to replace the wood on the floor. Replacing the flooring usually runs about $2,000 to $7,000 for an average-sized room.
Elocal Editorial Content is for educational and entertainment purposes only. Editorial Content should not be used as a substitute for advice from a licensed professional in your state reviewing your issue. Systems, equipment, issues and circumstances vary. Follow the manufacturer's safety precautions. The opinions, beliefs and viewpoints expressed by the eLocal Editorial Team and other third-party content providers do not necessarily reflect the opinions, beliefs and viewpoints of eLocal or its affiliate companies. Use of the Blog is subject to the
Website Terms and Conditions.
The eLocal Editorial Team operates independently of eLocal USA's marketing and sales decisions.