How Much Does It Cost to Clean a Carpet?
by Team eLocal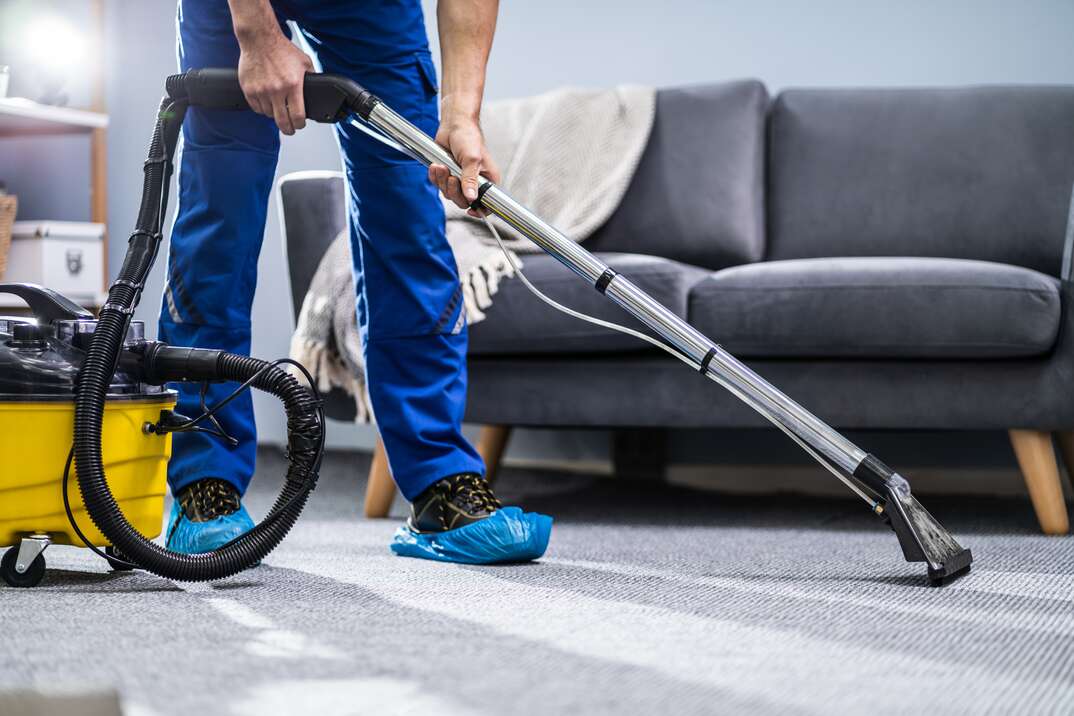 If your carpets are heavily stained or smelly, it can be tempting to rip them up and start from scratch with brand-new flooring.
However, booking a professional cleaning service is significantly cheaper and more eco-friendly than replacing carpets. Let's take a look at how much it'll cost to have your carpets cleaned.
How Much Does Professional Carpet Cleaning Cost?
According to Bob Vila, professional carpet cleaning costs around $180 on average, with a typical range between $120 and $235. Some companies calculate carpet cleaning costs using a flat rate, usually charging between $75 and $125 for each room. It's worth asking if your contractor offers a discount for cleaning multiple rooms.
Alternatively, the cleaning company may charge you per square foot. Generally, you should expect to pay between 20 and 40 cents per square foot, and between $2 and $3 for each step on your stairs.
You will usually have to pay more if you want additional services. Removing stains and odors generally costs between $40 and $300, but prices can run higher for stubborn marks like pet stains. Cleaning a water-damaged carpet starts at around $450, but can run as high as $2,000. Expect to pay about $100 per hour if you want your furniture moved before cleaning the carpets.
Cost Factors
Size of Space
The amount of carpet that needs to be cleaned is one of the main factors affecting carpet cleaning costs. If your company charges a flat rate per room, it may cap the room size it will clean for that rate or charge extra for very large rooms.
Type of Carpet
The type of carpet you have can also affect the cost. Materials that are easy to clean, such as Berber carpet, can cost as little as $90 per room. Meanwhile, cleaning cotton or wool carpet costs over $100 to clean.
Cleaning Method
How much carpet cleaning costs also depends on the cleaning method used. Bonnet cleaning is usually the most affordable, costing between $25 and $85 per room on average.
However, this technique only removes surface dirt and isn't suitable for heavily soiled carpets. For that, you may need to have your carpet shampooed. Shampooing a carpet usually costs between $80 and $400.
With dry carpet cleaning, little to no moisture is used to clean the carpet. It's usually cheaper than other types of cleaning. Expect to pay between $75 and $350 for dry carpet cleaning.
How Much Does It Cost to Have a Rug Professionally Cleaned?
According to HomeGuide, it costs around $250 to professionally clean a rug. Large or heavily stained rugs could cost as much as $1,500 to clean.
In general, you should expect to pay between $1 and $8 per square foot for professional rug cleaning. The most affordable option is steam cleaning at $1 to $4 per square foot, and dry cleaning typically costs between $1.50 and $5 per square foot. Handwashing is more expensive, costing between $3 and $8 per square foot.
Elocal Editorial Content is for educational and entertainment purposes only. Editorial Content should not be used as a substitute for advice from a licensed professional in your state reviewing your issue. Systems, equipment, issues and circumstances vary. Follow the manufacturer's safety precautions. The opinions, beliefs and viewpoints expressed by the eLocal Editorial Team and other third-party content providers do not necessarily reflect the opinions, beliefs and viewpoints of eLocal or its affiliate companies. Use of the Blog is subject to the
Website Terms and Conditions.
The eLocal Editorial Team operates independently of eLocal USA's marketing and sales decisions.