Considering a Wall-Hung Toilet? Here Are the Pros and Cons
by Mark Soto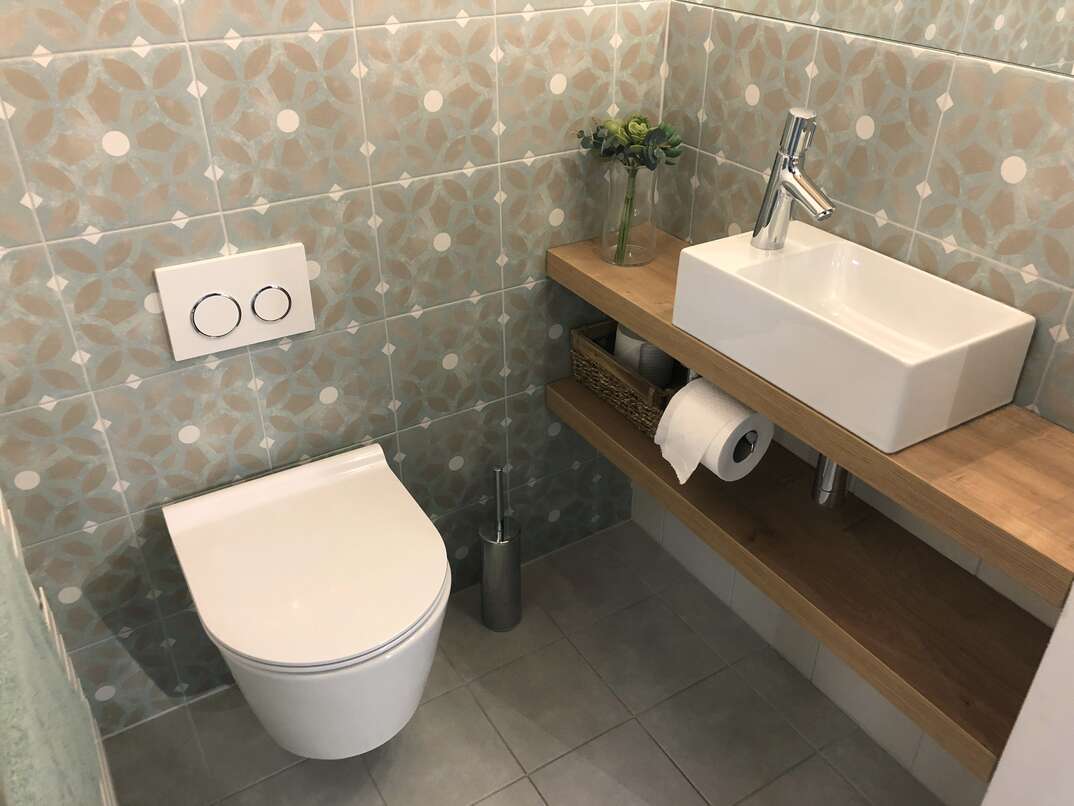 A wall-hung toilet is a toilet system where the bowl emerges directly from a wall, while the tank remains inside the wall and invisible to the user. This type of design creates a more stylish appeal in bathrooms, which is why wall-hung toilets are quite popular.
While traditional bathrooms offer a simpler design, wall-hung toilets can make a small bathroom appear larger and add to the aesthetic. However, there are some critical drawbacks with regards to practicality and budget you should be aware of.
Wall-Hung Toilets: The Pros
The biggest advantage of these toilets is that they take up less space in the bathroom than regular toilets. The tank is hidden behind the wall while the toilet bowl sticks out — in contrast with the typical toilet that has both the tank and the toilet bowl out. The design also affects where the plumbing fixtures are located. For wall-hung toilets, the plumbing work is primarily in the wall versus traditional toilets, where the plumbing work is on the floor. This toilet's unique design saves you space — especially convenient in small bathrooms.
Compared to traditional floor-mounted toilets, wall-mounted models make cleaning much easier. They are far more accessible to clean around due to the absence of an on-ground support section that otherwise makes mopping and wiping more difficult.
Conrad Cruz, owner of OneStop Plumbers, said wall-mounted toilets are more aesthetically pleasing and offer a more stylish alternative to traditional toilets. They feature more elegant proportions and cleaner geometry due to the absence of on-ground support and the hidden cistern.
Wall-mounted toilets are also quieter than traditional toilets. Since the plumbing is mainly inside the wall, it creates less toilet noise, especially when the tank refills after you flush it.
Wall-Hung Toilets: The Cons
The installation is much more complicated when compared to installing a regular toilet. Wall-mounted toilets require special tools and equipment, as well as mounts that prevent the toilet from pulling the wall out. They also need reinforcements to support a person's weight during use.
Another disadvantage is that it's more difficult to repair wall-hung toilets. Cruz said that the main parts of wall-hung toilets are located behind a wall, making the tank and the piping notoriously difficult for a plumber to access and repair. Most people also don't have too much experience working with them, and there isn't much information out there to read about, making DIY work difficult.
Wall-hung toilets also cost more than traditional toilets. It's not just the toilet itself that costs more; you'll also more than likely need to pay a professional to install it. Unless you're quite handy, it's better to leave it up to a licensed professional who knows what they're doing since installation might require modifying certain plumbing fixtures.
How Much Weight Can a Wall-Mounted Toilet Sustain?
The weight that a wall-mounted toilet can hold depends on the model and the quality of installation. According to Cruz, these toilets can generally hold up to 500 pounds of weight. This is often enough to hold up the user. If you want even more support, you can buy a separate toilet support leg to increase the weight limit up to 1000 pounds.
Apart from the total weight it can handle, another thing to consider is the height level. While regular toilets already come at a pre-adjusted height, the same is not the case for wall-mounted toilets. While this gives you the freedom to choose the height you want, you can always go with the standard size of 16 inches from floor to toilet rim. If the people in your household are taller, you may want to go higher, like 17 to 19 inches. Toilets at a higher height are also more comfortable for seniors.
Common Problems With Wall-Hung Toilets
While wall-hung toilets provide advantages that traditional toilets can't match, their stylish design and construction can lead to some common problems.
One of the most common issues you might have to eventually deal with is the toilet becoming loose over time. Since most of its structure is inside the wall and it sticks out, you put pressure on it every time you sit.
Eventually, your weight will cause it to become loose over time, even if you had a perfect installation. A wall-hung toilet will need to be adjusted by an experienced professional from time to time. It may even need to be reinstalled entirely. If you paid attention to how the contractor or plumber did it the first time, you might be able to attempt and replicate it. Otherwise, contact a contractor to fix it for you.
Another common problem that arises with wall-hung toilets is leaks in the walls after flushing. Since the plumbing fixtures are within the walls, when things aren't connected properly, it can cause leaks and moisture to seep through the walls. If you run into this issue, you will want to immediately turn off the water in your home to prevent any excess water damage.
Start by checking that the water supply line is sufficiently tightened. If it is, you might need to remove the entire toilet from the wall. It's possible that your toilet wasn't installed properly in the first place and there are some loose ends within the plumbing. You will need to tighten the bolts and screws. If you're still having issues at this point, it's time to call professional for help.
Elocal Editorial Content is for educational and entertainment purposes only. Editorial Content should not be used as a substitute for advice from a licensed professional in your state reviewing your issue. Systems, equipment, issues and circumstances vary. Follow the manufacturer's safety precautions. The opinions, beliefs and viewpoints expressed by the eLocal Editorial Team and other third-party content providers do not necessarily reflect the opinions, beliefs and viewpoints of eLocal or its affiliate companies. Use of the Blog is subject to the
Website Terms and Conditions.
The eLocal Editorial Team operates independently of eLocal USA's marketing and sales decisions.