Protect Yourself From Porch Pirates This Holiday Season
by Chris LaFortune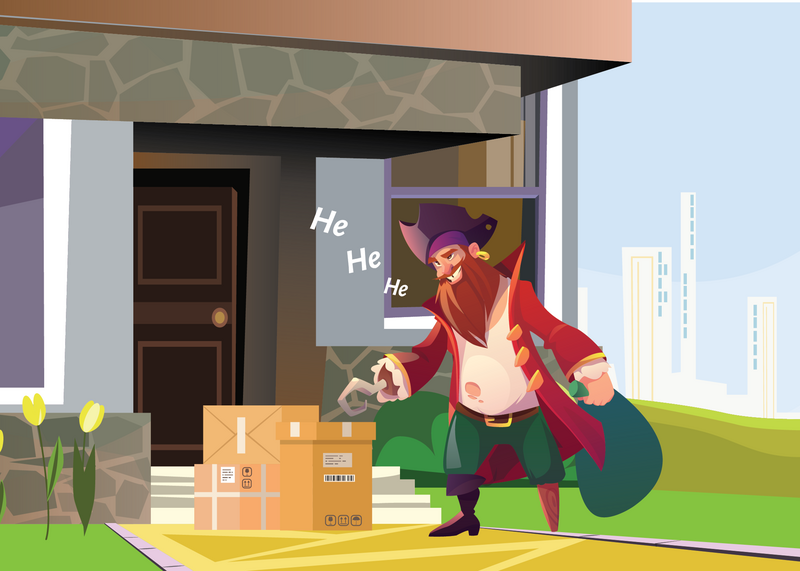 They're out there, cruising neighborhoods, watching delivery trucks, waiting for quiet moments to grab packages and disappear into the wider world.
Read More Home Improvement Articles
Porch pirates have become a growing problem for consumers and companies alike. According to the UPS Capital Insurance Agency, 12% of consumers polled reported porch piracy theft in 2021.
And as consumer habits continue to lean toward greater online shopping, opportunities for theft are bound to rise. In 2021, retail e-commerce sales amounted to about $5.2 trillion worldwide, according to Statista. By 2026, that figure is expected to reach $8.1 trillion.
What can consumers do, then, to ensure their packages don't end up in the hands of thieves?
Consumer, Protect Thyself
Turns out, several measures can help protect delivered goods. In Montgomery County, Maryland, the county's Office on Consumer Protection offered these suggestions in a 2019 press release:
Track your packages online. This gives consumers a chance to retrieve delivered items quickly once they've arrived on their doorstep.
Consider in-store pickups. That reduces the amount of public exposure of goods ordered and offers a more secure delivery into a consumer's hands.
Ship packages to your work address. That way, your items do not have to sit on your porch awaiting your arrival.
Install front-door security cameras, spotlights or lockboxes. All these can act as deterrents to thieves, the agency suggests.
If items are stolen, promptly file a claim with merchants and shipping companies.
Talk to a Pro
Call to be connected to a local professional
Postal Service Suggestions
The U.S. Postal Inspection Service, the law enforcement arm of the U.S. Postal Service, offers a few tips to protect against package theft. Their suggestions focus not only on how to keep your packages from being stolen upon arrival, but also on how to protect whatever you may send to others:
Promptly pick up your mail and packages. Do not leave letters and packages in your mailbox or at your door front for extended periods of time, the postal inspection service suggests. This allows thieves more opportunity to swipe what is yours.
If you can't be there, arrange for pickup. Perhaps a trusted friend or family member can be on hand to accept a package delivery for you. If that's not possible, the postal inspection service says USPS offers a Hold Mail service, through which customers can keep mail at a local post office until it can be picked up.
Deposit mail close to pickup time. If you're sending a gift, the postal inspection service suggests you deposit that gift as close to collection time as possible. Place mail into a blue collection box before the last pickup, or stop inside the post office and drop it off at the desk.
Use "Hold for PickUp." When shipping packages, the USPS offers a "Hold for PickUp" option. Your package will remain at a local post office until the people you're sending it to can collect it.
Request signature confirmation. The USPS's signature confirmation service requires that a package recipient, or a responsible person at the home you're shipping to, be present to sign for items. Fees vary, depending on whether this is requested at a post office or if postage is purchased online.
Do not send cash. Cash is too easy to steal and is untraceable, says the postal inspection service. Instead, send money another way. For instance, USPS offers money orders, allowing customers to send up to $1,000 in a single order, for a fee.
Delivery Service Options
Private delivery companies also provide a few suggestions to keep your packages safe:
FedEx allows you to redirect packages to a retail location near your home. Packages can be sent to a Walgreens, FedEx Office, or to some Dollar General and grocery store locations. FedEx will notify you that your package is available, and can keep the package secure for up to seven days.
UPS offers the My Choice service. Basic free services in the program include delivery alerts and estimated delivery times. For a fee, customers can also choose to have packages delivered on alternative days, to alternative addresses, as well as to UPS Access Point locations. These include area businesses where consumers can retrieve or drop off packages.
The major delivery services also allow customers to tell drivers in advance where to leave packages on their property, so packages are not visible on the front porch for thieves to easily locate.
Urban Research Underway
While consumers work to protect themselves from porch theft today, researchers are studying ways to better handle deliveries in the future, with consumer demand expected to grow.
The Supply Chain Transportation & Logistics Center at the University of Washington College of Engineering issued its report, "The Final 50 Feet of the Urban Goods Delivery System," in 2018. According to the university's Urban Freight Lab, failed first delivery rates of packages in U.S. cities were more than 15%.
The Urban Freight Lab's second study tested a common carrier locker for package deliveries at the Seattle Municipal Tower. The study was sponsored by the Pacific Northwest Transportation Consortium and the Seattle Department of Transportation, and the report was issued in October 2018.
It found that the common carrier locker system reduced delivery times at the tower and resulted in zero failed deliveries for those using it. In the meantime, of 545 total parcels delivered door-to-door in the building during the pilot period, seven failed to be delivered, either because of wrong addresses or the unavailability of tenants.
The lab suggests common carrier parcel lockers offer an effective improvement to deliveries, at least in larger urban settings.
Elocal Editorial Content is for educational and entertainment purposes only. Editorial Content should not be used as a substitute for advice from a licensed professional in your state reviewing your issue. Systems, equipment, issues and circumstances vary. Follow the manufacturer's safety precautions. The opinions, beliefs and viewpoints expressed by the eLocal Editorial Team and other third-party content providers do not necessarily reflect the opinions, beliefs and viewpoints of eLocal or its affiliate companies. Use of the Blog is subject to the
Website Terms and Conditions.
The eLocal Editorial Team operates independently of eLocal USA's marketing and sales decisions.