Smarter Security in 4 Steps: How to Install a Smart Lock
by Mark Soto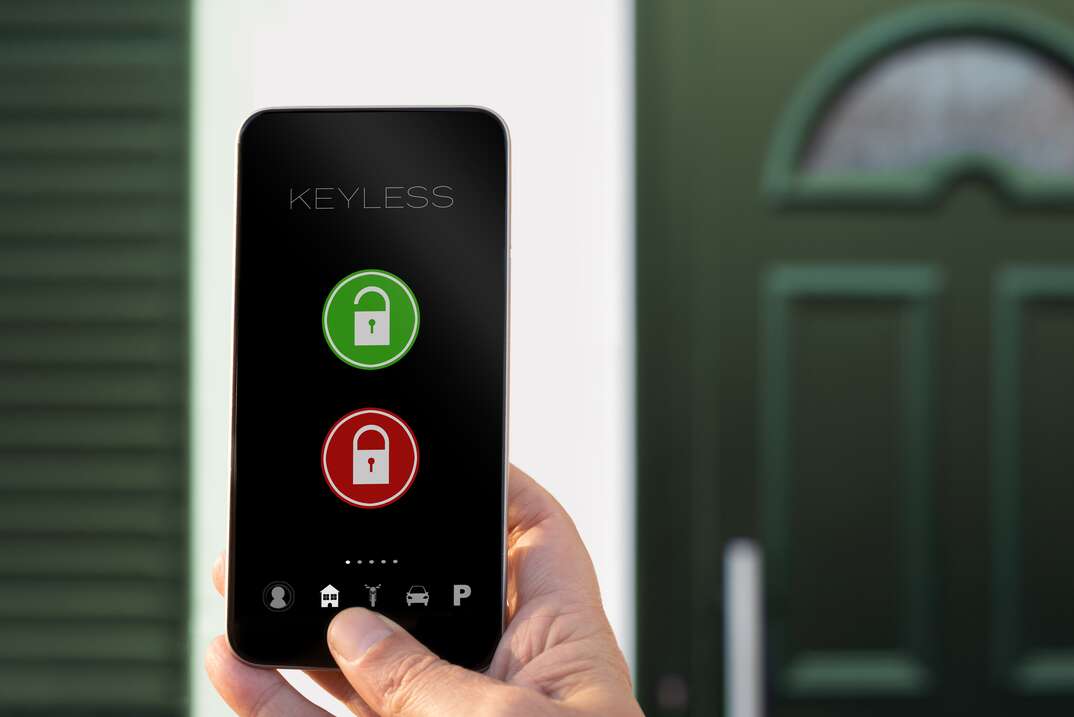 Smart locks are some of the best gadgets you can buy for your home in terms of convenience. You can open them with a password, fingerprint, voice or at the touch of a button through an app. There's no need to worry about carrying a set of keys around — or worse, losing your keys. Smart locks aren't hard to install, and they can even add a more modern look to your front doors.
If you're looking to create a contemporary style for your front entrance or make it easier for you or your tenants to enter, here's everything you need to know about smart home locks and how to install them.
Why Smart Locks Are Worth It
There's an advantage to smart locks in terms of safety. You can use their cameras to view and record anyone at the entrance. There's also the convenience of being able to remotely manage your door. However, a smart lock offers more than just that.
With smart locks, you have multiple keyless entry options. Barb Calixte from LockTight Impact Windows and Doors said this includes unlocking in person or from a distance with a phone, voice commands and codes you can give to anyone to enter your home. Plus, some models also offer fingerprinting authentication.
You can also set up access limitations to specific entry codes. Calixte said these restrictions might include days of the week or certain hours to ensure that code users can only enter your property during allowed periods. This is one of the reasons why Airbnb owners commonly use smart locks. It's incredibly convenient being able to give customers a code and then change it, so you don't have to rely on handing out keys.
You can also stay up to date on who enters your home with notifications as well as reminders if you forget to lock the door. Get notifications on your phone if someone tries to enter or tamper with the smart lock. You can even program your lock to notify police or home security agencies automatically if this type of incident arises.
According to Calixte, some smart locks can be programmed to automatically lock behind you, ensuring that your house is always safe even if you fail to remember. There is also the ability to connect your smart lock with other smart home devices. Meaning you can set up a system where the lights or other appliances switch on after unlocking the door.
Smart Lock Brands
Smart locks are sleek, simple and effective security options for homes and businesses. Selecting the perfect smart lock for your specific needs, on the other hand, might be difficult. New products are developed each year, so there are always new and updated choices. Not every model is compatible with all smart devices, since some are only compatible with Apple Home but not Alexa, and others prefer Google. However, a few brands are compatible with all.
Calixte said U Tec is a commonly used smart lock since it has extensive lock-unlock capabilities and works with all three major smart home assistants. Wyze is another popular choice offering various options and working with both Alexa and Google assistant. The ​​Nest x Yale Lock is another good option. It's specifically designed to work with Google assistant.
How to Install a Smart Lock
A smart lock can be installed by a professional, or you can do it yourself. If you feel handy enough to work with tools and remove your old lock, try it out. Otherwise, consider calling a professional to help you out.
Step 1: Remove the Old Lock
Unsurprisingly, you first need to remove your old lock. Simply unscrew any screws that need to be removed to take out the doorknobs on both sides. Some door knobs will have a release button you need to press after with a small object like a paper click to get it released. There might also be an extra screw you need to remove for the faceplates. Depending on the type of door lock, you might need to loosen the screws from the side of the door to pull out the entire lock after everything else has been removed.
Step 2: Download the Mobile App and Connect
Pretty much any smart lock has an Android or iPhone mobile app that you can use to unlock and lock the door and create or disable different access codes. To connect your phone to the physical lock, follow the instructions that came with your model. Depending on the model, you may need to do this before or after installing the deadbolt. Follow these steps to ensure it's activated correctly.
Step 3: Install the Deadbolt
Smart locks often come with their own deadbolt. All parts like the mounting plate bracket and other necessary hardware should come with it. Since locks vary, follow the installation steps that come with the product. Screw in the deadbolt along with the mounting bracket. Once you screw things in, ensure the lock is aligned correctly, and you can close or open the door without any issues.
Step 4: Attach the Smart Lock
After the deadbolt is installed, add the smart lock halves to both sides. It's easy to tell which halve goes inside and which goes outside, but the product will clearly label it. For the half that goes inside, carefully place the bar and electric wire attached to it inside the deadbolt.
Now install the outer half on the other side. The wire that was passed through the back will connect to this half. With the wire connected, put the half against the door and secure it in place with screws. Then, all you need to do is add the batteries and turn it on.
Elocal Editorial Content is for educational and entertainment purposes only. Editorial Content should not be used as a substitute for advice from a licensed professional in your state reviewing your issue. Systems, equipment, issues and circumstances vary. Follow the manufacturer's safety precautions. The opinions, beliefs and viewpoints expressed by the eLocal Editorial Team and other third-party content providers do not necessarily reflect the opinions, beliefs and viewpoints of eLocal or its affiliate companies. Use of the Blog is subject to the
Website Terms and Conditions.
The eLocal Editorial Team operates independently of eLocal USA's marketing and sales decisions.