How Much Do Tree Services Cost?
by Team eLocal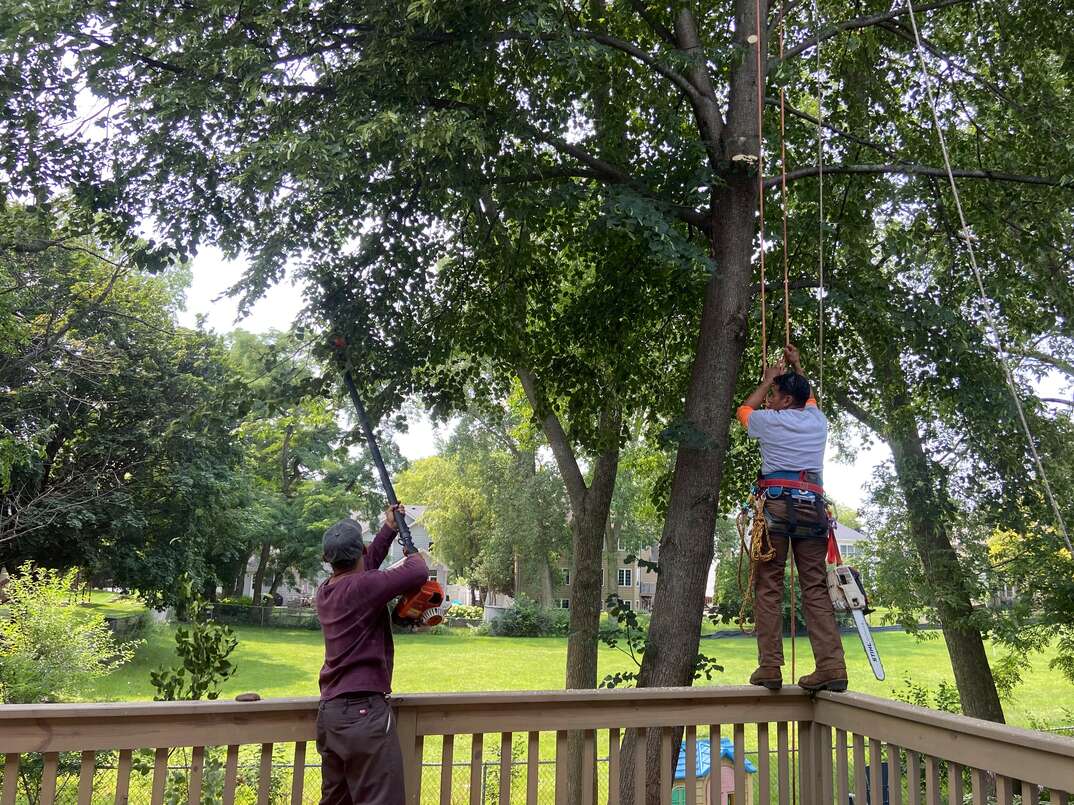 Trees and shrubs can make your landscaping more beautiful, but it's essential to maintain them properly to keep them healthy and looking their best. Trees and large shrubs can also pose a safety issue if they're in poor condition or begin encroaching on buildings and electricity lines.
Read More Landscaping Articles
Knowing how much shrub and tree services cost can help you prepare for garden maintenance bills.
How Much Does It Cost to Prune a Tree or Shrub?
Based on data from Forbes, it costs between $85 and $400 (CAD 113 and CAD 553) to prune a small tree measuring 30 feet (9 meters) high or less. Expect to pay $150 to $1,700 (CAD 200 to CAD 2,267) for a tree over 30 feet (9 meters).
Smaller trees are usually cheaper to prune because the job poses less risk to the contractor. Expect to pay toward the upper end of the scale if your tree is infected, infested or in a hard-to-reach location.
Meanwhile, HomeGuide says you can expect to pay around $65 to $150 (CAD 87 to CAD 200) for shrub pruning services. Again, your contractor may charge more for large or inaccessible plants. Pruning infected or infested shrubs is often more expensive because it's riskier than working with healthy plants.
Talk to a Pro
Call to be connected to a local professional
How Much Does It Cost to Trim a Tree or Shrub?
According to HomeGuide, you should expect to pay around $200 to $1,800 (CAD 267 to CAD 2,400) to trim a tree, or around $50 to $125 (CAD 67 to CAD 167) per hour. The overall cost depends on the tree's height, diameter and health. Trimming a large, infected or infested tree usually comes toward the top of the typical price range.
How much it costs to top a tree depends mainly on its height because taller trees are more dangerous to trim. The average tree service costs to top a tree by height are:
30 feet (9 meters) or less: $100 to $500 (CAD 133 to CAD 667)
30 to 60 feet (9 to 18 meters): $200 to $900 (CAD 267 to CAD 1,200)
60 feet (18 meters) or more: $400 to $1,800 (CAD 533 to CAD 2,400)
Topping a tree involves removing the top section of the main stem or cutting off the highest branches to reduce its height. This practice can be damaging. Removing too many leaves from the treetop can prevent the tree from getting adequate nutrition, potentially leading to starvation or disease. Therefore, it's best to avoid topping trees.
Generally, you should expect to pay between $50 and $75 (CAD 67 and CAD 100) per hour for shrub trimming services. This works out to between $6 and $15 (CAD 8 and CAD 20) per shrub. Your contractor may calculate your bill per shrub or charge for the labor hours. You may be charged more to trim unhealthy or inaccessible shrubs.
How Much Does It Cost to Remove a Tree?
The national average cost to remove a tree is about $850 (CAD 1,134), according to Lawn Love. The typical price range is between $385 and $1,070 (CAD 513 and CAD 1,427). You can get a rough idea of how much your project is likely to cost by budgeting between $9.50 and $14.50 (CAD 13 to CAD 19) per foot of the tree's height. The overall cost depends on the tree's height and how hard it is to access.
There are three main types of tree removal, so it's essential to check what's included when you're hiring a contractor. The cheapest option is to hire a contractor to chop the tree down, but you'll need to remove the debris yourself. Alternatively, you can hire a company to cut the tree down and haul away the trunk and branches. The most expensive option includes cutting the tree down, hauling the debris away and removing the stump.
All CAD conversions are based on the exchange rate on the date of publication.
Elocal Editorial Content is for educational and entertainment purposes only. Editorial Content should not be used as a substitute for advice from a licensed professional in your state reviewing your issue. Systems, equipment, issues and circumstances vary. Follow the manufacturer's safety precautions. The opinions, beliefs and viewpoints expressed by the eLocal Editorial Team and other third-party content providers do not necessarily reflect the opinions, beliefs and viewpoints of eLocal or its affiliate companies. Use of the Blog is subject to the
Website Terms and Conditions.
The eLocal Editorial Team operates independently of eLocal USA's marketing and sales decisions.