How Much Does It Cost to Replace or Install a Deck?
by Team eLocal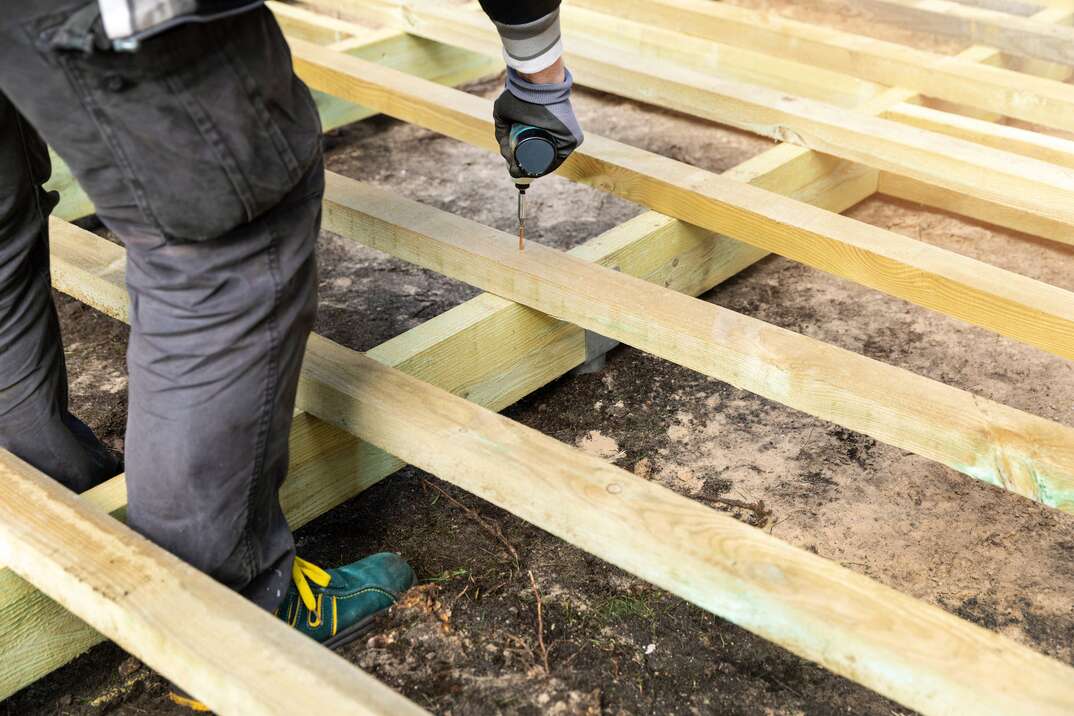 Deck Installation Costs at a Glance
Total cost: $7,700, average; $4,000-$11,250, range
Average price per square foot: $30-$60
Labor cost: $15-$35 per worker per hour
Demolish existing deck: $200-$2,000
An outside deck can be a great place for family, friends and neighbors to gather and have a barbecue on the grill. They also make a good place to sit outside to enjoy the warm weather or escape the summer heat. If you put a screen around the porch, you'll also be able to thwart summertime pests that like to sting and bite.
Here is what you need to consider when determining how much it will cost to build a deck.
Building a Deck: Cost Factors
According to Bob Vila, the cost of building a new deck ranges from about $4,000 to $11,250, with the national average being about $7,700. There are numerous factors affecting the price, from the size of the structure to the type of materials you use to build it. Here's an overview of several different factors.
Size of Deck
The cost of a new deck typically ranges from $30 to $60 per square foot. If you build a 200-square-foot deck, you can expect to pay between $600 and $1,200. A 300-square-foot deck would run between $900 and $1,800. So, the first thing you need to do is determine what size deck you are planning to install to get a base price.
Materials
Most homeowners will choose either wood, plastic, or composite material to build a deck. Wood is normally pressure-treated to hold up against the outside elements and can run anywhere from $15 to $20 per square foot. Plastic and composite materials cost about the same at $30 to $40 per square foot. Replacement boards typically cost around $2 to $5 per board for wood and $12 to $22 for plastic and composite decking boards.
Style
The style of the deck also affects the cost.
Platform: A platform deck is the traditional style common almost everywhere. It is attached to your house and generally costs around $10 to $20 per square foot.
Floating: Floating decks can be built anywhere on your property. They are built low to the ground and don't need the type of foundational support larger decks need. These typically cost between $20 and $60 per square foot.
Raised: Raised decks are popular where the land underneath them is uneven. They can be built on multiple levels and often have extra stairs and stronger railings than other types of decks. The cost for raised decks runs around $65 per square foot.
Two-Story: This type of deck is often used to create a connected balcony for a second-story room. The decks are typically built with stairs and cost about $40 to $50 per square foot to build.
Wraparound: A wraparound deck goes around the outside of the house and generally costs about $30 to $35 per square foot to build.
Talk to a Pro
Call to be connected to a local professional
How Much Does It Cost to Replace an Existing Deck?
Before you can replace an existing deck, you have to demolish and remove the old one. The average cost to have a professional contractor do the demo work runs between $200 and $2,000, depending on the size of the deck. One of the biggest factors affecting the price besides the size of the deck is if the concrete footings can be reused or if they have to be removed and then repoured.
How Much Does Labor Cost?
The cost of labor is typically built into the cost of the job. It can vary greatly depending on your geographic location and the typical cost of labor in your community. However, the national average for deck builders varies from $15 to $35 per worker, per hour, depending on skill levels.
Other Price Factors
There are several other things that can affect the cost of building your new deck. You'll usually have to pay a permit fee of around $500 if the deck is going to be considered a permanent structure. You can add a roof or enclose the deck for $3,000 to $18,000.
Deck skirting to enclose the bottom of the deck costs about $3 per square foot for latticework, while vinyl skirts can cost up to $50 per square foot.
Elocal Editorial Content is for educational and entertainment purposes only. Editorial Content should not be used as a substitute for advice from a licensed professional in your state reviewing your issue. Systems, equipment, issues and circumstances vary. Follow the manufacturer's safety precautions. The opinions, beliefs and viewpoints expressed by the eLocal Editorial Team and other third-party content providers do not necessarily reflect the opinions, beliefs and viewpoints of eLocal or its affiliate companies. Use of the Blog is subject to the
Website Terms and Conditions.
The eLocal Editorial Team operates independently of eLocal USA's marketing and sales decisions.