Everything You Need to Know About Firewood
by Team eLocal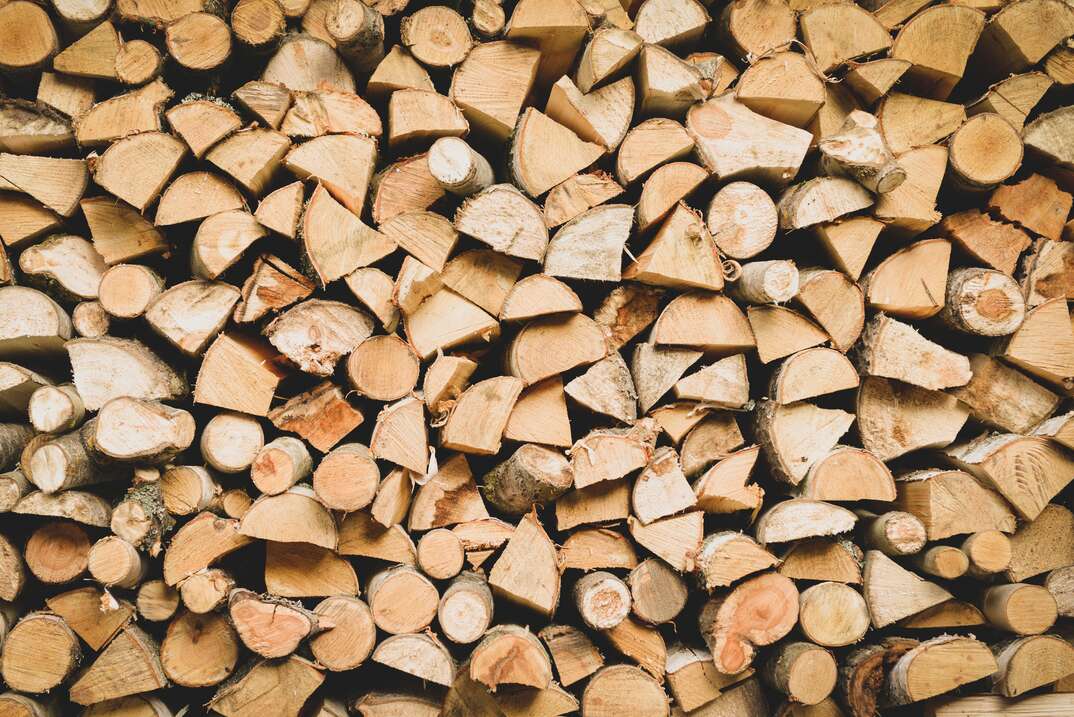 Whether you're hosting a backyard party around the firepit or prepping your indoor fireplaces and wood-burning stoves for winter, it's important to understand the basics of firewood. You want to ensure you're purchasing the right type of wood to suit your particular needs. Firewood comes from different tree species, including oak, cherry and cedar. You can also purchase artificial fire logs that are generally crafted with wax and sawdust.
If you're curious about the ins and outs of firewood, here's some information on wood types, storage, cost and other factors.
What Are the Different Kinds of Firewood?
Firewood is essentially any type of wood that's burned to create fuel, but there are several common species that are specifically cut, gathered and sold for use in fireplaces and fire pits. While most of the common types of firewood are equally efficient, there are certain species that are preferred over others.
(For your reference, a "BTU" is a British thermal unit. It's the amount of heat energy it takes to heat 1 pound of water by 1 degree Fahrenheit.)
Black Locust
Black locust wood burns well with limited smoke output. It's ideal for generating warmth, making it one of the best types of firewood to buy for use in home fireplaces. Black locust burns approximately 29.3 million BTUs per cord.
Hickory
Hickory is an extremely strong wood that's often used in the construction of flooring and furniture. It has a high heat output, similar to black locust, so it's also considered one of the best types to buy for home heating purposes. Hickory is known to create sparks on occasion, so it's important to keep an eye on it as it burns and make sure that fires in fireplaces and fire pits are completely extinguished.
White Oak
White oak is a dense wood with a long burn time. It's also easy to split, making it a good choice for campfires, bonfires, indoor fireplaces and wood-burning stoves. The heat output isn't as strong as black locust, at only 26.4 million BTUs per cord, but it's still considered a top choice for use as a heat source.
Southern Pine
Southern pine is a common firewood that's most often used in outdoor campfires. It burns well and doesn't cause excessive sparks or pops; however, it is known to produce heavy smoke, which is why it's best when used outdoors.
Talk to a Pro
Call to be connected to a local professional
How Is Firewood Measured — and How Much Do You Need?
Firewood is measured by the cord. A single cord supplies anywhere from 600 to 800 logs of wood, which should allow for at least one to two fires per week during the winter months, so says Cut the Wood.
The amount of wood you need depends on how many fires you plan to make each week. For example, if you're thinking of using your fireplace every day throughout the winter, you may benefit by purchasing two or three cords of wood as the cold months set in. If you'll only be using your fireplace, firepit or wood-burning stove every so often, a single cord should provide plenty of wood.
How Much Is a Cord?
A cord of wood is a pile of logs that equals 128 cubic feet. A single cord of wood provides approximately 700 logs. The stack measures approximately 8 feet long by 4 feet wide by 4 feet high. The wood logs in each cord are tightly packed together, with all pieces running parallel to one another.
What's a Face Cord?
Face cords are one-third of full cords. They are stacks that measure approximately 8 feet long by 4 feet high by 16 inches deep. They're also called "rick cords."
Should You Purchase Firewood From a Door-to-Door Salesperson?
Whether you should purchase firewood from a door-to-door salesperson is a personal choice, but there are a few factors to consider. If someone comes to your door offering firewood, it's important to make sure the type of wood they're offering is compatible with your indoor fireplace, wood-burning stove or outdoor firepit.
For example, resinous woods such as spruce or pine are better for outdoor fires, while dense woods, including oaks and black locust, work well indoors.
You'll also want to ask the salesperson to split a log open to ensure that the wood isn't too dry or too moist. Wood that's too dry can burn rapidly, and overly moist wood will require extra time to dry out before it can burn efficiently.
Where Should You Buy Firewood?
Firewood is generally readily available at home improvement stores, grocery stores, plant nurseries and garden stores. You can also find firewood at gas stations and convenience stores, especially during the winter months. Some businesses specialize in selling firewood and fire supplies, and you may even be able to find wood cords at your local Christmas tree lot during the holiday season.
How Do You Store Firewood?
Firewood should be stacked with the wood ends exposed to ensure proper air circulation and prevent moisture or over-drying. The wood should be stacked loosely and in an overlapping fashion but not so loose that there are large open spaces between each row. Big spaces can open the door to rats, mice, snakes and other pests who build their nests inside the crevices.
Firewood should be stacked and stored outdoors whenever possible to ensure it dries out properly. If your firewood is already aged, it can be stored in an outdoor shed or on a covered outdoor wood rack. It's always better to only bring a few logs inside at a time for immediate use instead of storing your cords inside because pests can also find their way indoors and nest inside of the woodpiles. Firewood can also be stored inside your garage or stacked against a side exterior wall.
How Much Does Firewood Cost?
Firewood prices can vary significantly depending on several factors, including the wood type and amount of wood purchased. The time of year when you buy firewood and local price fluctuations may also affect the overall cost. On average, one cord of firewood costs between $120 and $400, according to Bankrate.
When divided into thirds, a face cord would cost about $75. However, it's important to note that firewood prices can vary depending on the type of wood you're purchasing, the overall weight of the wood and the prices charged by specific sellers.
Elocal Editorial Content is for educational and entertainment purposes only. Editorial Content should not be used as a substitute for advice from a licensed professional in your state reviewing your issue. Systems, equipment, issues and circumstances vary. Follow the manufacturer's safety precautions. The opinions, beliefs and viewpoints expressed by the eLocal Editorial Team and other third-party content providers do not necessarily reflect the opinions, beliefs and viewpoints of eLocal or its affiliate companies. Use of the Blog is subject to the
Website Terms and Conditions.
The eLocal Editorial Team operates independently of eLocal USA's marketing and sales decisions.