Installing a Home Security System? Use This Guide to Get Started
by Michael Franco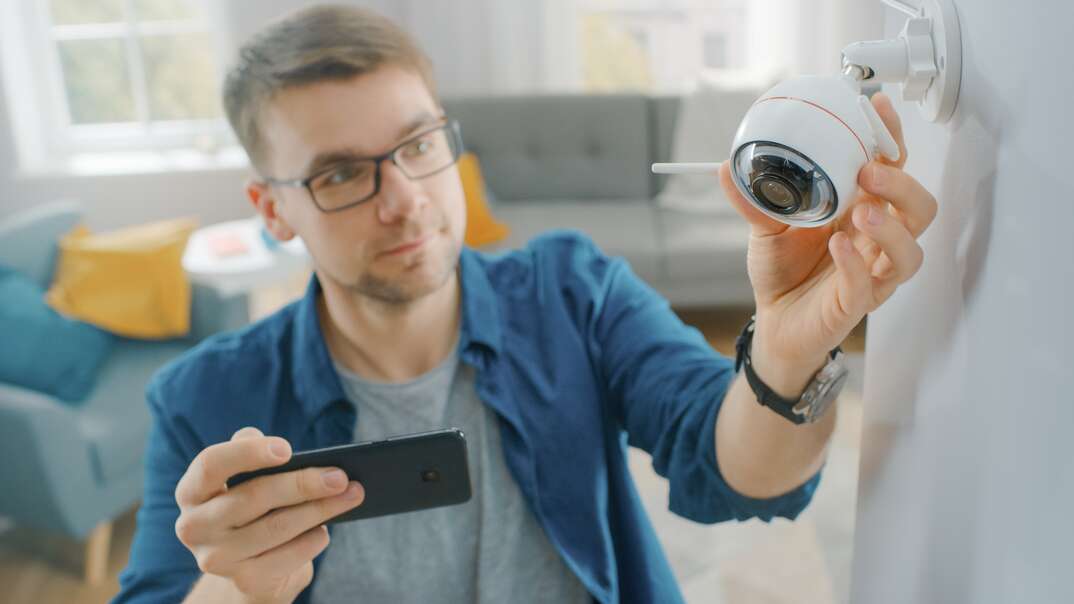 There was a time when options for home security systems were limited to finding a major provider who would hardwire cameras and sensors around your property and then charge you steep fees to monitor the system. As with so many other aspects of our lives, the rapid advancement of smaller, more affordable technology, along with the advent of the Internet of Things, has made it easier than ever to turn to DIY solutions. That's a good thing because, according to the FBI, there were nearly seven million property crimes in 2019 (the latest year in which data was analyzed).
Here's what to consider if you're thinking about beefing up the security in and around your home.
Getting Started
First, the basics. What exactly is involved with putting in your own security system? The short answer is: That depends on you.
Before shopping for a new home security system, you'll need to determine exactly what your needs are. Are you just looking for a camera that shows you who comes and goes from your front door? If so, a single camera mounted outside, or a simple smart doorbell like the Ring or Google Nest would do the job nicely.
Or maybe you're looking for a more enhanced system with smoke and fire detectors, multiple cameras, smart door locks and sensors that alert you to open doors and windows, broken glass or leaks. There are systems that offer all of this and more, but of course, they'll be more expensive and more time-consuming to install.
Next, you'll want to assess your degree of DIY skill. If you're not comfortable running wires or dealing with anything electrical, you'll want to look for a system that offers battery-operated cameras, such as the one made by Amazon's Blink, as well as simple plug-and-play devices to put around your home.
Talk to a Pro
Call to be connected to a local professional
Expandability
If you think you want to step slowly into the world of home security, you may just want to start with an outdoor camera and doorbell, and see how you like the system. If you're satisfied, you might then want to increase your home's security capabilities by adding more cameras and sensors. If that goes well, you could even decide to go the whole smart-home route and integrate lights, thermostats, locks and smart speakers such as the Amazon Echo or Google Home.
So, in short, you want to consider the expandability of any system you purchase. While you can save money by buying off-brand security cameras that get great reviews, the fact is that you might not be able to expand such systems. If you think you're likely to want to grow your smart home, it's best to go with a more established manufacturer such as SimpliSafe, Arlo, Google Nest, Blink and others.
Monitoring
One of the last considerations you'll need to undertake while deciding on a home security system is regarding monitoring. This refers to how you want to handle any issues your system encounters. Many systems offer central monitoring, even if you install them yourself. This means that if your cameras or sensors detect something wrong, a central monitoring company will be contacted. They will then try to reach you to let you know about the issue, at which point you can either respond to the alarm yourself, or ask for professional services to be dispatched.
Central monitoring always comes at an extra cost, so if you want to save money, you can opt to simply monitor the system yourself. This involves downloading an app on your phone that will send you an alert if something seems amiss. You can then handle how you want to respond on your own.
Installation
Once you've decided on your system, you'll want to follow the particular installation instructions for each component that will accompany it. This usually takes the form of a step-by-step process guided by an app on your smartphone. In general, though, here's what you can expect:
Most DIY home security systems start with some kind of central hub. This is the "brain" of the system. It usually requires little more than plugging it into an outlet and using the app to connect it to your home's Wi-Fi network. Your hub may also be a video panel that lets you monitor your cameras, respond to alarms and control other parts of the system.
Once the hub is up and running, you can then begin to install your cameras and sensors. Usually, cameras require little more than plugging into an outlet and linking them up to your home's Wi-Fi and hub using the app.
Door and window sensors usually consist of two adhesive parts: one goes on the door or window jamb, and the other goes on the door or window itself. When the connection is broken between the pieces because something is open, the alarm will sound.
Other sensors, such as those that detect freezing temperatures, leaks, smoke, fire and carbon monoxide, will need to be mounted where appropriate and also connected to the hub via Wi-Fi.
Professional Installation
If that all sounds like a bit too much to tackle, you may decide to go with a professionally installed system. Thanks to a competitive marketplace, prices for these systems have come down, although they will still cost you more than a DIY system.
Vivint, ADT and Frontpoint all offer professional installation and monitoring. One thing to be aware of is that with these types of plans, you often need to buy your equipment in a package format that includes a certain number of cameras and sensors in order to get the best pricing. If you need something more basic, then you'll more than likely want to start with a DIY system.
Elocal Editorial Content is for educational and entertainment purposes only. Editorial Content should not be used as a substitute for advice from a licensed professional in your state reviewing your issue. Systems, equipment, issues and circumstances vary. Follow the manufacturer's safety precautions. The opinions, beliefs and viewpoints expressed by the eLocal Editorial Team and other third-party content providers do not necessarily reflect the opinions, beliefs and viewpoints of eLocal or its affiliate companies. Use of the Blog is subject to the
Website Terms and Conditions.
The eLocal Editorial Team operates independently of eLocal USA's marketing and sales decisions.