How to Find a Solar Installer
by Team eLocal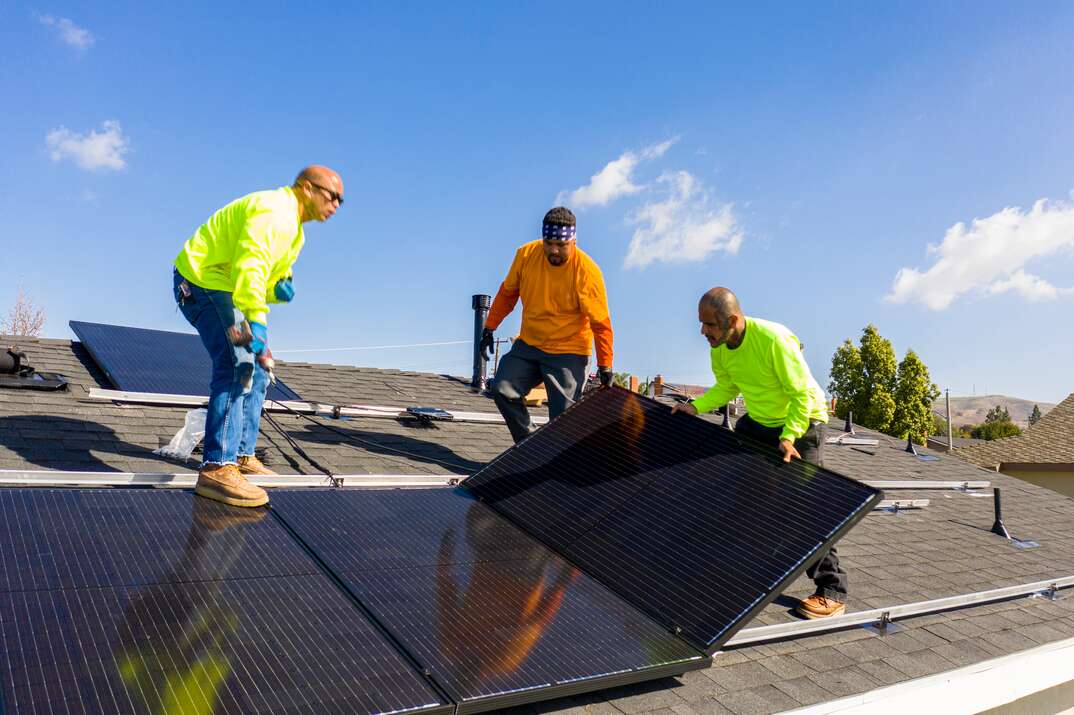 When you're installing a solar system in your home, you can either go through a large, nationwide company or hire a local solar energy system installer. While hiring one of the big industry names means you won't need to spend so much time researching individual contractors, EnergySage estimates that the average homeowner can save around $2,300 by hiring a local solar installer.
Choosing the right installer is a big decision, and it's essential to do your homework before signing a contract. Here's how to find a reputable solar installer near you — including what questions to ask that can make the whole process quicker.
How to Find a Solar Installer in Your Area
One of the most straightforward ways to find an energy installer near you is to Google it. Look for databases of solar installers. You can also enter your ZIP code into EnergySage's search tool. This tool allows you to view verified solar installers within a set radius of your home and read customer feedback to help you choose the best contractor.
Alternatively, you could check your local government website to see if it has a list of verified installers. Many local governments want to encourage residents to consider greener energy solutions like solar energy systems and collate resources and local contractors' details to help.
Finally, consider asking locals for solar installer recommendations. Neighbors who have recently installed solar panels can tell you what they thought of their contractor and pass on their details. Other contractors and professionals, such as electricians and plumbers, may have connections with solar installers, so you could also ask a local tradesperson to refer you to a reputable company.
Talk to a Pro
Call to be connected to a local professional
What to You Look for When Hiring a Solar Installer
When you're considering hiring a solar installer, the first thing to check is that they have the proper credentials. Your contractor should hold insurance for residential solar energy system installation and an industry-standard certification and license. Most reputable solar installers are certified by the North American Board of Certified Energy Practitioners.
Next, check that your chosen solar installer has adequate experience installing household solar energy systems. According to the U.S. Department of Energy, it's best to look for a contractor with at least three years of relevant experience.
Reputable solar installers will want to inspect your roof before accepting a contract and conduct detailed discussions about your needs and energy usage. They should also be happy to explain their rationale behind recommending specific systems and talk you through their cost breakdowns.
Although affordability is a critical factor for many homeowners, beware of any company offering bargain-basement prices, especially without inspecting your home first. Quotes will vary depending on factors such as your home's structure and energy usage. Still, you can get an idea of whether a quote is competitive by comparing it to average figures in Berkeley Lab's Tracking the Sun report.
Finally, take some time to check out each company's online reviews to find out what previous clients think about the installation quality and customer service. You could also ask contractors to provide references. If your research uncovers serious complaints or you feel that a solar installer isn't being upfront and transparent with you, you're probably better off going with another company.
Questions You Should Ask a Solar Installer
Knowing what questions to ask a prospective solar installer can help you ensure that they have the correct credentials and expertise to do a good job. Questions to ask include:
What certifications do you hold?
Do you have the correct licenses and insurance for installing residential solar energy systems?
Will you install my solar panels, or will you subcontract the work?
Does your quote cover utility interconnection fees and permits?
How did you calculate your quote or estimate, and what is the payment schedule?
What rebates or incentives am I entitled to?
What kind of system do you recommend and why?
How long is my solar energy system warranty, and how do I access support?
Do I need to repair or replace my roof before installation?
What is the estimated completion date?
Elocal Editorial Content is for educational and entertainment purposes only. Editorial Content should not be used as a substitute for advice from a licensed professional in your state reviewing your issue. Systems, equipment, issues and circumstances vary. Follow the manufacturer's safety precautions. The opinions, beliefs and viewpoints expressed by the eLocal Editorial Team and other third-party content providers do not necessarily reflect the opinions, beliefs and viewpoints of eLocal or its affiliate companies. Use of the Blog is subject to the
Website Terms and Conditions.
The eLocal Editorial Team operates independently of eLocal USA's marketing and sales decisions.