Here's How Much It Costs to Install a DIY Home Security System
by Team eLocal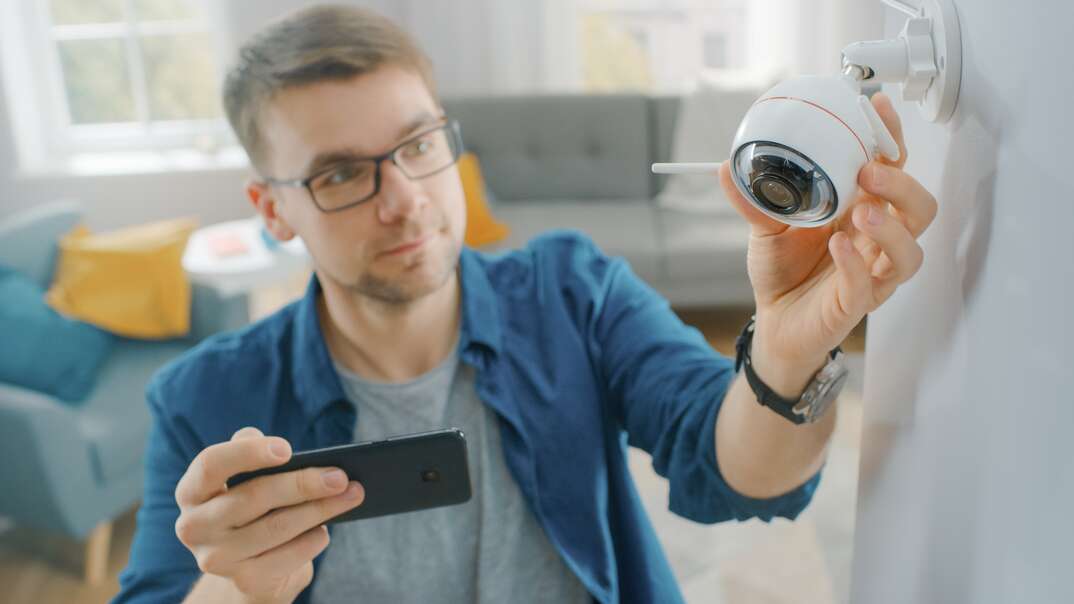 DIY Home Security System Costs at a Glance
Security system cost: $225-$800
Security system with smoke alarms: $1,300
Security system permit: $25 per year
Security monitoring services: $10-$50 per month
Compare to professional installation: $1,400
Installing a home security system is an excellent way to protect your family and belongings. Nowadays, you can purchase reliable DIY home security kits, which can save you money on labor fees.
Can I Make My Own Home Security System?
You can pick up DIY home security systems at big-box stores, and they're relatively easy to install yourself. You can install your system with basic equipment you probably already have. All you need is a pry bar, a screwdriver and some wire strippers.
Simply screw the transmitters to your doors and window frames, then install the control panel by connecting it to a power source and linking it to your phone line. The transmitters will send a notification to your chosen monitoring services if someone tries to break in, alerting you and the police, if you so choose.
Talk to a Pro
Call to be connected to a local professional
What Are Some of the Different DIY Systems on the Market?
Many companies sell DIY home security systems, and it's worth shopping around to find a kit with the most affordable upfront costs and monthly fees. These are some popular options:
Cove
Cove sells DIY and professional home security kits starting at $249. You should expect to pay $14.99 or more per month for security monitoring, depending on your system and the type of monitoring you want. Cove offers a 60-day trial period and a lifetime warranty on its products.
Frontpoint
Frontpoint's DIY home security systems start from around $392, and you don't have to commit to a long-term contract for monitoring services. However, the monthly fees are relatively pricey, coming in at around $49.99 per month.
Ring Alarm
Prices for a DIY or professionally installed Ring Alarm home security system cost $199.99 or more, with monthly fees between $0 and $20. Systems include a 30-day free trial and a 1-year warranty on your equipment.
Scout Alarm
Scout Alarm sells a range of home security systems, starting at $229. Monthly fees start at $9.99, and you don't have to commit to a long-term contract. New customers receive a 30-day free trial and a 3-year warranty on the equipment.
SimpliSafe
A DIY SimpliSafe security system costs upwards of $240, with monthly fees between $0 and $24.99, depending on the type of monitoring you want. SimpliSafe offers a 60-day trial period and a 3-year warranty on your equipment. The company also sells a range of security systems designed for professional installation.
How Much Does It Cost to Install a Smart Security System Yourself?
Home security systems cost between $225 and $800, according to Family Handyman. You should expect to pay around $1,300 for a security system with wireless smoke detectors. It's worth considering investing in a system with fire alarms because, ultimately, fire poses a much greater risk to your safety than home invasions.
Bear in mind that most cities require you to obtain a permit before installing a home security system. A permit usually costs roughly $25 per year, and you'll need to display your permit in a window.
How Much Does Professional Installation Cost?
On average, Fixr says professional installation for a home security system costs around $1,400. This figure includes the cost of the equipment and labor. Most professional installers charge somewhere between $25 and $100 per hour in labor fees. However, you may need to pay significantly more if you want a fully automated system for a large home, or if you need add-ons like a panic button or video doorbell.
Do You Have to Pay Extra for Security Monitoring Services?
Companies charge a monthly fee for home security system monitoring services, and how much you'll have to pay depends on your system's size and the type of services you want. Generally, you should expect to pay between $10 and $50 per month for security monitoring.
Elocal Editorial Content is for educational and entertainment purposes only. Editorial Content should not be used as a substitute for advice from a licensed professional in your state reviewing your issue. Systems, equipment, issues and circumstances vary. Follow the manufacturer's safety precautions. The opinions, beliefs and viewpoints expressed by the eLocal Editorial Team and other third-party content providers do not necessarily reflect the opinions, beliefs and viewpoints of eLocal or its affiliate companies. Use of the Blog is subject to the
Website Terms and Conditions.
The eLocal Editorial Team operates independently of eLocal USA's marketing and sales decisions.