How to Clean Grease and Gunk From Around Your Range
by Team eLocal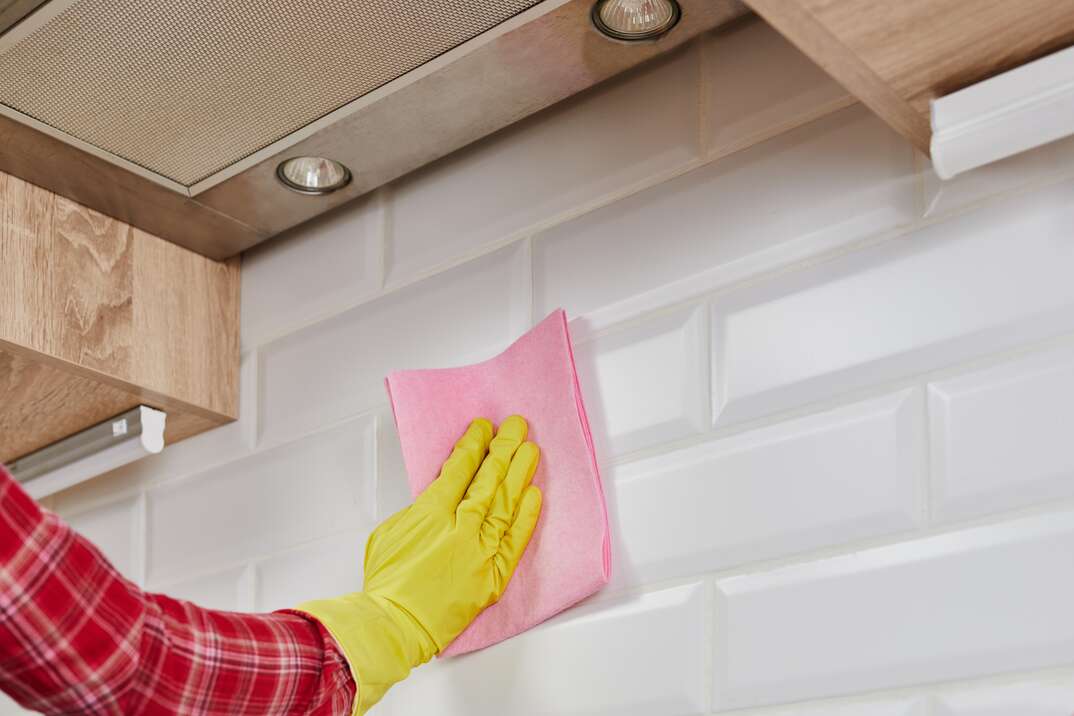 Grease build-up on kitchen cabinets isn't just unsightly; it can be unhygienic, too. Fortunately, cleaning kitchen grease is easier than you think if you use the right cleaning solutions.
If your kitchen cabinets, counters or exhaust fan have accumulated some grease and grime, try using these homemade cleaning solutions to banish that grease and leave your kitchen sparkling clean.
How Do You Clean Grease Off Kitchen Cabinets?
One of the most common household cleaning questions is how to clean sticky grease off kitchen cabinets. If you've ever tried to mop up grease with just a paper towel or microfiber cloth, you'll have noticed how ineffective that strategy is. Grease repels water, so you'll need to either use commercial cleaning products or some creative home cleaning recipes to get rid of any splashes and spills.
One useful household cleaning material is white vinegar. This acidic substance breaks down grease, making it easy to wipe away small spills or even dried-on stains. A one-to-one mixture of warm water and white vinegar serves as a versatile cleaning product for most areas of the kitchen. Do not use white vinegar on wax-coated counters, however, because it could damage the wax. Wooden cabinets are also more susceptible to damage, so do a spot test in an unobtrusive area before trying any new cleaning solution — even if that solution is a "natural" one.
Talk to a Pro
Call to be connected to a local professional
How Do You Clean Grease Off a Backsplash?
Backsplashes are one area that will inevitably see a lot of exposure to grease because of their proximity to your hobs. The best way to clean a backsplash depends on what sort of tiles you have. Baking soda solutions are gentle and versatile and are suitable for most types of backsplashes. As an added bonus, baking soda neutralizes odors, so it can help get rid of any strong scents after you've been frying foods.
Use a soft pad or cloth to clean tile backsplashes. It may take a little longer to remove the grease this way, but it will reduce the risk of you scratching or damaging the tiles.
How Do You Clean Kitchen Grease Off Walls?
If you do a lot of cooking with oils, you may sometimes end up with grease on your kitchen walls. There's some conflicting advice when it comes to how to clean grease off kitchen walls because the most suitable technique can vary depending on what the wall is made of and how it's painted or papered.
For painted walls and minor stains, using a spray bottle full of white vinegar and water and then wiping the area with a damp cloth should be sufficient. For heavier stains, try making a paste out of baking soda and water and massaging that paste into the stain before scrubbing the greasy area with a stainless steel scrubber. If those solutions don't work, using a more powerful cleaner such as trisodium phosphate is a good idea. Be sure to thoroughly rinse, then dry, the affected area after using such a strong cleaner.
Cleaning Steel Pans and Sinks
White vinegar can be used as a grease repellent to stop grease from sticking to stainless steel pans. However, it's not an ideal solution for day-to-day washing up. If you do your dishes promptly after preparing food, simply using dish soap and a stainless steel pad should be enough to remove grease and grime from stainless steel pans and other dishes.
The sooner you start cleaning, the easier it is to get rid of grease. Once it's set and has become ingrained into the dishes, it's harder work to scrub away. If you're worried about scratching your pans when you clean them, use a softer sponge or brush and gently scrub in circular motions.
If grease and grime have built up on a stainless steel sink, scrubbing it with baking soda is a good way of getting rid of the stains and also banishing any odors that have accumulated. Once the sink is clean, you can restore its shine by buffing it with a soft cloth and a little olive oil.
Elocal Editorial Content is for educational and entertainment purposes only. Editorial Content should not be used as a substitute for advice from a licensed professional in your state reviewing your issue. Systems, equipment, issues and circumstances vary. Follow the manufacturer's safety precautions. The opinions, beliefs and viewpoints expressed by the eLocal Editorial Team and other third-party content providers do not necessarily reflect the opinions, beliefs and viewpoints of eLocal or its affiliate companies. Use of the Blog is subject to the
Website Terms and Conditions.
The eLocal Editorial Team operates independently of eLocal USA's marketing and sales decisions.