How Much Does It Cost to Repair a Refrigerator?
by Team eLocal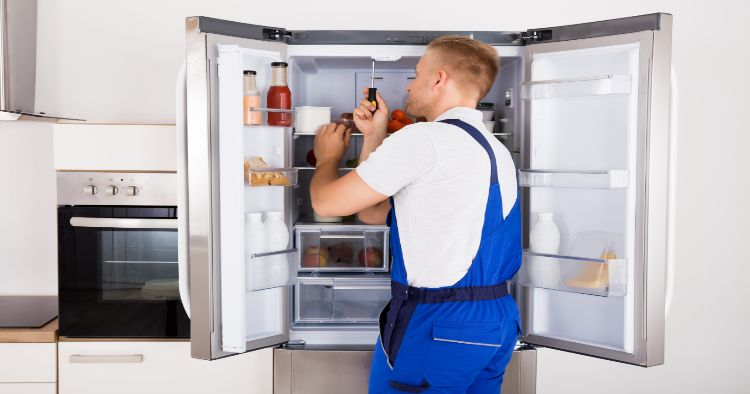 Fridges are essential for keeping food at a safe storage temperature, so fixing any issues should be at the top of your home maintenance checklist.
That said, replacing your fridge is sometimes more cost-effective than paying for the repairs. Here's a guide on how much the most common refrigerator repairs cost to help you decide.
Common Refrigerator Repairs — and How Much They Cost
If your fridge isn't working correctly, it's best to get it repaired to stop a minor issue from developing into a major problem. Here are some of the most common refrigerator repairs and what you should expect to pay.
Broken Door Seal
One of the most common refrigerator issues is a broken door seal, and it's also one of the cheapest and most straightforward to fix. There might be condensation on the fridge door, or it might be impossible to close if you have a broken door seal, causing it to use more energy. Fixing the seal usually costs between $50 and $440, according to Bob Vila.
Faulty Thermostat
A faulty thermostat can cause fluctuating temperatures inside the fridge. Expect to pay between $100 and $440 to replace or repair the thermostat.
Dirty or Broken Condenser Coils
Another common reason for a warm refrigerator is broken or dirty condenser coils. These coils sit behind or below the fridge and keep the air inside the fridge compartment cool. Repairing damaged condenser coils costs between $100 and $440. If you have a vacuum with a hose attachment, you can clean these coils yourself for free.
Broken Control Board
The control board controls every component inside your fridge. Therefore, a broken control board often causes your fridge to suddenly stop working altogether. It's a relatively complex component, making it more expensive to repair or replace. Expect to pay between $500 and $800 to fix the control board.
Faulty Compressor
A compressor circulates refrigerant around your fridge to keep it cold. If it breaks, your fridge may not cool down correctly, and it might also make unusual noises or accumulate ice. A refrigerator compressor costs between $500 and $1,000 to repair or replace, according to Fixr.
Is It Cheaper to Repair or Replace a Refrigerator?
If your fridge is relatively new, it's usually cheaper to repair it rather than buy a brand-new unit. However, it's not generally worth repairing a refrigerator if a new appliance costs less than the parts and labor to fix the issue. An expensive fault, like a broken compressor or control board, can sometimes be costlier to repair than buying a new fridge. Therefore, it's worth getting a quote for the repair and comparing it to the cost of a new comparable product to decide if the repairs are worth it.
It's often not worth repairing an older fridge, especially if it keeps breaking down. You may be better off spending your money on a new appliance instead of repairing an appliance that's nearing the end of its lifespan.
Elocal Editorial Content is for educational and entertainment purposes only. Editorial Content should not be used as a substitute for advice from a licensed professional in your state reviewing your issue. Systems, equipment, issues and circumstances vary. Follow the manufacturer's safety precautions. The opinions, beliefs and viewpoints expressed by the eLocal Editorial Team and other third-party content providers do not necessarily reflect the opinions, beliefs and viewpoints of eLocal or its affiliate companies. Use of the Blog is subject to the
Website Terms and Conditions.
The eLocal Editorial Team operates independently of eLocal USA's marketing and sales decisions.