Espresso Maker Buying Guide: Top 5 Machines to Get Your Caffeine Fix
by Team HomeServe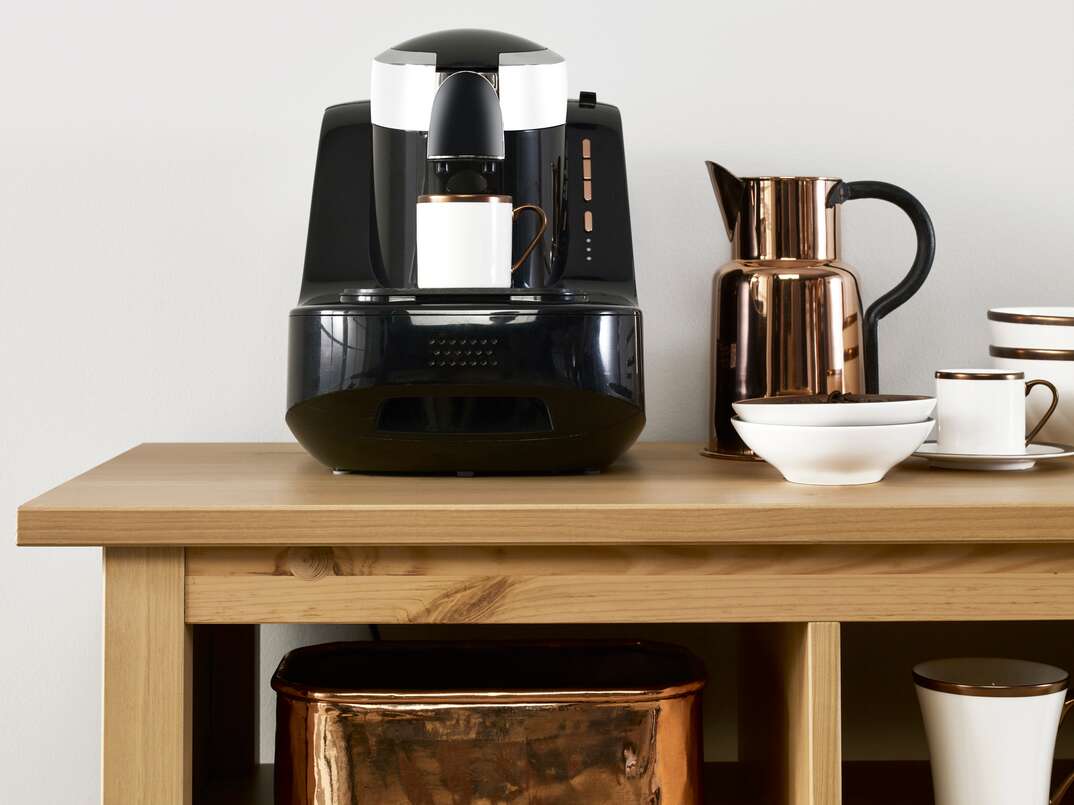 Coffee is great, sure. But espresso takes you to a whole new level in your coffee love. When you start with the high-quality beans used for espresso and brew them with the intensity that the best espresso makers deliver, you've moved into a world of connoisseur java that turns you into a home barista.
Choosing the right home espresso machine is the key to making the best coffee you've ever had in your life. You don't have to be intimidated by the mechanics of espresso making. This guide will answer your questions and help you narrow down the features you want so you can choose the best espresso maker to satisfy that luscious caffeine craving.
What Features Should You Look for in an Espresso Maker?
Determine What You'll Use Your Machine For
As you're checking out espresso coffee machines, start by thinking about the kinds of coffee drinks you plan to make with your espresso maker. Do you love small cappuccinos and espressos, or do you plan to experiment with different kinds of flavored lattes? Will you brew up specialty drinks just for yourself, or do you want to serve coffee to larger groups? And how simple do you want your coffee-making process to be?
If your taste runs to the caffeine rush of a straight espresso, or you just want a great Americano every morning before you head out, a single-boiler espresso coffee maker should do the job for you. However, if you love larger drinks, such as lattes, that include lots of milk, your coffee and espresso maker should be a dual-boiler or heat exchanger type. Look for an espresso machine with a frother that produces the delicate steam needed to turn your espresso into a cappuccino.
Do You Need a Coffee Grinder?
Another important feature is a coffee grinder. If you don't already have a high-end coffee grinder in your home, consider an espresso machine with a grinder to get those beans ready for brewing. Having a built-in grinder also saves space on your countertop.
Look for Convenience Features
Espresso machines must be cleaned after every use, so look for features such as easy-to-remove parts and clean buttons that remove residue to make your job easier.
Manual, Semiautomatic or Fully Automatic?
You also have to choose between manual, semiautomatic and fully automatic espresso machines, depending on how much work you have to do.
Manual espresso machines let you control every part of the coffee-making process, and many of them are gorgeous to look at. However, they're expensive and tough to use and, therefore, probably not the best choice if you're just stepping into the world of espresso making.
The best automated espresso machines are easy to use and often very affordable. They automate the water delivery involved in making espresso and feature electric pumps. You can even find versions that only ask you to pour in the coffee grounds and push a button. You won't have the control you'd get with a manual espresso maker — but your cappuccino or latte will be ready in a jiffy.
Semiautomatic espresso machines are right in the middle. They give you some control, but because they feature electric pumps, they're easier to use than manual machines.
Talk to a Pro
Call to be connected to a local professional
Should You Buy a European Espresso Machine?
Italy is — of course — the home of espresso, so it just makes sense that you can find some amazing Italian espresso machines on the market. What matters most, though, is not the homeland of the machine you choose but whether it meets your needs: budget, available space, your desire for ease of use and the types of coffee drinks you want to enjoy at home.
Plus, it's worth mentioning that if you purchase a European machine, you might find it difficult to have it serviced or repaired stateside.
Top 5 Best Espresso Makers on the Market
The best home espresso machine for you ultimately depends on how you want to make your coffee, what types of espresso drinks you want to enjoy and practical factors such as counter space and budget.
No matter your preferences, you should be able to find an excellent choice in this list of the top five espresso makers:
This compact automatic espresso machine comes with a steam wand for frothing milk to perfection. You can pull a single or double espresso with this easy-to-use machine, and its fast heating time means you can keep the coffee coming without a long wait. The machine lets you customize temperature and milk texture while delivering consistent espresso every time.
Cost: $499.95
This mini espresso maker is ultra-affordable and easy to use, relying as it does on the Nespresso pod system (think of your Keurig coffee maker, but for espresso). While it's not the speediest espresso machine on the list, and it doesn't let you do much in the way of customization, it packs in the pressure (19 bars, for you connoisseurs) to deliver full-bodied espresso. Pair it with Nespresso's milk frother to get the rich, milky drinks you want, and invest in excellent quality coffee beans with all the money you'll save on this machine.
Cost: $169
Splurge on this innovative espresso machine if you want full customization of your espresso without a lot of work. The LatteGo system features a dedicated frothing apparatus that dispenses steamy milk right into your cup — and the machine also handles all the grinding, tamping and brewing chores seamlessly. Use the touchscreen to dial up everything from an Americano to a cappuccino to a macchiato. While this espresso maker doesn't make particularly bold coffee, it's ideal for those who love their lattes (and who can afford the significant price tag). All the frothing parts pop into the dishwasher for easy cleaning.
Cost: $799
This fully automatic espresso maker takes up just 6 inches on your countertop, making it ideal for those with more sophistication than kitchen space. It's easy to use, and it even takes pods if you don't want the hassle of grinding beans. This machine is beautifully designed and has plenty of room to draw your drink into large mugs, and its pressure pump is powerful at 15 bars. The manual steam wand is quick to use, but you do have to brew and steam separately because this is a single-boiler machine.
Cost: $299.95
If pure espresso is your jam, this Silvia model is one of the best espresso makers for you. This semiautomatic Italian espresso machine delivers professional-quality espresso while giving you the chance to be a little more hands-on than the pod-happy models. This durable machine comes with an articulated steam wand so you can froth from every angle, and three thermostats keep a close eye on your coffee as it brews.
Cost: $830
Elocal Editorial Content is for educational and entertainment purposes only. Editorial Content should not be used as a substitute for advice from a licensed professional in your state reviewing your issue. Systems, equipment, issues and circumstances vary. Follow the manufacturer's safety precautions. The opinions, beliefs and viewpoints expressed by the eLocal Editorial Team and other third-party content providers do not necessarily reflect the opinions, beliefs and viewpoints of eLocal or its affiliate companies. Use of the Blog is subject to the
Website Terms and Conditions.
The eLocal Editorial Team operates independently of eLocal USA's marketing and sales decisions.