Auto Glass Repair Guide: Everything You Need to Know
by Team eLocal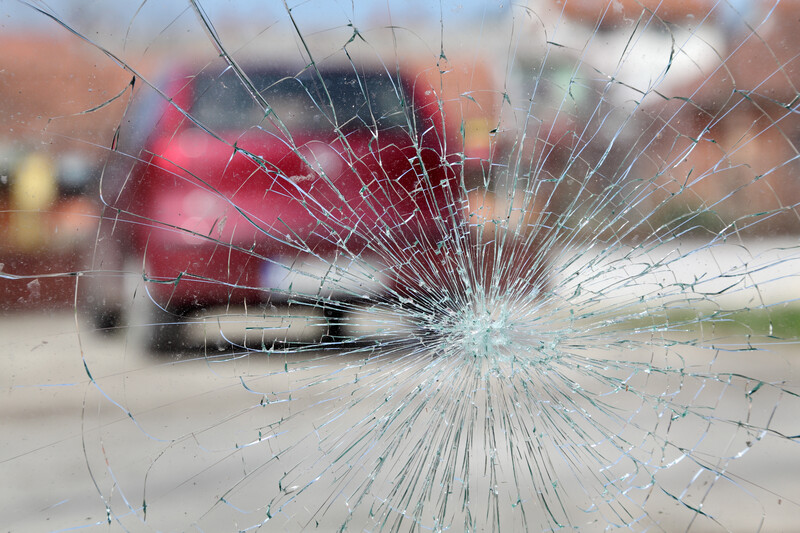 There you are, driving along when a rock or piece of the road flies up and knicks your windshield. Depending on how it landed, you may be dealing with a minor chip, scratch a full-on crack. You might be able to put off repairing minor windshield chips, especially if they're out of the driver's field of vision. But a cracked — or worse, shattered — window or windshield needs some TLC ASAP.
If your windshield or side window has a crack or a chip, taking care of it is essential for your safety on the road. Here's what you need to know before calling an auto glass company.
First Up: Inspect the Glass
The first step to auto glass repair is to identify the damage that needs to be fixed. When inspecting your windshield and side windows for damage, follow these steps:
Identify the Extent of the Damage
For windshields, examine both the inside and outside. Any small cracks or minor so-called "bullseye" or "star" chips you notice may be repairable. Any damage more major than that most likely requires that you replace the auto glass.
Spot Pitting
Look for tiny pits, or micro-pits, in the windshield that may have built up there over time from airborne particles striking it at high speeds. When oncoming headlights or sunlight illuminates these pits, the glare can reduce your vision of the road ahead. Once a windshield becomes severely pitted, replacing it is your only option, according to Kelley Blue Book.
Look for Damage at the Edges
Check the edges of the glass for problems with its seal to the vehicle's body. These can weaken the structural integrity of the glass and even damage the surrounding bodywork. Fortunately, a worn or damaged seal around the edges of the auto glass can also be repaired in most cases.
Don't Forget the Wiper Blades
Inspect the windshield wiper blades to ensure they're pliable and soft and that they're able to clear water from the windshield in a single swipe. A brittle windshield wiper blade can break, allowing its metal arm to scratch the windshield. Keeping your windshield wipers in perfect working order can help prevent future windshield damage and avoid unnecessary auto glass repairs or replacements. When you inspect your auto glass, make sure to check the side windows for possible repair needs, too.
Talk to a Pro
Call to be connected to a local professional
Repair or Replace?
Thanks to modern innovations in materials and processes, you can now have many types of auto glass damage repaired rather than having to replace the whole windshield or side window. The main determinants of whether a damaged windshield or side window can be repaired are the location and size of the crack or chip. You can generally have most cracks under a few inches long and chips smaller than a quarter fixed.
However, regardless of the size of the chip or crack, AAA says some states prohibit repairing auto glass if the damage is located in the driver's direct line of sight. This is because any repair to that damage, no matter how small, could produce distortions in the driver's view of the road ahead, which can potentially impact the safety of everyone in the car and on the road. In such cases, windshield repair isn't an option; you'll have to replace the damaged component.
In addition, no matter how small the crack, if it extends from an edge of the window, most auto glass specialists will recommend replacing the glass rather than repairing it. This is because such cracks can spread fast, making any repair to the crack ineffective.
Auto Glass Repair Services: What to Expect
Rely only on an authorized dealer or auto glass repair center for any side window or windshield repair or replacement you require.
Some popular services will drive out to your location to fix or replace your windshield. This may be especially useful if it would be difficult to navigate your vehicle given the severity of the cracks, but the vehicle is running just fine otherwise. It's also a great option if you're low on time and need a new windshield or window in a pinch.
In other cases, you can take your car to an auto glass repair center. Some autobody shops, mechanics or dealerships may provide this service, but you should call ahead to make sure.
If you have several options in your area, it may be worth calling a few auto glass repair companies for quotes. The lowest price doesn't always guarantee the best work, but getting at least three quotes can ensure you're getting the best deal in your area.
Auto Glass Repair Costs
How much you'll pay for auto glass repairs or replacement will differ depending on the type and extent of the damage, your location and the particular service provider you hire for the job. Depending on the reason for the damage, your auto insurance may cover the cost.
According to WalletHub, you can expect to pay between $50 and $150 to repair an individual chip or crack in the glass. When fixing multiple chips on the same glass, many auto glass servicers will provide a discount. It costs about the same to repair cracks unless they're particularly long.
If you need to replace your auto glass, and you don't have insurance that will cover the replacement, you'll have to pay for it yourself. Costs can vary according to vehicle make and model, your location and the type of glass you're using. Expect to pay between $100 and $400.
If you choose an auto dealer or your automobile's manufacturer to replace the glass, they'll use factory replacement glass. If you hire an independent installer, they'll likely use aftermarket windshields sourced through a factory supplier. Aftermarket windshields are generally cheaper than those made by the manufacturer. Just beware of installers with cut-rate, lowball prices. The glass they install could warp or ripple and produce dangerous distortions.
Most importantly, remember an auto glass repair or replacement job isn't complete until you say it is. Give any job a thorough inspection to make sure the glass is properly flush, centered and sealed. Then, drive safely.
Elocal Editorial Content is for educational and entertainment purposes only. Editorial Content should not be used as a substitute for advice from a licensed professional in your state reviewing your issue. The opinions, beliefs and viewpoints expressed by the eLocal Editorial Team and other third-party content providers do not necessarily reflect the opinions, beliefs and viewpoints of eLocal or its affiliate companies. Use of eLocal Editorial Content is subject to the
Website Terms and Conditions.
The eLocal Editorial Team operates independently of eLocal USA's marketing and sales decisions.